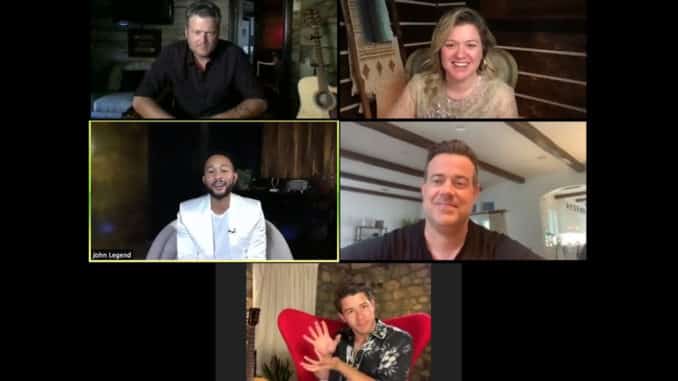 The Voice season 18 ratings ended on a low note, with the finale results show garnering a 0.9 in the key 18-49 demo and 7.4 million viewers. That's down 1/10ths from Monday's 1.0/7.6 million performance show. The ratings are also 1/10ths of a point lower than Sunday's American Idol finale, which earned a 1.0 in the demo. However, The Voice finale earned more overall viewers, 7.4 million vs Idol's 7.3.
While a The Masked Singer clip show over on FOX also garnered a 0.9 rating, tying with NBC for the top spot, it only earned 4.2 viewers. In other words, Masked Singer attracts a younger audience, which advertisers love.  
For another comparison, last spring's The Voice season 17 finale earned a 1.1 rating in the key demo.  
Looking at the numbers for both The Voice and American Idol, it's clear that viewers were not feeling the at-home format for either show. Simon Cowell as we speak is hatching a plan to get America's Got Talent back in the studio sooner rather than later. 
Overall, The Voice earned higher same day ratings than American Idol. But The Voice had more in studio shows banked, and aired them while network viewership surged at the start of coronavirus lockdowns.  
More ratings at Showbuzzdaily
The Voice season 18 
Blind Auditions Part 1 – 1.5 key demo 8.96 million viewers
Blind Auditions Part 2 – 1.4 key demo 8.57 million viewers
Blind Auditions Part 3 – 1.5 key demo 9 million viewers
Blind Auditions Part 4 – 1.3 key demo 8.7 million viewers
Blind Auditions Part 5 – 1.8 key demo 9.9 million viewers
Battle Rounds Part 1 – 1.7 key demo 9.5 million viewers
Battle Rounds Part 2 – 1.7 key demo 9.7 million viewers
Battle Rounds Part 3 – 1.5 key demo 9.5 million viewers
Knockouts Part 1 – 1.6 key demo, 9.8 million viewers
Knockouts Part 2 – 1.4 key demo, 9.1 million viewers
Road to the Finals (clip show) – 0.9 key demo, 6.63 million viewers
The Playoffs Top 17 – 1.0 key demo 7.3 million viewers
The Playoffs Top 17 Results – 1.0 key demo 7.15 million viewers
The Semifinals Top 9 – 0.9 key demo 7.2 million viewers
The Semifinals Results – 0.9 key demo 7.0 million viewers
The Finale Top 5 – 1.0 key demo 7.6 million viewers
The Finale Results – 0.9 key demo 7.4 million viewers
American Idol season 18
Auditions Part 1 – 1.5 key demo 8.07 million viewers
Auditions Part 2 – 1.4 key demo 7.50 million viewers
Auditions Part 3 – 1.3 key demo 7 million viewers
Auditions Part 4 – 1.3 key demo 7.2 million viewers
Auditions Part 5 – 1.3 key demo 7.5 million viewers
Hollywood Genre Challenge – 1.2 key demo 6.3 million viewers
Hollywood Duets – 1.4 key demo 7.7 million viewers
Hollyweed Solos – 1.4 key demo 6.98 million viewers
Hawaii Top 40 Showcase pt 1 – 1.3 key demo 7.3 million viewers
Hawaii Top 40 Showcase pt 2 – 1.2 key demo 6.9 million viewers
This Is Me Part 1 (clip show) – 1.0 key demo 5.8 million viewers
This is Me Part 2 (clip show) – 0.8 key demo 5.5 million viewers
Top 20 at Home – 1.0 key demo 6.1 million viewers
Top 11 revealed – 0.9 key demo 6.4 million viewers
Top 7 revealed – 1.0 key demo 6.1 million viewers
Finale Winner Announced – 1.0 key demo 7.3 million viewers