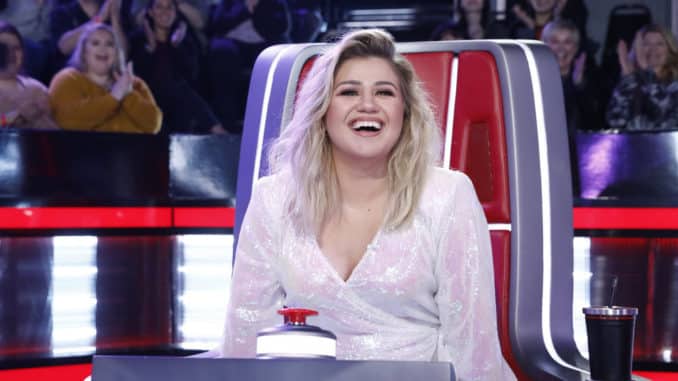 Once again, The Voice ratings won the night for NBC, despite dipping 2/10ths of a point compared to last week.
The competitive reality show, which just completed the Knockout round, earned a 1.4 rating in the key 18-49 demo and 9.1 million average viewers. That's down from last Monday's 1.6 in the key demo. Songland held steady at a 0.8 in the key demo and 4.4 million overall viewers.
The Bachelor Presents: Listen to Your Heart earned a 0.6 in the key demo and 2.9 million viewers. That number is down from last week's premiere which earned a 0.7. Both numbers are way down compared to the ratings the flagship The Bachelor was pulling. For instance, The Bachelor finale earned a whopping 2.1 in the demo.
More ratings at ShowbuzzDaily
With American Idol airing clip shows the past two weeks, the comparisons with The Voice ratings aren't really apt. Notably, The Voice WILL be airing a clip show next week, followed by 3 weeks of at home competition. 
The Voice season 18 
Blind Auditions Part 1 – 1.5 key demo 8.96 million viewers
Blind Auditions Part 2 – 1.4 key demo 8.57 million viewers
Blind Auditions Part 3 – 1.5 key demo 9 million viewers
Blind Auditions Part 4 – 1.3 key demo 8.7 million viewers
Blind Auditions Part 5 – 1.8 key demo 9.9 million viewers
Battle Rounds Part 1 – 1.7 key demo 9.5 million viewers
Battle Rounds Part 2 – 1.7 key demo 9.7 million viewers
Battle Rounds Part 3 – 1.5 key demo 9.5 million viewers
Knockouts Part 1 – 1.6 key demo, 9.8 million viewers
Knockouts Part 2 – 1.4 key demo, 9.1 million viewers
American Idol season 18
Auditions Part 1 – 1.5 key demo 8.07 million viewers
Auditions Part 2 – 1.4 key demo 7.50 million viewers
Auditions Part 3 – 1.3 key demo 7 million viewers
Auditions Part 4 – 1.3 key demo 7.2 million viewers
Auditions Part 5 – 1.3 key demo 7.5 million viewers
Hollywood Genre Challenge – 1.2 key demo 6.3 million viewers
Hollywood Duets – 1.4 key demo 7.7 million viewers
Hollyweed Solos – 1.4 key demo 6.98 million viewers
Hawaii Top 40 Showcase pt 1 – 1.3 key demo 7.3 million viewers
Hawaii Top 40 Showcase pt 2 – 1.2 key demo 6.9 million viewers
This Is Me Part 1 (clip show) – 1.0 key demo 5.8 million viewers
This is Me Part 2 (clip show) – 0.8 key demo 5.5 million viewers