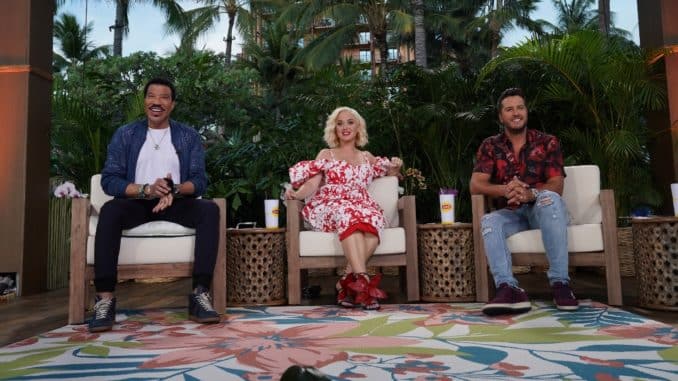 Because American Idol aired the first of two clip shows Sunday night, it's not surprising that the episode earned the lowest ratings of the season.
The good news is that the number stayed above 1.0 and still earned the best demo of the night. 60 minutes nabbed the highest overall audience, however at 9.5 million, vs Idol's 5.8 million. American Idol ratings fell 16 percent in the demo compared to last week.
When American Idol picks up the competition again on April 26 utilizing an "at home" format, will the ratings spike dramatically? American Idol will be the first reality show to stream competitors and judges from remote locations. People might tune in even anticipating a possible trainwreck. 
American Idol: Sophia Wackerman Name Change, Doug Kiker's New Teeth
American Idol Remote Schedule Set, Luke Bryan, Ryan Seacrest Discuss
American Idol season 18
Auditions Part 1 – 1.5 key demo 8.07 million viewers
Auditions Part 2 – 1.4 key demo 7.50 million viewers
Auditions Part 3 – 1.3 key demo 7 million viewers
Auditions Part 4 – 1.3 key demo 7.2 million viewers
Auditions Part 5 – 1.3 key demo 7.5 million viewers
Hollywood Genre Challenge – 1.2 key demo 6.3 million viewers
Hollywood Duets – 1.4 key demo 7.7 million viewers
Hollyweed Solos – 1.4 key demo 6.98 million viewers
Hawaii Top 40 Showcase pt 1 – 1.3 key demo 7.3 million viewers
Hawaii Top 40 Showcase pt 2 – 1.2 key demo 6.9 million viewers
This Is Me Part 1 (clip show) – 1.0 key demo 5.8 million viewers
More ratings at Showbuzz Daily