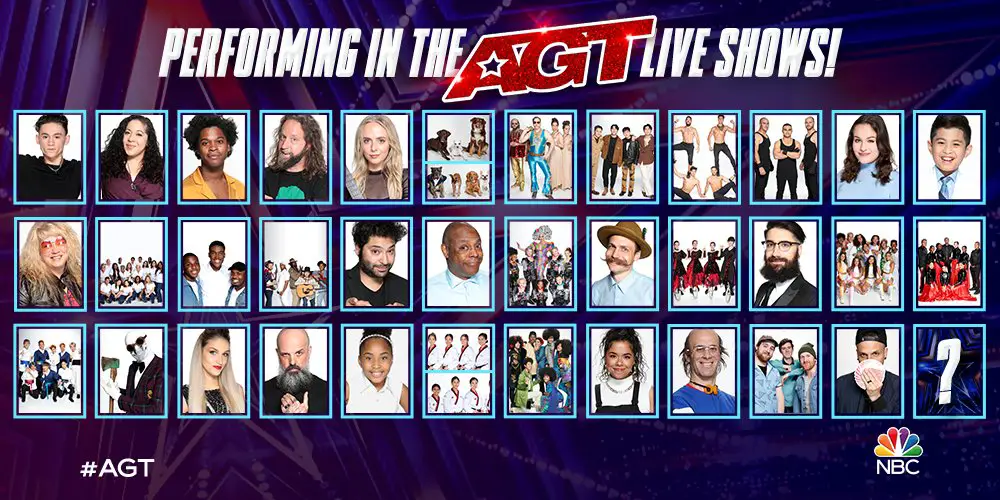 America's Got Talent officially unveiled the Top 36 on social media today (August 5). AGT returns to NBC after a two week Tokyo Olympics break with live shows Tuesday August 10. The first live results show airs Wednesday August 11.
The acts will perform live for America's Got Talent judges Simon Cowell, Howie Mandel, Heidi Klum and Sofia Vergara and host Terry Crews as they compete for America's vote and the chance to win a $1 million prize. The winner will also perform at "America's Got Talent Las Vegas LIVE" debuting at Luxor Hotel and Casino in Las Vegas on Nov. 4, 2021.
Fans can vote for their favorites. Seven acts will move on each week to the next round
AGT viewers can vote for their favorite act at NBC.com/AGTVote and via the "AGT" App (available through Google Play and on the App Store). Fans can also protect an act in jeopardy each week during the Wednesday results show via the "Instant Save." During the Wednesday results show, seven acts each week will move on to the semi-finals after America's Vote. 
UPDATE: AGT tweeted that the last spot is between Matt Mauser, Storm Large, Patrick Kun, Mike Goodwin and Dylan Zangwill "Join us on @peacockTV for the chance to help decide…will make the live shows. More information about the Wildcard special, which will air on NBC's streamer Peacock HERE.
Fans can vote for their favorite act on Twitter (from Tuesday, Aug. 10 at 7 p.m. ET through Friday, Aug. 13 at 7 a.m. ET) and the winner will go on to perform during the Aug. 24 live show.
Thoughts on the Top 36. Was anybody robbed?
I am surprised that ANICA advanced over similar act Storm Large. Maybe the show wanted to advance a few newbies and Anica is it? Storm is vying for the wildcard, but she's got stiff competition. And actually, Sarah Potenza would have fit well into the older chick/rock slot. But maybe the producers figured one The Voice alum in the live shows–Brooke Simpson–is enough. Also, I think the 9 year old magician, The Amazing Soji deserved a spot. Why advance a dumb joke act like that goofy dancer Keith Apicary, before more talented acts. DFlex the contortionist would have been a better pick, even. Sethward gets a pass. He's a joke act. But at this point, after appearing on the show three times. He's got a fan base.
America's Got Talent 2021 Top 36 
There were six Golden Buzzer acts before Simon's buzzer Nightbird left the competition due to health concerns
Tuesday, Aug. 10 performances
1aChord @offical1achord – Vocal Group – Audition
Beyond Belief Dance Co. @beyondbeliefdancecompany – Kid Dance group – Audition
Dustin Tavella @dustintavella – Magician – Audition
Gangstagrass @gangstagrass – Country/Hip-hop Band – Audition
Gina Brillon @gbrillon – FAMOUS Comedian (she's got a special on Prime that won a Gracie award) – Audition
Jimmie Herrod* @jimmie_herrod – Sofia Vergara Golden Buzzer – Singer – Audition
Kabir Singh @kabeezycomic – Comedian – Audition
Madilyn Bailey @madilynbailey – Youtube Singer – Audition
Matt Johnson @likemattjohnson – Escape Artist – Audition
Peter Rosalita @peter.rosalita – Singer – Audition
Sethward @sthwrd – Physical Comedy Joke act – Audition
The Canine Stars @caninestars – Animal Act – Audition
Tuesday, Aug. 17 performances
Aidan Bryant @aidanb.ryant  – Aerial Act – Audition
Dokteuk Crew @dokteuk_crew  – Dance crew – Audition
Johnny Showcase @johnnyshowcase – Retro comedic singer – Audition
Josh Blue @joshbluecomedy – Comedian – Audition
Korean Soul @officialkoreansoul – Vocal Group – Audition
Northwell Nurse Choir* @northwellhealthnursechoir – Howie's Golden Buzzer – Choir – Audition
Peter Antoniou @peterantoniou – Mentalist – Audition
Positive Impact @positiveimpactmovement – Acrobatic Group – Audition
Shuffolution @shuffolution – Dance Group – Audition
T.3 @t.3official – Broadway Vocal Group – Audition
Tory Vagasy @once.upon.a.tory – Broadway Singer – Audition
Victory Brinker @victorybrinker.official – (Group Golden Buzzer) – Kid Opera Singer – Audition
Tuesday, Aug. 24 performances 
ANICA @anica_aneeka – Rock Singer – Audition
Brooke Simpson @brookesimpsonofficial – The Voice 13 finalist – Singer – Audition
ChapKidz @chapkisdance – Kid Dance group – Audition
Keith Apicary @keithapicary – Dance Joke Act – Audition
Klek Entos @bizarreklek – Masked Magician – Audition
Léa Kyle* @leakylemagician – (Heidi Klum's Golden Buzzer) Magic Quick Change – Audition
Michael Winslow @michael_winslow – FAMOUS Sound Effects artist – Audition 
Rialcris @rialcris – Hand Balancing – Audition
The Curtis Family C-Notes @thecurtisfamilycnotes – Family Band – Audition 
UniCircle Flow @unicircleflow – Unicycle Group – Audition
World Taekwondo Demo. Team* @worldtaekwondo.pr – Terry Crews Golden Buzzer – Martial Arts – Audition
America's Wildcard – TBC to be decided by Wildcard special airing on Peacock
*Golden Buzzer
America's Got Talent alums will perform on Results show
America's Got Talent" will also welcome several favorite alums during the Wednesday night results shows. 
Wednesday, Aug. 11: Season 15 winner spoken word poet Brandon Leake and season 12 winner ventriloquist Darci Lynne.
Wednesday, Aug. 18: Season 14 winner singer Kodi Lee and season 11 mentalist duo The Clairvoyants.
Wednesday, Aug. 25: Season 13 winner & "America's Got Talent: The Champions" winner magician Shin Lim with season 5 violinist Lindsey Stirling.