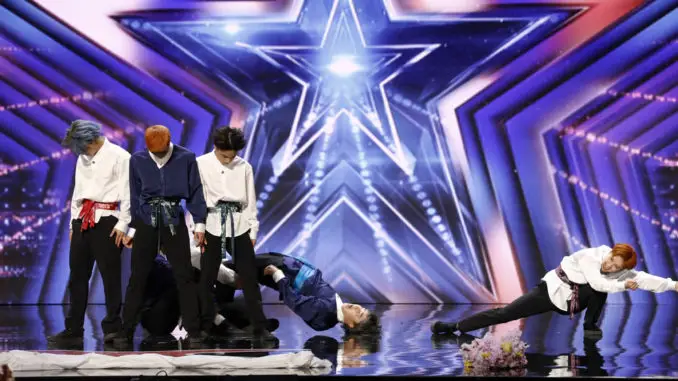 In a video package ahead of their America's Got Talent audition, Dokteuk Crew, a dance crew from South Korea, explain how their work is influenced by Anime, a style of animation. The group brings elements of the genre–such as special powers, dragons, and heroes–into their choreography.
Meanwhile, the excited members of Dokteuk Crew have fantasized about auditioning for America's Got Talent for a very long time, and now here they are! During their high energy performance, the crew, which features six males and a female, blended hip-hop moves with martial arts, for a seamlessly choreographed routine.  
America's Got Talent 2021 Auditions 5 Spoilers – Meet the Acts (Photos)
America's Got Talent: Gangstagrass Unites Country and Rap (Video)
The confident group also incorporated Anime inspired storytelling and cool tricks into their routine. Afterward, the judges–Simon Cowell, Howie Mandel, Heidi Klum and Sofia Vergara— gave the group a standing ovation. But you'll have to tune in on Tuesday to find out what the panel thinks about the group's entertaining routine.  
America's Got Talent airs on NBC Tuesdays at 8 pm ET/PT. Watch a preview of Dokteak Crew's audition, airing June 29, below.