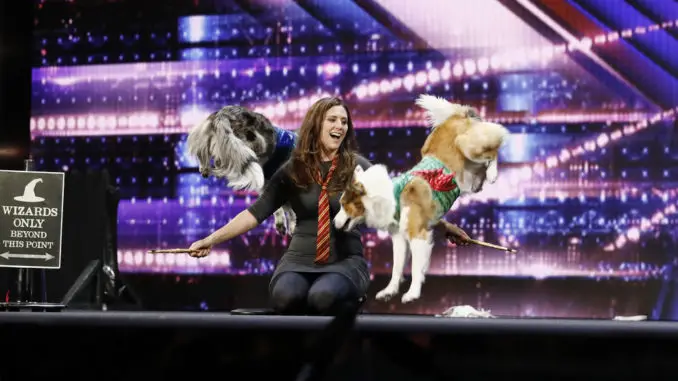 America's Got Talent season 16 continues on Tuesday (June 29) with more acts. The entire cast is back: Howie Mandel, Sofia Vergara, Heidi Klum and Simon Cowell sit on the judges panel, while Terry Crews returns to host. 
Performing this week: An already famous twin comic duo, a not so famous twin 70's style rock duo, a couple of doggo acts (this week's montages: dogs and twins), a Tik Tok famous Broadway singer, a "snip teaser" who will snip away at Heidi's T shirt, and MORE. Check out all the acts below.
Check out the list of acts auditioning on the fifth night of auditions, plus photo gallery at the bottom of the page. And for a look at many of the acts viewers will meet this season, check out our America's Got Talent preview. 
America's Got Talent 2021 Auditions 5 Contestant List
Alexandra Cole – Dog trainer – Her website indicates that she's French-Canadian dog trainer who specializes in Freestyle dancing and canine Frisbee. She also works on behavioral issues. She's appeared on several French-Canadian television programs – Website, Facebook Instagram
Bob's Dance Shop – Dance group – Los Angeles dance group that teaches dance, specializing in creating flash mobs. Instagram Facebook 
Delicious Duane Douglas – No contact wrestler – He calls himself the greatest No Contact Wrestler in the Universe and a former Isolation Wrestling champ. Don't be too impressed. Isolation Wrestling is a thing born recently out of the coronavirus quarantine and is basically wrestling fans recreating 80s/90s era wrestling promos, which are voted on by Instagram users.  Instagram 
Dokteuk Crew – Dance group – South Korean dance group mixes hip-hop and martial arts.  Instagram
Gangstagrass – Country/hip-hop group – The group fuses country music and hip-hop. "Gangstagrass" is more of a concept that has released music featuring various musicians and guest artists. The mastermind of the group, Rench, put together the "gangstagrass" style theme song for the FX series Justified. NBC released the band's audition early. Website Instagram
Jayy – Singer – Also calling herself J-Swag, the Latin singer competed on Univision's Raina de la Cancion. Watch her audition HERE. Instagram.
Lea Hinz – Aerial Hoop artist – German hoop artist has performed in cabarets and circus tents around the world, including Absinthe in Las Vegas.  She started out as a gymnast on the German national team. Website Instagram
Lea Kyle – Quick change artist and magician – A French quick change magician, Lea also competed on France's Got Talent in 2020. Check out her audition HERE. Instagram
Melodie Blaize – T-Shirt snip artist – Snip Tease appears to be clothes designers with scissors who cut clothing while still on a person's body. In the studio photo, Heidi is on stage wearing an orange t-shirt while Melodie goes to work with scissors. Instagram
Peter Antoniou – Psychic comedian – His website describes  him as "telling jokes and fortunes." Aka, he attempts to "read minds" in a humorous way.  Website Instagram
Positive Impact Movement – Acrobats – Leader Travis Brewer calls himself a "movement artist" and has been a finalist on American Ninja Warrior. The group also sells an apparel line. Instagram Website
Space Kiddettes – Singing duo – This Houston LGBTQ musical duo plays campy 80/90s inspired pop. They also co-host a podcast titled Pridecast. Facebook Instagram Bandcamp
The Empower Pack – Dog Act – Chrissy Joy, the head dog trainer also works to supply dog performers to TV and movie productions through her Bone-A-Fied Talent Group. Her celeb dogs are called The Joy Crew. She is the 2018 National Stunt Dog Champion and ranked 2nd for National Dog Trainer of the Year (2019). Instagram
The Mooncity Masters – 70s style Rock duo – Twin brothers Talor and Jordan Steinberg play original music steeped in the style of 70s guitar bands like Grand Funk Railroad and Humble Pie.  Website Instagram Facebook
The Sklar Brothers – Comedians – These identical twin comedians hosted the show Cheap Seats which aired for four seasons on ESPN Classic. So, another act that's already kinda famous. They also wrote for MTV's Apt 2F. And they've appeared on a slew of shows including CSI, Children's Hospital, Law & Order, Curb Your Enthusiasm, It's Always Sunny in Philadelphia and more, more MORE. Just read their Wikipedia page for the deets! Didn't even bother to mention AGT on their socials. It's just a blip on their resume. Instagram, Website
Thomas Evans – TBD
Tory Vagasy – Singer – Tory appears to be studying musical theater at Broward College in Florida. She took part in Broadway's Next on Stage competition. While she has almost 29K followers on Instagram, she has over 266K on TikTok. She sings in the bathroom!
America's Got Talent 2021 Auditions 5 airs Tuesday June 29 on NBC at 8 pm ET/PT.
*
*
*
*
*
*
*
*
*
*
*
*
*
*