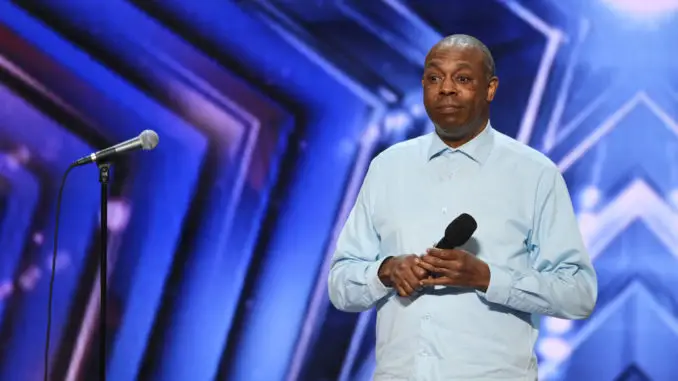 Is Michael Winslow the most famous person to audition for America's Got Talent ever? The talented sound effects artist starred in the Police Academy movies and did voices for Gremlins and Space Balls. A guy like that wouldn't audition for a TV talent show, right?
In a preview clip from Tuesday's audition episode, the 62 year old explains that he stepped back from show business to raise his family as a widower, and now he's back to get his career going again. However, Michael was touring the country in 2017. And his Wikipedia page reveals no gaps in his career. So I suspect there is actually more to the story. Perhaps times have been hard in the last few years, and AGT is a way to remind people who he is. "I still have some sounds to make," Michael declares before he takes the stage.
America's Got Talent 2021 Auditions 7 Spoilers – Meet the Acts (Photos)
The show fully embraces the fact that Michael is a well-known artist. The judges, Simon Cowell, Howie Mandel, Heidi Klum, Sofia Vergara and host Terry Crews recognize him without introduction. But in his video package, Michael's reason for appearing on the show is glossed over pretty quickly.
"I used to be the man of 10,000 sound effects," explained Michael, "But we're into the 100s of thousands now!" Backstage, Terry calls Michael "a legend." Simon says, "I cannot tell you how thrilled I am that you're here!"
Michael's routine consists of incredibly realistic imitations of airplane noises, both inside and outside the cabin, explaining that his dad was in the Air Force, and he learned them living next to an airport. He also imitates tuning in an old fashioned radio, along with expert beatboxing that recreates  favorite songs like Queen's "Another One Bites the Dust." The routine earns him a standing ovation from the judges.
The man has a gift, for sure. Check him out presenting the Best Sound Effects award at the Oscars in 1986 HERE. 
Watch the famous Michael Winslow perform for the America's Got Talent judges below.