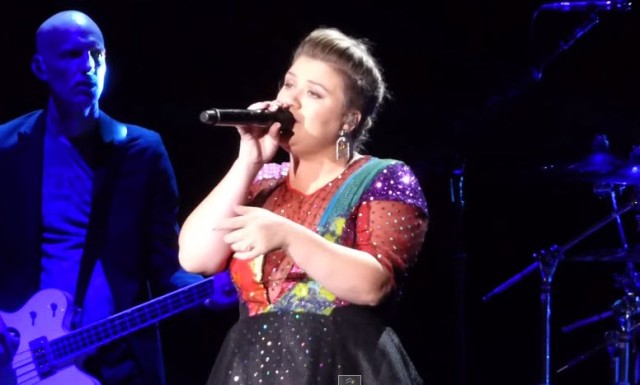 Get well soon Kelly Clarkson! The original American Idol winner has to cancel six tour dates due to vocal issues. Doctor's orders, the singer tweets:
So bummed that I have to cancel some of my tour dates. This kills me, but doctors are saying I need to rest my voice! pic.twitter.com/i5byD90ssP

— Kelly Clarkson (@kelly_clarkson) September 12, 2015
Kelly took a long holiday break after her Nashville concert on September 5. She resumed her tour on September 10 in Atlanta. Apparently, the 5 day break wasn't enough to fix what was ailing her. Hopefully, by the time she hits the Canadian Tire Center in Ottawa Canada on October 1, she'll be feeling better! Boston doesn't want to see you Kelly, unless you return on tour. No trips to the Mass Eye & Ear hospital for throat surgery, like your fav Adele, Sam Smith and Meghan Trainor have had to make, please. On top of throat issues, Kelly is also pregnant with her second child, which can't be making the situation any easier. Kelly left her fans with one final tweet:
I can't wait to get healthy and see y'all back on the road soon. I hate canceling… — Kelly Clarkson (@kelly_clarkson) September 12, 2015
In the meantime, enjoy these epic covers from Kelly's tour stops, "Love Me Like a Man" by Bonnie Raitt, "Jolene" by Dolly Parton, "Cool for the Summer" by Demi Lovato, "Heaven" by Bryan Adams, "Purple Rain" by Prince, "Wrecking Ball" by Miley Cyrus, "Blank Space" by Taylor Swift, "Bye Bye Bye" by 'Nsync, and "Stay" by Rihanna & "Jealous" by Nick Jonas..