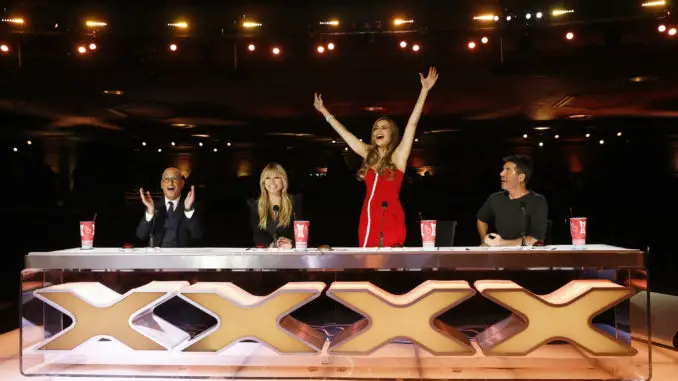 America's Got Talent 2021 officially unveiled the Top 36 last week. And tonight (August 10) the show returns to NBC after a two week Olympic break.
The Live Shows kick off with 12 acts that will perform live for America's Got Talent judges Simon Cowell, Howie Mandel, Heidi Klum and Sofia Vergara and host Terry Crews  as they compete for America's vote and the chance to win a $1 million prize.
Additionally, AGT viewers will have a chance to vote for their favorite act at NBC.com/AGTVote and via the "AGT" App (available through Google Play and on the App Store). 
Tuesday, Aug. 10 performances
Jimmie Herrod is the sole Golden Buzzer act performing tonight. It's hard to imagine he would not advance to the semi-finals. Sethward is here for the yucks. Gina Brillon is the act with the most experience. I expect her to do well. She's as cool as a cucumber up on stage.
Watch for a voting poll tonight and a prediction post before Wednesday's live results show.
1aChord @offical1achord – Vocal Group – Audition
Beyond Belief Dance Co. @beyondbeliefdancecompany – Kid Dance group – Audition
Canine Stars @caninestars – Animal Act – Audition
Dustin Tavella @dustintavella – Magician – Audition
Gangstagrass @gangstagrass – Country/Hip-hop Band – Audition
Gina Brillon @gbrillon – FAMOUS Comedian (she's got a special on Prime that won a Gracie award) – Audition
Jimmie Herrod* @jimmie_herrod – Sofia Vergara Golden Buzzer – Singer – Audition
Kabir Singh @kabeezycomic – Comedian – Audition
Madilyn Bailey @madilynbailey – Youtube Singer – Audition
Matt Johnson @likemattjohnson – Escape Artist – Audition
Peter Rosalita @peter.rosalita – Singer – Audition
Sethward @sthwrd – Physical Comedy Joke act – Audition
The Live Results shows debut on Wednesday (August 11). Seven acts will advance to the semi-finals based on the nationwide vote.  Fans will also have a chance to protect an act in jeopardy each week during the Wednesday results show via the "Instant Save." Season 15 winner spoken word poet Brandon Leake and season 12 winner ventriloquist Darci Lynne are set to perform.
America's Got Talent Wildcard Show to Air on Peacock Streaming Service
Plus, In a series first, viewers will have the opportunity to choose the final contestant in the Top 36 via  AGT: America's Wildcard, a one-hour special available exclusively on Peacock beginning Tuesday, Aug. 10.
Hosted by Terry Crews, five acts will take the stage and perform one more time. Viewers can choose their favorite via Twitter vote, from Tuesday, Aug. 10 at 7 p.m. ET until Friday Aug. 13 at 7 a.m. ET. The winning act will perform on the live show on Tuesday, Aug. 24 (8-10 p.m. ET/PT).
The acts vying for the final spot are:
Dylan Zangwill @thedylanzangwill – Kid rock singer – Audition
Matt Mauser @mattmauserofficial – Singer (Lost his wife in Kobe Bryant crash) –  Audition
Mike Goodwin @bowtiecomedy – Comedian –  Audition
Patrick Kun @patrickkun – Close up Magician – Audition
Storm Large @stormof69 – Rock Singer (Rockstar: Supernova alum) – Audition
Find Out Who is Performing on the Live Shows Week 1