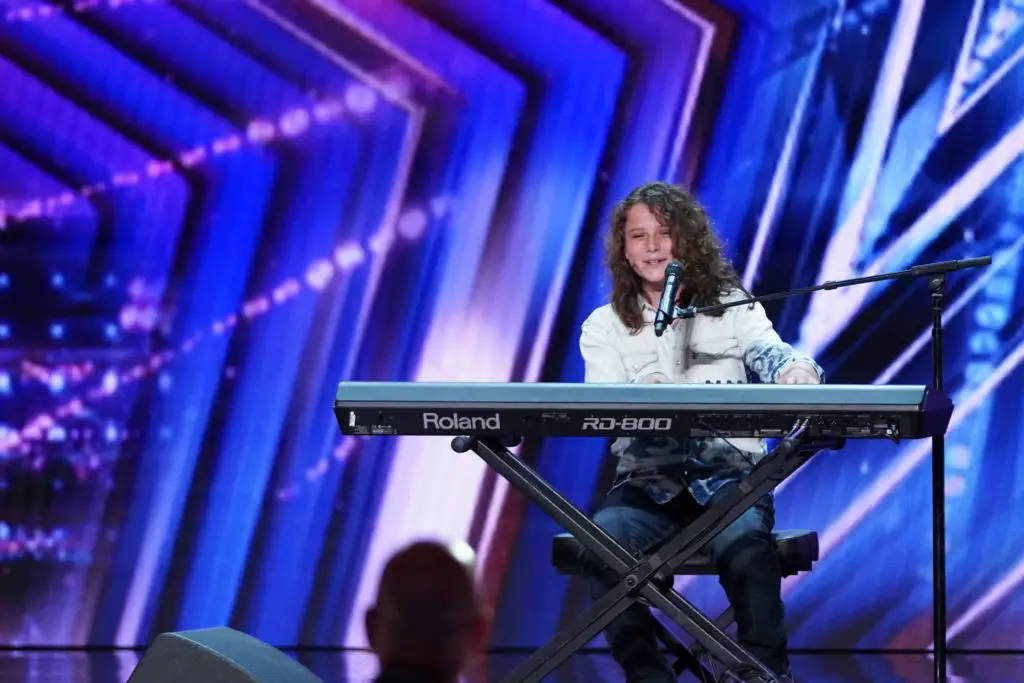 America's Got Talent: Young Rockstar Dylan Zangwill Shines with Queen Cover
America's Got Talent returned with a final round of auditions this week. It was a night full of montage and fast-paced fun (Read full recap HERE). The acts that stood out to me were Savannah Robertson whom I wish the show featured more, as only a brief clip of her "Drivers Licence" performance aired. I also enjoyed the beatbox recorder player Medhat Mamdouh, acrobat strength act Rialcris, and Nigerian contortionist DFlex.
Dylan Zangwill, the 14-year-old singer from Exton, Pennsylvania, was one of the most memorable acts of the night. Prior to his audition, Dylan told the judges that he has been singing and playing music all of his life. Judge Simon Cowell asked what life at school is like. Dylan humbly responded that he doesn't always talk about his singing with his classmates, as he likes to hear what others are doing.
From the moment Dylan started to sing "Somebody to Love" by Queen, I was surprised. His tone is much deeper than most 14-year-olds, with a nice natural raspy quality. However, I thought the performance lacked some maturity in the vocals. His phrasing and pacing with the piano playing was a bit choppy. I think as Dylan gets more performances under his belt, his issues are an easy fix. That he has the raw talent and ability to sustain the belting notes is a true testament to his talent at his age.
Simon Cowell believes Dylan will continue to get better and better
All the judges gave Dylan a standing ovation. Sofia Vergara called the performance "spectacular" and noted the surprise element of a sweet boy having such a powerful voice. Howie Mandel connected to the joy. Heidi Klum said she "loved it" and noted how "comfortable" he looked. Simon called it "great" and said that Dylan is "someone to watch". Dylan soared through to the next round, gaining 4 yeses from the panel. As he walked off stage, Simon noted that he thinks that Dylan will continue to get better in the next few years. I totally agree, as I noted above that Dylan does have some improving to do, but most of issues are probably due to his lack of maturity and inexperience.
Looking at the overall singing lineup, I am not sure if he'll go far with all of the professional level singers, we have this season. As shown at the end of the episode, only 36 total acts will make it to the live shows. Will Dylan get the rock singer spot that he most likely is competing against with pure rocker Storm Large and The Voice alum Sarah Potenza who leans a bit more blues soul? It may help that he is a kid as often kids do go far on this show. I'm excited to see the full lineup when AGT announces it in a few weeks.
Watch Dylan Zangwill perform Queen's "Somebody to Love" on America's Got Talent