American Idol begins it's landmark 20th season on Sunday (Feb 27). What better way to mark that milestone than ranking all the seasons that came before it?
This list is highly subjective, of course. I've been an ardent watcher of American Idol since 2oo3. My opinions are based on the talent of the contestants. But nostalgia and sentimentality figure into my ranking as well. What can I say? I LOVE THIS CHEESY SHOW that I've been covering here for over 16 years.
19. Season 12 (2013)
American Idol ratings began falling after season 6. In reality, network ratings have been falling for years. Nothing gold stays forever right? But by season 12, Idol producers flew into a panic. And to say they overcorrected would be an understatement. After season 11, judges Jennifer Lopez and Steven Tyler left the American Idol panel. With The Voice boasting Christina Aguilera as a high-priced panelist, Idol went for a big prize–pop diva Mariah Carey.
But they didn't stop there. Believing they could re-capture younger viewers, the show added rapper Nicki Minaj to the mix, and Mariah, believing she'd be the only female judge, was livid. The two bickered their way through the live shows, completely harshing the show's vibe. 
Mariah and Nicki only lasted one season. But the damage was done. The Voice began killing American Idol in the ratings. And the veteran show completely lost its way
The season produced a worthy Top Three: Soul singer Candice Glover, country singer Kree Harrison and pop artist Angie Miller were all supremely talented. But Idol was so hell-bent on a female winner, they pushed weak males into the Top 10. SO weak, that they were all eliminated by the Top 5. Horrible season.
18. Season 18 (2020)
Season 18 is second to last, and it's nobody's fault. Well, actually, blame it on Corona. When the Coronavirus shut down production in March, the show only had auditions, Hollywood and the Hawaii showcase in the can. ABC aired clip shows for a couple of weeks until they figured out what to do. The solution? Use iPhones and ring lights to film performances at contestant's homes. In effect, Season 18 never aired a live performance.  Frustratingly, the season boasted a bunch of great singers who would have been incredible in a live setting. The winner, Just Sam, was marooned out in Los Angeles by herself, and that seemed especially cruel. Even the unflappable Ryan Seacrest nearly had a meltdown on the final. Just not fun to watch. Again, nobody at fault. Blame the f******* pandemic.
17. Season 14 (2015)
With ratings at an all time low, FOX pulled the plug on Idol by the end of season 14, promising fans one last celebratory, blowout season the following year. Big Machine Records executive, Scott Borchetta signed the winner afterwards. And he wanted who he wanted. Talented blue-eyed soul singer and musician Clark Beckham seemed on track to win it all…until he wasn't. Suddenly, Nick Fradiani's Train-lite performances were the greatest thing ever, and Clark could not escape criticism. This will sound a bit tin foil hatty, but I believe Scott just did not want to sign Clark. The end. 
Also, the season had ditched the results shows, which made for pretty uncomfortable episodes. If Ryan called a contestant to sing, it meant they were safe, based on the previous week's votes. Singers spent the entire episode freaking out over whether they were safe or not. It did not make for good TV.
On the finale, after Jersey native Jax was declared the 3rd place finisher, she was immediately shown the door without so much as a sing out, send off, or thanks for playing. It made her so angry, that she wrote a bitter song about Idol afterward. She got the last laugh, though. After blowing up on Tik Tok, she signed a record deal with Atlantic. Teen singer Daniel Seavey is the other season 14 success story, making hit records with boy band Why Don't We. 
16. Season 13 (2014)
After season 12, American Idol spiraled. They fired long-time producers Nigel Lythgoe and Ken Warwick were fired, replaced by Swedish Idol producer, Per Blankens. Randy Jackson stepped back from the judges table to a mentoring position, replacing Jimmy Iovine. Jennifer Lopez returned and Harry Connick Jr. joined the panel. Keith Urban remained. 
Season 13 was an improvement over season 12, to be sure. But the new producer had some pretty terrible ideas. For instance, at the beginning of Hollywood Week, the contestants were gathered in an airplane hanger, and 32 were sent back to the airport with no warning. The "twist" came off as cruel. Also, the semifinals began with a Top 30. Five singers of each gender were eliminated before they had a chance to sing. Fans started wondering if Per had a bad childhood…or something.
After season 12 produced the first female winner since season 6, season 13 saw the return of the White Guy Rock Singer. Caleb Johnson had an impressive rock voice, but his retro 70's vibe made him most likely to end up in a tribute band (Yup. He tours with Meat Loaf's band. Not a bad gig, actually). 
A silver lining: 4th place finisher Jessica Meuse and 2nd runner up Alex Preston were allowed to sing original songs in competition. 
15. Season 17 (2019)
ABC has casted great talent for its going-on-5-year era of the show. But American Idol is a shell of its former self. That's just a fact. It no longer rules the ratings or the zeitgeist. The world changes, Network TV isn't what it used to be. Tik Tok creates stars, not singing shows. And that's OK. Nevertheless, I'm always going to have a special place in my heart for the FOX era. Which is why ABC seasons are bunched up in the second half of the rankings. 
ABC wisely positioned American Idol as the show that gives singers and songwriters 100% artistic freedom, including the opportunity to perform original songs. Runner-up Alejandro Aranda, aka Scarypoolparty wowed fans with incredible original material in season 19. By no means the best singer, he was still mesmerizing to watch perform. Shy and a little awkward, the handsome Elvis-doppelganger, Laine Hardy a returnee from season 16, made for a better winner. The alums have done OK. Alejandro isn't a star, but he earned credibility in the alternative world, putting out creative and surprising records. Laine is plugging away as a country artist. And 4th placer, Laci Kaye Booth got signed by Big Machine Records. 
14. Season 19 (2021)
ABC season 3 produced a solid Top 3. Country/Americana singer, Chayce Beckham, who sailed to the top of the charts with his original song, "23." Second and third place finishers, Soulful singer Willie Spence and big voiced Berklee student, Grace Kinstler, would have also made for worthy winners. But wait…there's more Teen rocker, Casey Bishop, singer-songwriters Hunter Metts and Cassandra Coleman also made their marks.
It would have been a perfect season! Unfortunately, controversy abounded. Idol disqualified teen Country singer Caleb Kennedy (a year later, a ruined life) after a racist video surfaced. Semi-finalist, Cecil Ray left the competition and promptly got arrested after allegedly abusing his girlfriend. And then fan-favorite singer-songwriter Wyatt Pike abruptly left the competition without explanation (But now we know why). 
But then, producers thought it would be a great idea to bring back Top 20 contestants from season 18  to compete for a 10th spot in the finals. The winner and singers with record deals were not eligible. That meant runner-up Arthur Gunn could come back and compete again. The fans HATED IT. And as expected, Arthur won the "Comeback" competition. He took his place in the finals. Fans worried he could win the whole thing, but he left the competition after one week. He returned to the finale to sing a duet with Sheryl Crow. He rehearsed with her, but then refused to come out of his trailer. TRAINWRECK.
Thank God the cast was otherwise stellar.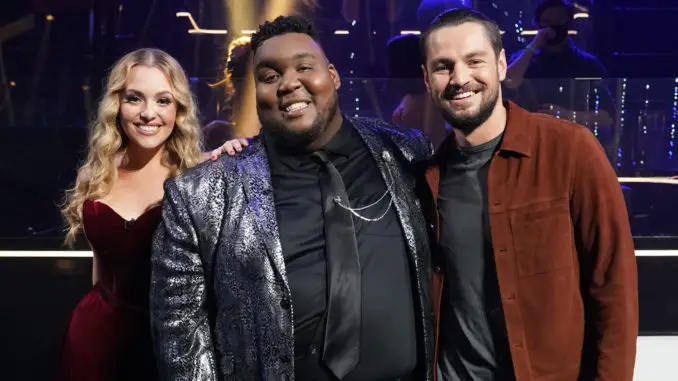 13. Season 16 (2018)
Here we go, American Idol season 1 on ABC. After a year without Idol, Fremantle searched high and low for a network willing to take on the veteran series, and ABC bit. In a new era, American Idol would be scaled WAY back–except for that giant salary paid to entice Katy Perry to the judges panel. Luke Bryan and Lionel Richie joined her. THANK GOD Ryan Seacrest returned to host, even with that permanent Live with Kelly & Ryan gig in New York City.
With the glory days of Idol over, the lives were only a few weeks long. But ABC did introduce one very cool twist. Idol live shows aired live coast-to-coast allowing fans all over the country to vote simultaneously for their favorites. Airing the episode across the country like a sporting event leant excitement and made the voting fair for all.
ABC season 1 produced a bonafide star in country singer Gabby Barrett who signed to Warners after the show, and has had several No 1 hits. Winner Maddie Poppe has had a hard time navigating her career post Idol, but she delivered wonderful performances on the show. And singer-songwriter Catie Turner, signed to Atlantic, is blowing up Tik Tok. And of course, Idol romances hit their zenith, with winner and runner up Maddie and Caleb Lee Hutchinson pairing up. and Gabby (3rd) and Cade Foehner (4th) eventually marrying and having a baby together.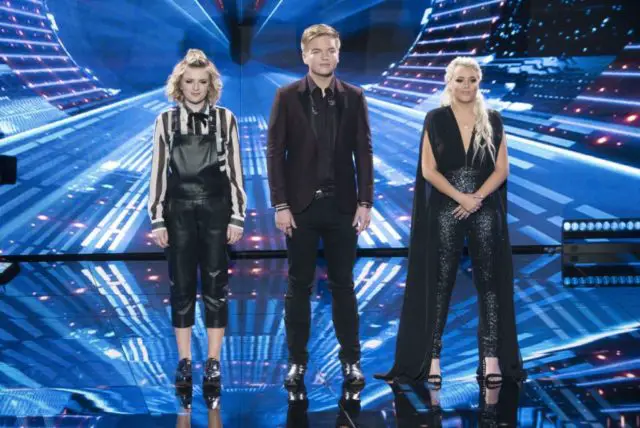 12. Season 2 (2003)
I really began paying attention to American Idol during season 2. It's also the season that fan culture kicked into high gear. By the end of the season, Clay Aiken had an army of fans who might kill you if you so much as raised an eyebrow at him. Producers seemed to REALLY want Luther Vandross inspired crooner Ruben Studdard to win. Judges Randy Jackson, Paula Abdul and Simon Cowell were clearly Ruben fans.
On the night of the finale, Ruben won, amid complaints of jammed phone lines. In those days, bandwidth could be limited. Phones were the only way to go, if a viewer did not own an AT&T cell phone. The truth is, with unlimited bandwidth Clay might have won it all. We'll never know. Thirty-six million viewers watched the season 2 finale, the show's biggest audience yet.
11. Season 9 (2010)
After season 8, Paula Abdul quit the show over a salary dispute, leaving Kara DioGuardi, Randy Jackson and Simon Cowell as judges. Between Simon phoning it in for his last year on the show (and maybe purposely sabotaging the results, so his upcoming X Factor USA could slide into Idol's place) and the ill-advised addition of Ellen DeGeneres to the judges panel, season 9 was a huge letdown compared to the highs of season 8.
Ellen didn't join the panel until Hollywood, while guest judges like future panelist Katy Perry sat in on audition rounds. The talk show host was supposed to represent the viewer at home, offering an opinion. But in the end, she really had nothing to say. She lasted one season, thankfully. Also, people who long for the days of Simon Cowell forget how boring and detached a presence he became at the end of his tenure. 
The talent seemed muted compared to earlier seasons. But while winner Lee Dewyze couldn't sing in tune on stage. But he's actually a talented songwriter, and is doing well syncing songs on TV shows. Crystal Bowersox's star shined brightly during season 9. Third placer Casey James is still plugging away in a singing show super-group. And Top 10 finalist, Katie Stevens went on to a busy acting career.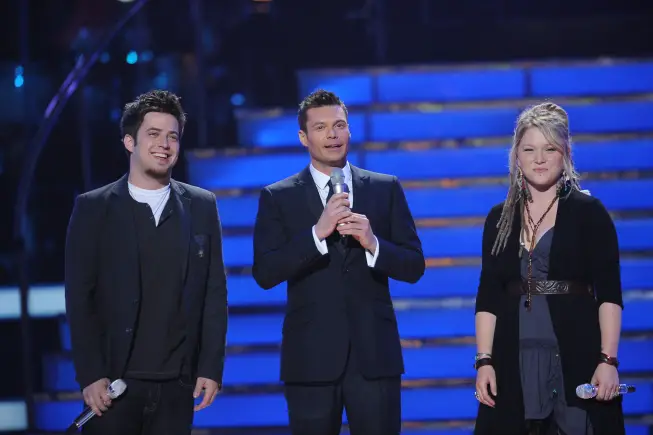 10. Season 15 (2016)
Season 15 marked an end of an era. At that time, fans assumed the show was over, probably for good. So we relished that final year. Indeed, the contestants took a back seat to nostalgia that season. The finale featured nearly every American Idol winner, including Kelly Clarkson before she signed her life away to NBC (heh). Who could forget her emotional performance of Piece by Piece Top 10 week while pregnant with her son (and still happily married). She returned to the finale to sing a medley of her biggest hits, too.
The finale also featured a slew of American Idol alums, who were put together by genre to sing fun group numbers. Dozens of alums opened the show with a performance. Unfortunately, the current contestants barely got a minute of air time, including winner, Trent Harmon who battled back from a bad case of mono during Hollywood Week. Obviously extremely ill, he refused to give up. 
9. Season 10 (2011)
After a lackluster season 9, American Idol made a real comeback the following year. The show shelled out big bucks to sign on pop star and actress, Jennifer Lopez. She and rocker icon Steven Tyler joined Randy Jackson on the panel. The change was refreshing, at least at first. And Nigel Lythgoe made a triumphant return as producer the after show cut him loose two years prior. Additionally, Idol had a brand new label partnership with Universal Music. Chairman Jimmy Iovine served as mentor. The changes paid off. Ratings increased for the first time since season 6.
The season produced two teen country singers, Scotty McCreery and Lauren Alaina as winner and runner-up respectively. Both are still thriving in country music, having earned No 1 records on the charts. Lauren recently joined the Grand Ole Opry. Third place finisher Haley Reinhart is beloved by her fan base. Like Lee DeWyze, she's synced a bunch of songs, including "Can't Help Falling in Love" for a popular gum commercial. 
8. Season 11 (2012)
Jennifer Lopez, Steven Tyler and Randy Jackson returned to the judges table. However, some fans complained that they were too soft on the contestants. Steven, in particular seemed bored and  had very little to say. After the season ended, he returned to Aerosmith.
For the first time, contestants were allowed to play instruments during their audition. OK. Only one contestant was allowed to do that–eventual winner Phillip Phillips. The Dave Matthews-like singer flipped Michael Jackson's "Thriller" while accompanying himself on guitar, and the judges lost their minds. Phillip was controversial. Not the best singer by any stretch, he became and stayed the front runner all season. Fans who loved big voices rooted for teen belter, Jessica Sanchez. But after needing to be saved in the Top 7 round, her fate appeared to be sealed. 
Meanwhile, Phillip was handed the best winners single in Idol history. Typically big sentimental beauty-pageant type songs, coronation singles ultimately bombed once the confetti fell. But Phillip snagged a viable single. "Home" sold millions of downloads, charted on pop, adult pop and adult alternative formats. Phillip didn't like the song much at first, but it grew on him. It became the theme song for the US Girls gymnastics team. To this day, the song turns up in commercials, and as background music for sports performances. It's a classic.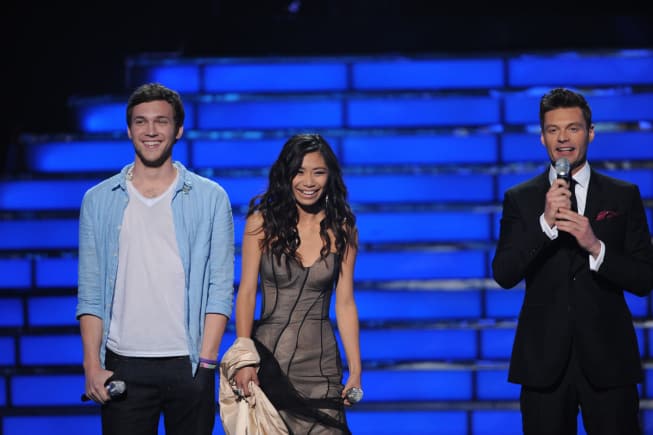 7. Season 6 (2007)
Season 5 raised the bar so high, season 6 was bound to be somewhat of a letdown. The premiere nabbed over 37 million viewers! But right off the bat, the auditions were controversial. The judges were crueler than usual, mocking auditioners, who clearly had issues, behind their backs. 
And, although teen pop singer Jordin Sparks won the show, the season is remembered for the campaign to keep Sanjaya Malakar, a marginally talented singer in the competition. He was a Vote for the Worst Pick. But when Howard Stern started promoting the website, Sanjaya managed to stick around all the way to 7th place. The big moments were Sanjaya singing "Your Really Got Me" as "crying girl" sobbed in the audience and warbling an off-key "Bathwater" in a mohawk.
In the meantime, amid all the shenanigans, eventual runner-up, Blake Lewis, began arranging his own songs.  It's a thing that hadn't really happened on American Idol before. He beatboxed his way through unique versions of "Time of the Season," "Lovesong" and "You Give Love a Bad Name." Producers allowed him to arrange his own songs, until they didn't anymore. They forced him to sing a treacly version of "This is My Now," a song clearly written to favor Jordin.
Season 6 also produced the supremely talented, and maybe the nicest American Idol alum on the planet, 3rd place finisher, Melinda Doolittle.
6. Season 4 (2005)
Season 4 produced one of American Idol's biggest success stories, Carrie Underwood. She's a Country music beast, with many awards and No. 1 hits under her belt. Plus, she's developed a successful fitness brand that would probably keep her wealthy even without the music.
Back in 2005, she was just a Oklahoma gal, straight off the farm with a set of steel pipes. Notably, the upper age cut off rose from 24 to 28. The change introduced older, more seasoned performers like runner-up Bo Bice who had played bars for years, and Boston Conservatory vet, Constantine Maroulis. Experienced singers who really knew how to perform took the stage. Also, Idol hired a band leader, Rickey Minor, to provide live backup for singers instead of recorded tracks. American Idol definitely raised the bar in season 4.
5. Season 1 (2002)
Confession. I've only seen bits and pieces of Season 1. But that first season, a summer show whose success was not guaranteed, was a low budget affair. If Idol hadn't found such a supremely talented winner in Kelly Clarkson, who knows if would have taken off.
But from what I can gather, other than Kelly, runner-up Justin Guarini, and 4th place finisher Tamyra Gray, the talent was pretty weak. And it marked the beginning and the end of former co-host, Brian Dunkleman.
Still, Miss Kelly Clarkson, without a doubt was and still is the Queen of All Singing Shows.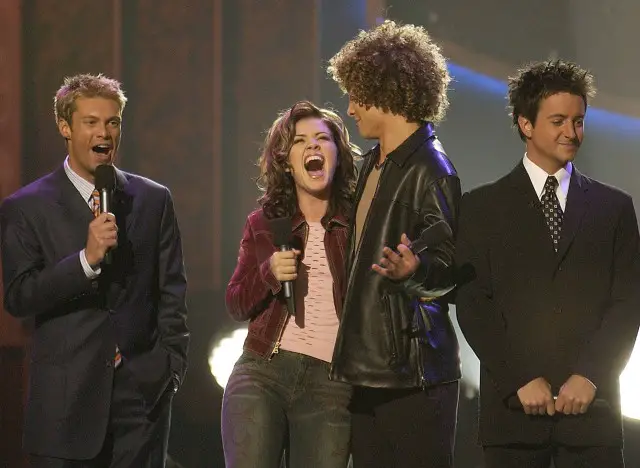 4. Season 3 (2004)
It's hard to believe now, but back in 2004, a good chunk of Idol fans were disappointed in Season 3. They felt it would never surpass the major showdown between season 2's Ruben Studdard and Clay Aiken. And where were the cute boys to lose one's mind over? The entertaining Jon Peter Lewis came close, but was eliminated in 8th place. In season 3, American Idol still favored R&B type voices. 
But DANG. The talent that came out of that season! UNREAL. Miss Jennifer Hudson left the competition in 7th place, but then went on to win an Oscar, an Emmy and a Grammy. She soldiered on through unimaginable tragedy, and 18 years later, she's a major star. Winner Fantasia struggled post-Idol, but she's a respected R&B artist and getting ready to star in the film version of The Color Purple musical. The "battle" of the three Divas–Jennifer, Fantasia and LaToya London was as exciting as anything that ever happened on Idol. 
3. Season 8 (2009)
We're coming down to my three favorite American Idol seasons! In third place is Season 8 featuring the otherworldly talent of runner-up Adam Lambert. The winner, Kris Allen, was not a vocal powerhouse like Adam, but he knew how to choose great songs. His flip of Kanye West's "Heartless" is one of American Idol's classic moments. Speaking of classic, Adam mesmerized the studio audience and viewers at home with his emotional and gripping performance of "Mad World" in the Top 8 round.
Producers tried to set up a "culture war" between West Coast Adam and Southerner Kris, but neither would have it. I have a feeling though, 3rd place finisher and professional widow, Danny Gokey would have been game if given a the chance. 
Season 8 introduced "The Save" which gave the judges a tool to undo a "surprise boot." Fans were pretty mixed on The Save. It's use didn't always seem warranted. But the panel saving Matt Giraud in the Top 7 round, amid shouts of "Save him! Save him! Save him!" created one of the season's truly feel good moments.
Also, producers felt the need to add a 4th judge, songwriter Kara DioGuardi. Her judging was not needed, and neither was her contribution of The. Worst. Coronation. Single. Of. All. Time "No Boundaries." 
2. Season 7
David Archuleta and David Cook, my favorite Top 2 of all time! Literally the cutest bromance EVER. David Cook came out of nowhere to win the show. Archie was on everybody's radar from day one, and finished in second place. Cook's win had as much to do with his terrific rock voice, as it did with his savvy song choices. But it also helped that contestants were allowed to play instruments on stage for the first time in Idol history. The change gave a leg up to rockers like Cook. 
Season 7 was full of talent, including 4th place finisher Jason Castro who literally introduced "Hallelujah" and the Ukulele-style version of "Over the Rainbow" to the singing show world. Being able to play piano on stage benefited Brooke White's singer-songwriter style, and the late Michael Johns a front runner who left the competition shockingly in 8th place, supposedly inspired the introduction of The Save. 
The spectacular season 7 finale was a nail biter. David Archuleta sang his heart out, but David Cook had built so much momentum, he couldn't be beat. He amassed 12 million more votes than David A.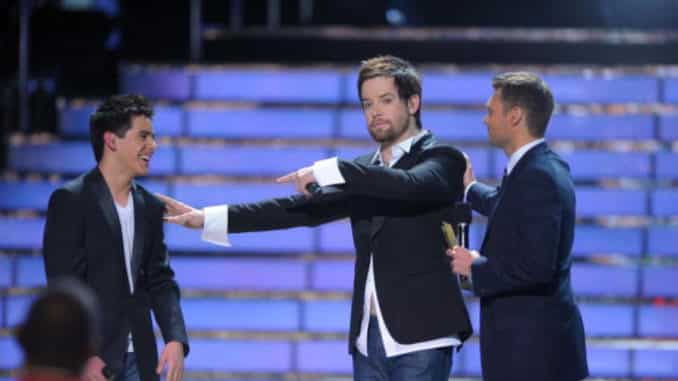 1. Season 5
Yes. Season 5 is my favorite Idol season, and always will be. It's my first American Idol season as a blogger, so I am particularly sentimental about it. And not to brag. Ok, I'm gonna brag. I spoiled the entire Top 24 with the help of two sources. And to this day, I'll never tell. Heh.
The Top 12 was brimming with talent. Let's start from the bottom. 9th placer Mandisa, went on to major success in Christian Contemporary Music, including winning a Grammy. Kellie Pickler was a marginal country singer, but she went on to WIN Dancing with the Stars with pro-partner Derek Hough, star in Hallmark movies, and reality and daytime TV shows.  Paris Bennett came to American Idol from a prominent family of singers and musicians–a 16 year old wunderkind.
Chris Daughtry, considered a front runner, didn't win the show, but went on to sell millions of albums as a rock musician. Fans lost their minds when Elliott Yamin performed a flawless version the Jazz classic, Moody's Mood for Love." Runner-up Katharine McPhee met her future husband David Foster on Idol. She went on to star in NBC's Smash, CBS's procedural Scorpion and star in Broadway's Waitress. 
Producers would have prefered Chris or Katharine to win the show. But Taylor Hicks ran away with the vote nearly every week. And we knew this, because Dial Idol, the dial in voting software which measured phone busy signals, told us so. Taylor was too entertaining to be denied. And since Idol, he's gone on to starring on Broadway, hosting TV shows, playing a Vegas residency, becoming a restaurateur and more.  
American Idol season 5 was AMAZING.