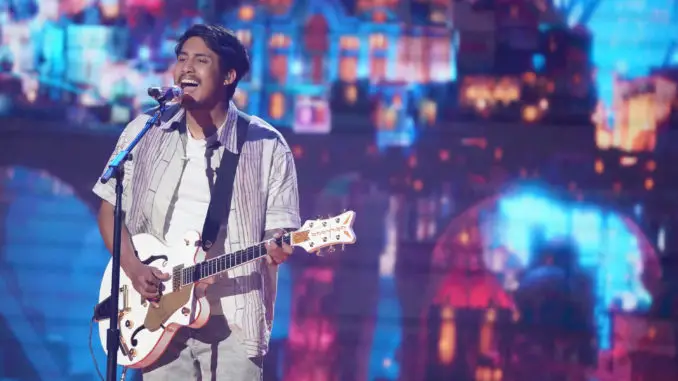 Arthur Gunn Returns To American Idol After Controversial Comeback Twist
Sunday Night's (May 2) American Idol, was a strong night across the board (check out our recap). No one completely messed up their performance. Casey Bishop and Hunter Metts continue to bring artistry and Grace Kinstler and Willie Spence continue to bring the vocals. The results were spot-on besides Cassandra Coleman going home. She was so memorable and one of my favorites, but then again, I expected a shock boot with this comeback twist.
Whether you like it or not, last season's runner up Arthur Gunn returned tonight on American Idol's Disney Night to round out the top 10. The comeback competition aired 2 weeks ago (April 19)  where 10 contestants from last season competed for the final spot in the top 10. Arthur was the favorite for this spot as he has a well-established fan base from last year, after coming in second place. Makayla Phillips and Louis Knight were good challengers, but sadly never really stood a chance even with their standout performances. Will Arthur's established fanbase take out frontrunners of this competition? I don't know, but that is what makes his return controversial.
Tonight, Arthur performed "Remember Me" from Coco in the very memorable "Arthur style". Every song he sings sounds slightly similar to me. His arrangements are a bit too alike in my opinion, but his voice is unique enough that many won't care. He sang with grit and even when I was worried that the performance wouldn't go anywhere, he showed some range and did a little call-and-response with the backing singers.
How controversial Arthur's return is depends on how far he goes in the competition
Judge Katy Perry said "we didn't forget about you" and called it "one of the best performances" she has seen from him, comparing him to Dave Matthews. Luke Bryan called his performance "authentic" and threw a little pun in his comment with "stick to your guns." Lionel Richie called him "a stylist" and artist who can take any song and make it his.
Arthur Gunn made the Top 7 along with Casey Bishop, Grace Kinstler, Hunter Metts, Chayce Beckham, Caleb Kennedy, and Willie Spence. I wonder if Arthur and Chayce will eventually suffer from some vote splitting. This could possibly hurt Chayce. They both are raspy, play the guitar, and sing songs that align with either alternative rock, soft rock, and a little bit of folk. It will be interesting to see how this season will play out and how controversial Arthur's return is depending on how far he gets. I think he will at least survive one more week (Top 5) if not two more weeks to make the finale.