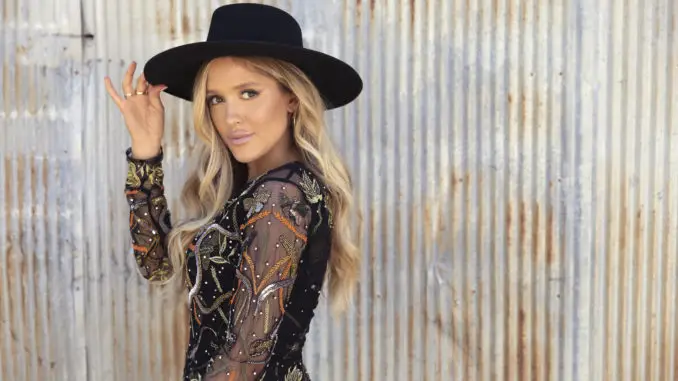 While fans nationwide may have come to know and love Laci Kaye Booth as a contestant on American Idol in 2019, the Nashville-by-way-of-Texas newcomer is reintroducing herself with a self-titled debut via BMLG Records. The 8-track set blends her raspy yet velvet alto with the echoes of her Country influences from Merle Haggard to The Chicks and Shania Twain.
"My whole life, I prayed, and I wished for this to happen. I prayed for it every night, and every time I'd blow out my candles on my birthday cake, I'd wish for it," Laci says in a press statement. "In my heart of hearts, this is exactly what I always wanted."
A season favorite on Season 17 of American Idol, her unique Country sound drew multiple record labels around town to the young artist. However, after meeting with Big Machine Label Group's Scott Borchetta and Jimmy Harnen, the singer chose to work with them alongside 19 Recordings and producer Dann Huff.
American Idol host Ryan Seacrest officially announced her deal on the season 18 finale.
Nathan Chapman, James Slater, Charles Kelley (Lady A), Sam Ellis, Laura Veltz, Jimmy Robbins, Liz Rose, are some of the songwriters who chose to work with Laci, who co-wrote every track on this collection.
Listen to Laci Kaye Booth's debut album here
Laci Kaye Booth Track List
1. "Used To You" by Laci Kaye Booth, Sam Ellis, Sara Haze
2. "On The Fence" by Laci Kaye Booth, Todd Clark, Sara Haze, Jason Cole Saenz
3. "Treasure" by Laci Kaye Booth, Jessie Jo Dillon, Jimmy Robbins, Laura Veltz
4. "Broken Heart Still Beats" (featuring Charles Kelley) by Laci Kaye Booth, Charles Kelley, Paul DiGiovanni, Adam Hambrick
5. "Shuffle" by Laci Kaye Booth, Sam Ellis, Derrick Southerland
6. "If He Would've Stayed" by Laci Kaye Booth, Carlo Colasacco, James Slater
7. "Visions" by Laci Kaye Booth, Jamie Kenney
8. "Heart Of Texas" by Laci Kaye Booth, Nathan Chapman, Emily Fox Landis
Laci offers "Treasure" as her first single at Country radio on September 13.