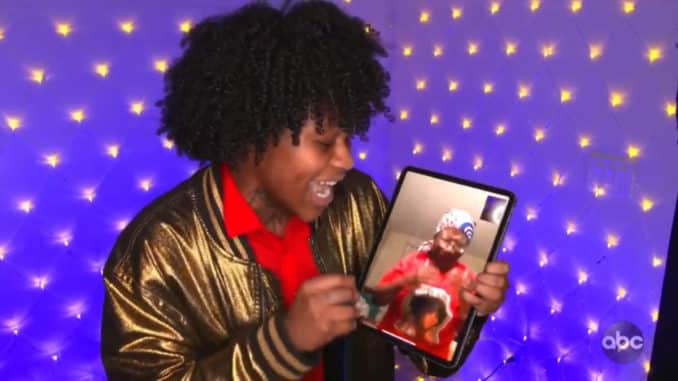 American Idol reveals the season 18 winner TONIGHT in an all remote finale. Two contestants will be eliminated before the final 5 sing for your votes. Lionel Richie, Katy Perry and Luke Bryan critique the contestants from the comfort of their own homes. Bobby Bones mentors from his home in Nashville, while Ryan Seacrest hosts from behind the ORIGINAL American Idol desk in Los Angeles. 
After the Top 7 is whittled down to 5, the remaining contestants will perform two songs each. The first song will celebrate their induction into the Top 5, and the second will be a previously performed song and their new official American Idol single.
American Idol 2020 Finale – Guest Stars, Format, Returning Alums!
Here's how to vote: The vote for the next American Idol winner will be open only during the ET/CT broadcast on Sunday, May 17 starting after the Top 5 contestants are revealed, near the beginning of the broadcast and locking after the second round of contestant performances.
How to Vote on American Idol 2020 Three Ways: Contestant Numbers
Also, because there are no live shows, and the results were taped earlier this week. Yes. We have Top 5 spoilers. If you just can't wait to find out who made the Top 5, click on the link. HOWEVER DO NOT POST SPOILERS IN THE COMMENTS. INSTANT BANNING WILL RESULT! There are those who like the surprise. Please be considerate. The American Idol 2020 WINNER will be revealed LIVE at the end of the broadcast.
American Idol 2020 Top 5 Contestant SPOILERS List for FINALE
First up! RESULTS. Ryan names the Top 5: Dillon James, Jonny West, Arthur Gunn, Francisco Martin and Just Sam. Julia Gargano and Louis Knight are eliminated. Spoilers NO MORE! Start voting NOW. 
Dillon James – Change the World by Eric Clapton – He performs at night in front of the family pool. Clapton's version was always a little twangy. But Dillon adds a little more. I wish he'd slowed it up and done a folkier version of the song. Dillon shines singing acoustic songs. Katy calls it one of his best of the season. "Effortless." Luke says, "You are exactly were you need to be in life." Lionel calls it a perfect vocal. Text 15 to 21523
Francisco Martin – Adore You by Harry Styles  –  There's some pitchy stuff happening here. Hm. I don't love this song choice. Francisco is best when he's passionate and earnest. Luke is so proud. "Thank you for working so hard." Hm. No comments about his performance. Lionel calls his stage presence even better. Katy says "You deserve to be here." So, compliments for his charisma and stage presence. No remarks from the judges about his vocal performance. Text 12 to 21523
Just Sam – Stronger (What Doesn't Kill You) by Kelly Clarkson – Sam covers the Queen. Of course, she can handle it. She delivers with a sturdy tone, impressive range and plenty of confidence. Lionel says "our little girl grows up." He loves her attitude. Katy says, "You're never going to go back and sing on the subway. Luke calls her a "wonderful, blessed singer. What a beautiful moment Text 19 to 21523
Lowe's helped the finalists prepare their finale sets. So, that's nice. Hi Kris Pooley and the band!
Arthur Gunn – I Don't Want to Be by Gavin DeGraw – He watched American Idol back in Nepal. It' would be kind of awesome if an immigrant won American Idol this season.  This is kind of an Idol throwback cover! Back in the day, contestants sang it on the regular. It's a good pick for Arthur, it fits his gravelly vocal style, and gives him an opportunity to deliver a fierce performance. Whoo Arthur saunters right up to an iPhone and stares it down! He's come a long way from when the judges had to remind him to perform with his eyes open. Katy says, "You're leaving it all on your living room floor." Luke loved the way he connected to the camera. Lionel says, "You let us into your world…so magical." Text 16 to 21523
Jonny West – You Can't Keep a Good Man Down by James and Bobby Purify – What the heck this cover is obscure AF. And good for him, sticking his neck out at this point. He flips this 60s soul classic like it's nobody's business. He's the best song arranger of the Top 5. Maybe of all the finalists. Lionel loves that he can take any song, any style and make it his style. Luke says he navigates the songs like a seasoned 40 year performer. Katy says, "You're so cool, it's so easy for you…I'm going to see him out in the industry…I'm going to see him backstage." Text 20 to 21523
Next, the Top 5 will reprise a song they feel represents their Idol journey or the one song that resonated with fans. Mentor Bobby Bones joins the group at this point to comment on the performances. Bobby calls it one of the best seasons in "Idol history." Hm.
Dillon James – The Times they Are Changing by Bob Dylan – Bobby is very proud of Dillon. I didn't love his live version of this Bob Dylan classic during in Hawaii. But in this version, Dillon slows the tempo, which gives him an opportunity to show off his phrasing. I quite liked that. "You have turned it into a Dillon James version," says Lionel. Katy thought this version showed off more vocal talent and confidence. Luke thought it had more grit. I agree with Lionel and Katy. Obviously, Dillon took the judges notes to heart.
Francisco Martin – Alaska by Maggie Rogers – Bobby hopes Francisco puts the nerves aside tonight. Oop. Was that just me with the video glitch? Francisco SOARS on the chorus. It's a good song pick for the singer. And he put his nerves aside. Katy says "You're so smooth when you delivered that." Luke is heartbroken it's the last time he'll hear him. Lionel calls Francisco a "model student." As he performed on his back porch, neighbors cheered him on from nearby balconies!
Just Sam – Rise Up by Andra Day – Just Sam needs to give another heartfelt performance to win, says Bobby. Sam chose well. "Rise Up" was her best performance of the season. And it's obviously a song she connects to deeply. Luke says "What growth on all levels." Lionel calls her "such an inspiration. We have been so inspired. You've won in life." Katy says, "Girl you rose! You've come so far."
Arthur Gunn – Have You Ever Seen the Rain by Creedence Clearwater Revival – Bobby notes the singer's ability to put his own spin on a song. Tonight, Arthur performs the totally reworked version of the 60s hit that he performed in Hollywood. He turns the song upside down. The arrangement is creative, but purists might be put off by the radical reworking of a beloved classic. Lionel calls Arthur an absolute star. "You take this star and ride it all the way." Katy says, "You came with the last play. If you win, you should put out that version of the song." Luke says, "Way to nail every aspect of American Idol."
Jonny West – Makin' Love by Jonny West – He's the only finalist to take on an original song. Will that help him? Bobby advises he put aside self doubt in order to win. Jonny isn't playing it safe tonight. It may cost him the crown. But at this point, presenting the artist that he truly is will pay off down the road. I want to hear more of his originals now. Katy says, "You're already thinking about the future now." Exactly. Luke calls the performance "radio ready." Lionel calls him singer, songwriter, and producer extraordinaire."
Jonny performs his last song, a commercial break, and then a minute later the voting is closed. That doesn't seem right. The finale is only half over. Why not extend voting till the end of the show?  
Next it's a clip recapping Season 18. Remember the auditions? February seems like a million years ago doesn't it?
Now, Luke Bryan performs his new song. "It's a drinking song," he jokes as he introduces "One Margarita."
https://www.youtube.com/watch?v=NO5a_Ghtdvs
Next, it's garbage man Douglas Kiker and his new teeth. Luke calls Doug to reveal the news that he's being invited to the finale to perform his audition song "Broken Road" with Rascal Flatts. Doug is so excited, that he drops a swear word. Oooh. He's got a nice new hair cut too. GLOW UP! Doug sounds really good. Better than he ever did on the show.
https://www.youtube.com/watch?v=wIuy0zQbMiU
Season 17 finalist Laci Kaye Booth just signed a deal with 19 Recording and Big Machine Records, announces Ryan. Dang, after 12 months she's still has to sign with 19? Or did she sign by choice?
The winner of American Idol will duet with Lionel Richie on his iconic "We Are The World" co-written with Michael Jackson, Ryan reveals.
Next, former American Idol contestant Lauren Daigle facetimes Just Sam. She wants to sing "You Say" with her on the finale! Sam is thrilled. Lauren is filmed singing in the empty Opry hall in Nashville.
Now, Katy Perry performs her brand new single "Daisies." She sings on what looks like the American Idol stage. She promised a bunch of fancy CGI. And good lord, she delivers. The background transforms into a home. This is pretty cool! Next she's in a church and God's hands reach out (They're brown!) Now, she's precariously stepping around a floating house that breaks apart. But she stays standing! Now daisies explode! THIS clip, without the Idol branding, should have been her music video. She's not naked though.
AND NOW A FEW LIPTON SHINING MOMENTS! Pepsico and Unileaver are donating 1 million dollars to those in suffering due to the coronavirus pandemic. But are they paying their essential workers fairly and making sure they stay healthy? HMMMM?
Now, Cynthia Erivo leads an Aretha Franklin tribute with the Top 11. This performance should be lead by Idol alum Jennifer Hudson. But Cynthia is leading an Aretha special airing on the National Geographic Channel in the fall. And Disney part owns the channel, so there you go. But Cynthia is a GOAT so it's all good.
Time to reveal the Top 2! Ryan reminds viewers that Kieran WILL NOT be dimming the lights tonight, and a collective sob rises up from Idol nation. The first person to make the Top 2 is…Arthur Gunn. And the sound cuts out. But it comes back! The confetti cannon worked though. The next person to make the Top 2 is Just Sam! WOW. I'm surprised, but not disappointed.
Francisco Martin, Dillon James and Jonny West are eliminated An AWKWARD SILENCE ensues. Ryan seems unsure if he'll be conducting exit interviews, or not. This live reveal is super glitchy. So much for those satellite trucks parked at the singer's houses.
AND THE NEXT AMERICAN IDOL IS…Just Sam! WOW. OK. My prediction is WAY WAY WAY off. I was convinced a male contestant would win. Maybe they cancelled each other out? Notably, the Top 2 were people of color. Actually, the Top 5 were really diverse! 
Sam is an easy singer to get behind. She had the perfect back story. She grew up poor, abandoned, with dreams that seemed out of reach. And then, like a fairy godmother, American Idol came along and made her dreams come true. It's a Disney film come to life. I can't imagine Hollywood Records is disappointed.
The episode ends with an epic performance of We Are The World. It's the first time Lionel Richie has performed it on television since the original.
Top 2
Just Sam – Winner
Arthur Gunn – Runner up
American Idol alums Alejandro Aranda, Gabby Barrett, Jordin Sparks, Katharine McPhee, Kellie Pickler, Laine Hardy, Lauren Alaina, Phillip Phillips, Ruben Studdard, Scotty McCreery and Fantasia perform along with Lionel and the finalists. 
https://www.youtube.com/watch?v=FH4Ow92YEDI