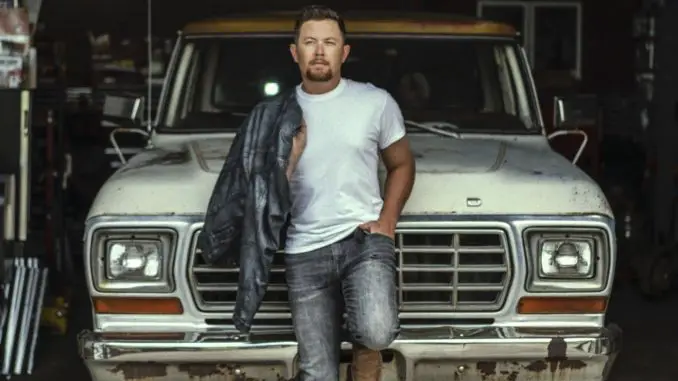 On the heels of an early album announcement due to fan demand, Triple Tigers recording artist Scotty McCreery releases the title track "Same Truck" today from his  fifth studio album, set for release on Friday, Sept. 17. 
Co-written with Ashley Gorley, Zack Crowell and Taylor Phillips, "Same Truck" is a jubilant anthem to all the things we have in common in spite of our differences.
"We're all more alike than we are different," the American Idol season 10 winner shares. "I've witnessed that on almost a daily basis as I talk with people and watch them while traveling around the world to perform. This is my way of saying that we're all on the same team here; let's all work toward getting along again; let's build each other up."
Listen to Scotty McCreery's Same Truck
Same Truck – the album – features 12 songs, 10 of which were co-written by Scotty, including the title track, "You Time," and "Why You Gotta Be Like That, " a song inspired by his wife Gabi.
Lead single "You Time" continues to climb the charts at Country radio and is currently at No. 9 on the Mediabase chart. 
Produced by Frank Rogers, Derek Wells and Aaron Eshuis, the team who produced his previous project (the RIAA Gold certified Seasons Change), Same Truck is a reflection of where the country singer is in life now as a man married to the love of his life for three years and who is also celebrating his 10th year as an entertainer.
"We recorded a bunch of songs pre-pandemic and thought we had the album just about ready…and then the world shut down," said Scotty in a press statement. "For the first time in 10 years, I was home more than a few days at a time. I loved having the extra time with my wife, Gabi, and our dog, Moose, however it also gave me a lot of time to pick up the guitar and just play for fun. I wound up writing a bunch of new songs and creating almost a whole new album from the perspective of reflecting on my last decade, yet also keeping an eye towards where I want to go."
Same Truck is a nod to the Ford truck Scotty won as part of his American Idol winner package! He's still driving it 10 years later. 
Thousands of miles and many memories later with the truck I won on @AmericanIdol 10 years ago. #SameTruck is out at midnight, pre-save it now to have it right when it's out ? https://t.co/CPH4Qpxl4n pic.twitter.com/b5m8vjwktq

— Scotty McCreery (@ScottyMcCreery) August 5, 2021
In the midst of his You Time Tour, McCreery has been performing several songs from the new album in concert. "You never know how new songs are going to go over in the live show, but our audiences sure seem to enjoy them from the reaction we're receiving," said the North Carolina native. He's also been direct support on select tour dates with Old Dominion.
Track list for Same Truck:
Same Truck (Scotty McCreery, Ashley Gorley, Taylor Phillips, Zach Crowell)
You Time (Scotty McCreery, Frank Rogers, Aaron Eshuis)
It Matters To Her (Scotty McCreery, Rhett Akins, Lee Thomas Miller)
Damn Strait (Trent Tomlinson, Jim Collins)
It'll Grow On Ya (Jeremy Bussey, Jason Blaine, Taylor Phillips, Adam Wood)
The Waiter (Scotty McCreery, Matthew West, Frank Rogers)
Why You Gotta Be Like That (Scotty McCreery, Jordan Schmidt, James McNair)
Home (Scotty McCreery, Frank Rogers, Brent Anderson, Tammi Kidd)
Carolina To Me (Scotty McCreery, Jeremy Bussey, Taylor Phillips)
Small Town Girl (Scotty McCreery, Ashley Gorley, Zach Crowell)
That Kind of Fire (Scotty McCreery, Josh Hoge, Matt McVaney, Justin Wilson)
How Ya Doin' Up There (Scotty McCreery, Monty Criswell, Derek George, Tyler Reeve)