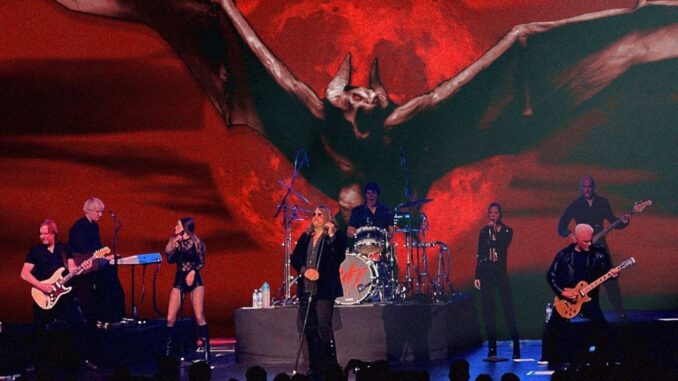 Caleb Johnson and The Neverland Express will be hitting the road in 2022 to celebrate the life of rock singer, Meat Loaf, who recently died at age 74.
The American Idol season 13 winner announced the tour on Instagram. "Please join me and The Neverland Express this year as we celebrate the music and legacy of the the mighty #meatloaf!!" Caleb announced. The singer will also squeeze in solo concerts. He wrote, "More dates to be announced soon as well as some exciting Caleb Johnson and The Ramblin Saints solo dates!! Hope to see you at a show!!" For more information on the tour, click this link.
Meat Loaf died on January due to complications of COVID-19. Caleb has been fronting Meat Loaf's official band, the Neverland Express since 2018. Caleb paid tribute to the singer, saying "Meat Loaf is irreplaceable," he told TMZ in an interview. "He is a force of nature in his own right." Caleb added, "I definitely feel pressure because he was such an amazing singer. The songs themselves are so difficult and so incredibly challenging–not just on a technical, but on an emotional level where you really are ripping your heart out."
"These next shows coming up are going to be very hard and they're gonna be difficult for not just me, but for everybody in the band," Caleb said. "These guys and gals have toured with him for decades."
The Neverland Express release a cover of "For Crying Out Loud" featuring Caleb Johnson
To kick off the tour, The Neverland Express featuring Caleb Johnson released a cover of a Jim Steinman-penned tune, "For Crying Out Loud." The song is from Meat Loaf's seminal 1977 debut album, Bat Out of Hell.
A Meat Loaf Celebration Tour 2022
Feb 4: Wolf Den Mohegan Sun, Uncasville, CT
Feb 5: Penn's Peak Jim Thorpe, PA
Feb 6: The Vogel, Red Bank, NJ
Feb 24: Des Plaines Theater, Des Plaines, IL
Feb 25: Piere's, Ft Wayne, IN
Feb 26: River City Casino, St Louis, MO
Mar 3: Ram's Head On Stage, Annapolis, MD – SOLD OUT
Mar 4: Tarrytown Music Hall, Tarrytown, NY
Mar 5: Norwood Theater, Norwood, MA
Apr 6-7: Musical Instrument Museum, Phoenix, AZ
Apr 16: The Hamilton, Washington, DC
Sept 15: Florida Theater, Jacksonville, FL
Sept 16: Amaturo Theater, Ft Lauderdale, FL
Sept 17: Capitol Theater, Clearwater, FL