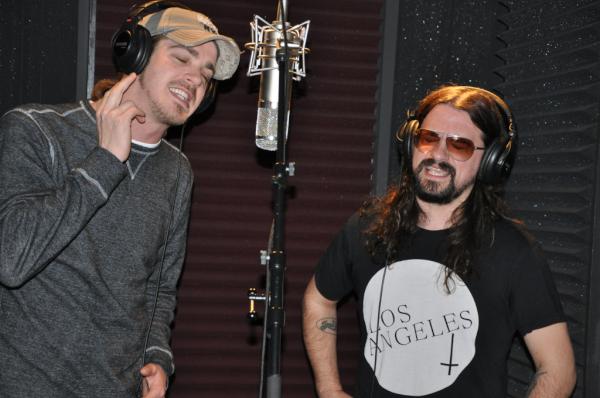 It's another edition of Idols Gone Country, featuring a look back at what our Idols in the country market were up to in 2011 AND a look ahead to what they've got in store for us in 2012! Featuring Lauren Alaina, Bo Bice, Crystal Bowersox, Kristy Lee Cook, Bucky Covington, Danny Gokey, Josh Gracin, Casey James, Aaron Kelly, Scotty McCreery, Kellie Pickler, and Carrie Underwood!
Lauren Alaina parlayed her runner up Idol status into a record deal with Mercury Nashville/Interscope/19, performed at the Grand Ole Opry twice (making her debut during CMA Fest), performed at LP Field during CMA Fest with Martina McBride (TV cap here), fought through an a 3rd degree ankle sprain and voice issues to complete the AI tour, saw her debut single "Like My Mother Does" (previously recording & released by Idol Kristy Lee Cook among others) peak at #36 on the Billboard Hot Country Songs chart, released her debut album Wildflower on October 11th with 1st week sales of 69k, released 2nd single "Georgia Peaches" to country radio (where it has made the top 40), recovered from a national anthem flub with maturity, and sang at The White House for the President and First Lady. Wildflower has sold 214k copies to date and landed on Billboard's The 615 blog's list of country's top 10 albums of 2011 and helped Lauren make Chris Willman's list of 2011's top new artists on Yahoo!'s As Heard On blog.
Up in 2012: The video for Lauren's 2nd single "Georgia Peaches" will be released on January 6, 2012. Lauren hits the road with Jason Aldean and Luke Bryan for the My Kinda Party tour from January 20, 2012 through March 23, 2012.
Bo Bice made multiple appearances at the Grand Ole Opry including 1 in which the Oak Ridge Boys invited him on stage to perform their hit "Elvira". He signed a publishing deal with RPM Music Group, wrote songs and started tracking them for his next album with producer Blake Chancey. Bo also announced that he and wife Caroline are expecting their 4th child, recently revealed that they are expecting a girl! Bo also made a guest appearance on Kristy Lee Cook's hunting show Goin' Country. It also appears Bo got himself a radical haircut (credit foxydonna for finding), check out this picture with Melinda Doolittle:
And check out this hour-plus long chat the always charming and frank Bo did with his fans, where he talks about meeting Scotty McCreery, performs a bunch of songs, brags a little on his kids (in a cute, fatherly way), and answers fan questions.
http://justin.tv/bobice/b/299680349
Up in 2012: Bo is planning to release a new album, and he is also scheduled to perform at the Grand Ole Opry on 1/7/2012. Check out live performances of 4 songs he has confirmed that he has recorded for a new album (video via sjwBO):
"Better Man" (written by Bo, Peter Sallis, Victoria Shaw):

"Why Can't I":

"Everything" (written by Jim Beavers, Chris Hennessee):

"Summertime" (written by Matt Jenkins, Justin Lantz, and Matt Ramsey):

Crystal Bowersox made some appearances on the country scene after "Farmer's Daughter" got some positive press from a few country writers. She made her Opry debut in early March, performed on the Riverfront stage at CMA Fest, returned to the Opry to debut a couple more country tinged new tunes, covered the Patsy Cline classic "Crazy" , with Jive Records, and debuted another country infleunced new song at a Nashville gig.
Up in 2012: Although Crystal's planned move to Nashville didn't materialize (she's moved to Portland instead), Crystal will release an EP through her official website, and keep an eye out for a free download there too.
Kristy Lee Cook has been writing for and recording her new album (check out possible titles & new songs here, here, here, here, and here. A few more cowrites have surfaced: "Hand Me Down Jeans" which she cowrote with David Gibson and Lonestar's Dean Sams and "Party Like A Rockstar" which she cowrote with David Fanning & Billy Montana (the same 2 guys she cowrote "Couldn't Care Less" with). There's also
"One Hell Of A Ride" which she cowrote with Jon Mabe and Westin Davis, and "Two Horse Town" that she cowrote with Clint Lagerberg (who cowrote Rascal Flatts's "Here Comes Goodbye" with Chris Sligh) and Heather Morgan.
Up in 2012: The 2nd season of Goin' Country airs on Versus. Check out a new promo here. Kristy Lee releases a new single, and hopefully releases an album. Rich Redmond of New Voice Entertainment, which is producing Kristy Lee's album commented:
We're in the studio now with Kristy Lee Cook. We've found some really unique songs for her. We're going to launch her next year.
Bucky Covington continued his "Hometown" tour (check out live video, new song previews here, here, and here), fought off bogus theft allegations from a concert promoter who had failed to pay him for a gig, officially announced his new deal with independent label eOne Nashville home after paperwork with the now-defunct Lyric Street Records was worked out to enable the transfer of some of the masters Bucky created while signed with them. Bucky also sent his new single "I Wanna Be That Feeling" to country radio and shot a video for it. Bucky recently tweeted behind the scenes footage of the video shoot, featuring Bucky leaning up against a car singing along to a sped up version of the song for video effect:

Bucky also recently tweeted the featured picture with the following comment:
In studio yesterday recording with a very special guest – guess who? #IWannaBeThatFeeling
Bucky is joined in the picture by Shooter Jennings. He has recorded the Logan Mize song "Boys From Back Home" though it is not known whether the song will make the final cut. Check out writer Logan Mize's video for the song here: http://www.youtube.com/watch?feature=player_embedded&v=XvpaW_aVTTo
Up in 2012: "I Wanna Be That Feeling" goes for adds, the video is released, and eventually, Bucky's sophomore album is expected to finally be released.
Danny Gokey performed in the FOX TV movie Truth Be Told, and released a new single "Second Hand Heart" to country radio. It peaked at #48 on the Billboard Hot Country Songs chart and was released to digital outlets like Itunes and Amazon. He also opened for superstar Taylor Swift on 10 dates of her Speak Now tour. Danny parted ways with RCA Nashville in late summer. But he shared happy news at the end of 2011 when he announced his engagement to Leyicet Peralta.
Up in 2012: Danny will perform at the Grand Ole Opry on 1/6/12. His wedding to Leyicet Peralta is scheduled for late January. Danny will take part in the 2nd Annual Sophia's Heart Cruise from February 2-6 2012 benefiting Sophia's Heart Foundation and also featuring fellow Idol Matt Giraud. Danny's eyewear line is scheduled to launch in March 2012. He also discussed expanding his music beyond country in an interview with the faith-based Speak Music radio (the interview starts after live performance footage, at the 6:19 mark):
Josh Gracin did a radio and media tour as part of advance promotion for his 3rd album (check out media here and here), released a video honoring the memory of a fallen soldier through his original song "Can't Say Goodbye", and released the pop/soul song "Long Way To Go" to AC radio which peaked at #16 there. Josh released his 3rd studio album Redemption on November 8th. It debuted at #39 on the Billboard Country Albums chart selling around 3k copies.
Up in 2012: Josh currently has tour dates scheduled in support of his album including a 1/13 gig at Billy Bob's in Fort Worth, Texas.
Casey James started rolling out his new music about 10 months after his AI season ended, debuting "Drive" at the Country Radio Seminar and rolling out other songs while on the road with Sugarland and doing other advance promo gigs. He connected so well with Sugarland's Kristian Bush that they'd cowrite at least a couple songs (including "Hold On" and "You Need Some Texas"). Casey played the Riverfront stage and an acoustic set at LP Field during CMA Fest and debuted more new music at a hometown performance at Billy Bob's before finally releasing his debut single "Let's Don't Call It A Night" to country radio. Casey continued debuting new music for an album that's now due in Q1 2012 depending on how his lead single does in 2012. LDCIAN is 19 weeks old and has reached #32 Billboard/#33 Mediabase on the slow moving country charts.
Up in 2012: Casey continues to promote lead single "Let's Don't Call It A Night," and his album is expected to finally released. Publishing company Tom Lei's Music recently tweeted that Casey has cut a song cowritten by Brandon Kinney (who cowrote the Randy Houser hit "Boots On"):
This month, TLM songwriter Brandon Kinney has nailed down two Kix Brooks cuts and one Casey James cut!! More to come! Go Brandon Go!!!!
Meanwhile, a new Casey cowrite popped up that sees him cowriting with Aimee Mayo and Chris Lindsey, with whom he had already teamed for at least 3 other known cowrites (none of which he has debuted live). The title of the track is "Whiskey Voodoo". Casey has confirmed cutting 14 songs for the new album including 2 songs he did not cowrite. The tracklist is still TBD.
Aaron Kelly spent 2011 writing in Nashville (check out some of the writers he's collaborated with here, here, and here) and he started rolling out his new tunes live (video here and here).
Up in 2012: Aaron has started working with Forte Music Group on the PR and touring side, and they tease:
Some VERY exiting things coming soon from @aaronkellyai09, but we can't tell you yet… It's a secret! ;-) Shhhh….
Meanwhile Aaron continues to showcase his music live, record new tunes, and schedule live dates for 2012.
Scotty McCreery cruised to the American Idol title but didn't stop there. His coronation single "I Love You This Big" defied all reasonable expectations, setting a record for the highest debut for a debut single on the Billboard/R&R Hot Country Songs chart by a new artist when it arrived at #32, eventually peaking at #15 there, and selling 718k downloads to date. Scotty made his debut at LP Field during CMA Fest by joining Josh Turner there, performed at the Opry twice (including his debut during CMA Fest), released his 2nd single "The Trouble With Girls" in early September, overcame a mic malfunction with his typical poise when he sang the national anthem at the World Series, performed a short version of "Walk In The Country" at the CMA Awards, and proved you don't win AI by lip-synching when he missed a cue at the Macy's Thanksgiving Day Parade. Scotty also won the fan-voted American Country Award for Favorite New Artist and performed "The Trouble With Girls" on the show. He also honored his commitment to continue attending high school.
Scotty released his debut album Clear As Day on October 4th, and it debuted at at #1 on the Billboard 200 Albums chart with 197k in 1st week sales, making Scotty the youngest male to ever debut at #1 on the Billboard 200 and the 1st country act to debut at #1 on the Billboard 200 with their debut album. Since debuting Clear As Day has been a mainstay in the top 15 of the Billboard 200, also logging 6 weeks at #1 on the Billboard Country Albums chart and selling 833k copies to date. Platinum album sales are all but assured, it's just a question of when. Meanwhile "The Trouble With Girls" is up to #24 Billboard/#25 Mediabase country and has sold 308k copies to date.
Up in 2012: Scotty hits the road with Brad Paisley and The Band Perry on the soon to be renamed Camobunga tour (dates here).
Kellie Pickler eloped with her now-husband Kyle Jacobs, got a surprise visit from her favorite actor Clint Eastwood thanks to Ellen Degeneres, released "Tough" as the lead single to her 3rd album, saw "Tough" peak at #28, made her acting debut on 90210, covered "Rockin Around The Christmas Tree" as a new Christmas single, dueted with Michael Buble on his Christmas special, and released the title track of her upcoming album 100 Proof to radio. Kellie recently appeared on HGTV's Celebrity Motor Homes. Check out a short teaser clip here:

Up in 2012: Kellie releases her 3rd album 100 Proof on January 24th with promo appearances including a return to the Ellen Degeneres show at the end of January. She also revealed during a recent Twitter chat that her team is scheduling 2012 tour dates now. We've heard 7 out of the 11 tracks on the album! Check out the 100 Proof tracklist here with links to live performances of 4 songs (not including "Tough"), the studio version of "100 Proof" here, and an acoustic version of Unlock That Honky Tonk.
Carrie Underwood began 2011 with a Golden Globe nomination for cowriting "There's A Place For Us" for The Chronicles Of Narnia: Voyage Of The Dawn Treader with Hillary Lindsey and David Hodges. In February her husband Mike Fisher got traded from the Ottawa Senators to the Nashville Predators, and some cray cray sports fans blamed Carrie. In April she went viral with 2 collaborative performances, an "Undo It"/"Walk This Way" medley with Steven Tyler and "How Great Thou Art" with Vince Gill (which now has over 10.8 million views on Youtube and made Billboard's The 615 blog and Yahoo's Our Country blog lists for country music's top moments of 2011). Carrie did the promotional rounds supporting her debut movie role in the faith-based Soul Surfer which exceeded expectations at the box office, embarked on her first promo tour in Australia, wrote and recorded her 4th album, and promoted and cohosted the CMA Awards for the 4th year in a row. Oh yeah, and she recorded & released duets with Brad Paisley (the #1 country hit and 1.278 million download selling "Remind Me"), Randy Travis (a cover of his hit "Is It Still Over"), and Tony Bennett (a cover of the standard "It Had To Be You").
A bunch of new Carrie Underwood cowrites have surfaced recently (credit @Typ021 for finding all of them). She cowrote "I Am A Memory" and "We All Fall Down" with Hillary Lindsey and Troy Verges and "Gone Too Soon" with Hillary Lindsey and Steve McEwan. There's also "Alabama Who" which Carrie cowrote with Kelley Lovelace and Bobby Hamrick, "Southern Charm" which Carrie cowrote with Steve McEwan and Hillary Lindsey, "Hear A Heartbreak" which Carrie cowrote with Cary Barlowe and Hillary Lindsey, "Pay The Rent" which Carrie cowrote with frequent collaborators Luke Laird and Hillary Lindsey, and "Good For Me", "Longer Summer", "I Need Something Strong", and "Lucky You" all 4 of which Carrie cowrote with Caitlyn Smith and Troy Verges.
Country songwriter Ashley Gorley's bio has been updated to reflect that he has:
Recent cuts by Rascal Flatts, Carrie Underwood, Lauren Alaina, Jana Kramer
Carrie is listed as a performer for an Ashley Gorley/Mike Elizondo/Luke Laird cowrite called "Party Girl" and he also cowrote "Amazing Faith" and "That Girl" with Carrie and Luke Laird, as well as "Good Girl" which with frequent Idol collaborator Chris DeStefano and Carrie and "Riverbank Song" with Kelley Lovelace and Carrie.
Up in 2012: A new single, new album, and tour, everything TBA but Carrie has confirmed that the lead single choice has been narrowed down to 2 choices and that she's done recording all lead vocals on her album.
Thanks to everybody who reads and comments on these things. Special thanks to Mike M who made the great suggestion to do a year end round up for this column. Happy New Year to all!