Kellie Picker, Justin Bieber and more will star in Micheal Buble's first Christmas special, set to air on NBC December 6 from 8-9 pm.  According to a tweet, Kellie and Michael filmed "the coolest duet ever".
Read the press release below: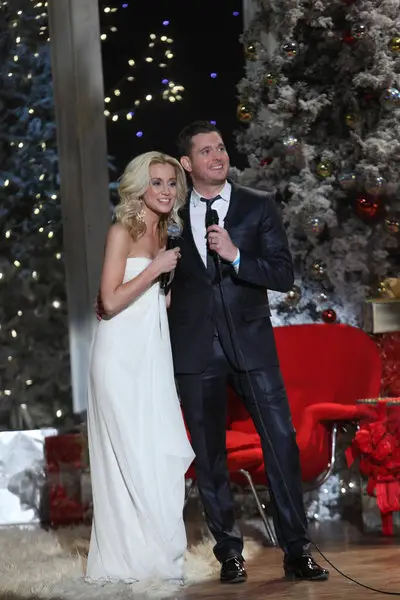 NBC RINGS IN THE HOLIDAYS WITH GRAMMY AWARD WINNING SINGER MICHAEL BUBLÉ IN HIS FIRST HOLIDAY CHRISTMAS SPECIAL, "A MICHAEL BUBLÉ CHRISTMAS," ON TUESDAY, DECEMBER 6TH FROM 8-9 PM ET
Justin Bieber, Kellie Pickler, Thalia, Oscar the Grouch, The Puppini Sisters, Naturally 7 and others will join Bublé as he sings holiday classics
NEW YORK – November 15, 2011 – Michael Bublé will host his first holiday Christmas show in a star studded special airing on Tuesday, December 6th from 8-9 pm ET. The multi-Grammy Award winning Canadian will sing songs from his new Christmas album including such classics as "White Christmas, "Have yourself a Merry Little Christmas," "Feliz Navidad," and "Jingle Bells," and will be joined by guest stars Justin Bieber, Kellie Pickler, Thalia, Oscar the Grouch, The Puppini Sisters and Naturally 7. The special will also include comedy shorts featuring Michael and NBC stars Tracy Morgan ("30 Rock") and Ed Helms ("The Office").
"I'm truly excited to be sharing my favorite time of year with millions of people" said Bublé. "Doing this Christmas special is a long-time dream of mine."
"We are very excited to partner with Michael Buble on his first holiday special," said Doug Vaughan, SVP of Special Programs and Late Night for NBC. "We invite our viewers to ring in this holiday season with this incredibly talented performer."
"A Michael Buble Christmas" is produced by Brad Lachman Productions ("Christmas in Rockefeller Center," "The Macy's Thanksgiving Day Parade"), and Electus ("Fashion Star," "Mob Wives").
"We could not be more excited to partner with NBC and Michael Bublé to bring this all-star Christmas special to audiences this holiday season," said Ben Silverman, Founder of Electus.
Bublé's lifelong dream of creating an album to honor his favorite holiday was realized with the recently released CD "Christmas" which entered the Billboard Top 200 charts at No. 3. The multi-Grammy Award winning artist's previous CD "Crazy Love" sold seven million copies worldwide and won two Grammy Awards in 2011 for Best Traditional Pop Vocal album and Best Male Pop Vocal Performance for his No. 1 self-penned single, "Haven't Met You Yet". Bublé also wrote two previous Number One singles, "Everything" and "Home". The Vancouver native's recent "Crazy Love" Tour sold out 80 cities and was seen by over a million people in the US alone. A superstar in his native Canada as well, Bublé is the recipient of 10 Juno Awards including a Juno Album of The Year for "It's Time." In less than a decade, Michael Bublé's international record sales have topped 30 million. Bublé arrived on the music scene nine years ago with the release of his self-titled debut cd which was followed up by the multi-platinum "It's Time". He also performed at the 2010 Olympics Ceremony which was seen by an audience of over one billion people.