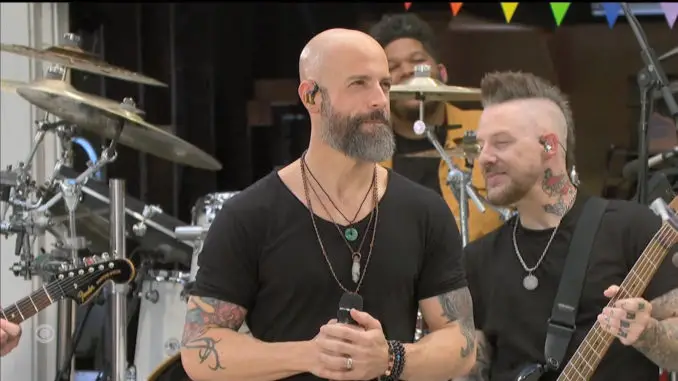 CBS afternoon talk show The Talk premiered today, with Chris Daughtry and his band as the house band. The daytime series returns after tons of controversy last spring.
Dancing with the Stars judge Carrie Ann Inaba left the show as host for good after taking a health break. But, season 30 contestant Amanda Kloots is a permanent host, alongside Sheryl Underwood, Jerry O'Connell and Akbar Gbajabiamila.
After playing a bunch of their hits such as "Home" and "Superman" during intro and outros between commercial breaks, the band played "Heavy is the Crown" in full. Daughtry will release their upcoming album Dearly Beloved on Friday September 17.
The American Idol season 5 alum shared that fans can look forward to "the record they've expected from us for a very long time," adding, "It's the record we've been wanting to make for a long time and we couldn't be happier with how it turned out."
Chris Daughtry Announces New Album, Tour, Drops New Song! (Video)
Chris Daughtry Visits Kelly Clarkson Sings 'Heavy is the Crown' (Video)
Chris Daughtry & Sevendust Singer Pay Tribute to Chris Cornell (Audio)
After many years with RCA Records, Daughtry is now releasing music independently. which gives the band total artist freedom,. In other words, no record label suits insisting on pop radio friendly songs. 
"What DO I WANT TO DO? Who do I want to work with? Who gets me, and what I, as an artist, performer, and human being, bring to the table?" Chris asked himself after leaving RCA. Fans are about to find out!
Watch Daughtry perform "Heavy is the Crown" on The Talk