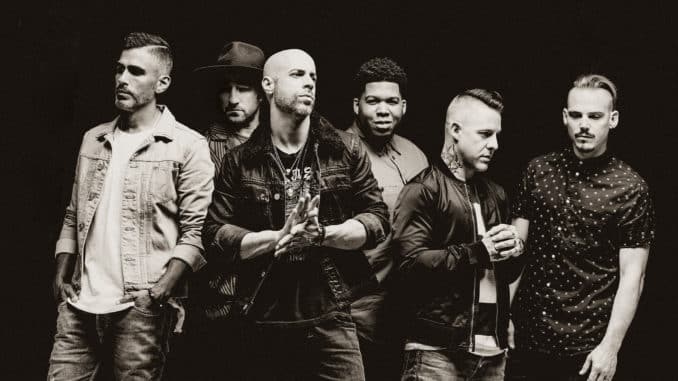 Last night I attended a private concert featuring Chris Daughtry and his eponymous band. The American Idol season 5 alum performed a seven song set for friends, family and press. The mini-concert served as a preview for tonight's full live stream concert which begins at 8 pm CT live from Nashville.
The band performed "Renegade" and "Crawling Back to You" from (2011's Break the Spell), "Backbone" (2018's Cage to Rattle), his 2006 chart toppers "It's Not Over" and "Home" from his 2006 self-titled debut, plus other favorites. He also performed his current single "World on Fire." And additionally, the rocker debuted his upcoming single "Heavy is The Crown." The new song will be released on March 19.
While "World on Fire" served up intense, hard driving rock, the new single is a thoughtful power ballad. In a post concert interview with rock journalist Matt Pinfield, Chris shared that the sudden death last January of Kobe Bryant and his daughter inspired "Heavy Is the Crown." The song is about how we all have responsibilities to meet, yet have no idea about the responsibilities of any given person. Our own heavy responsibility over our own circle is a lot, Chris says. but it's also liberating. 
Daughtry has parted ways with RCA/19 Recordings
Daughtry's 2018 release Cage to Rattle was the band's LAST under RCA/19 Recordings. The band will release its sixth yet-to-be-named next album as an independent band. 
It's a big step for Daughtry, but it's also freeing. Chris described to Pinfield how, when the band's songs stopped charting automatically, they began to chase Top 40 success.  When the people around him gave advice on how to stay chart relevant, it got into his head, until he began second guessing himself. 
Recording as an independent is liberating, says Chris
He became dismayed as bands that he loved stopped playing guitars on their records. Now that he's parted ways with RCA, Chris asks himself, "What DO I WANT TO DO? Who do I want to work with? Who gets me, and what I, as an artist, performer, and human being, bring to the table?"
Now, as an independent artist, Chris is choosing the album's production team. Long-time collaborators Marty Fredrickson and Scott Stevens will work on the upcoming set alongside Chris. And for the first time, the band will not be recording outside songs. Chris will mostly be co-writing with friends and band members. "It's the most liberating feeling, the most conscious album." Chris said. And, for the first time, it's his vision from top to bottom. There's nobody to tell him that something can't work. "It's 100 percent from my heart and soul," he said.
Chris also described the challenge the COVID-19 pandemic presented. He struggled with a huge identity crises during the first six weeks of quarantine. He hadn't been at home that long in 15 years and didn't know how to be present as a husband and a father. Forced to look at himself resulted in a lot of introspection. At first he drank and smoked too much, but then he turned to the gym, replacing bad habits with good ones.
Chris shared that he's 3 months sober
Chris shared that right now, he's 3 months sober.
Last night's private concert was my first experience with streaming concerts. The set up placed audience members in "seats" in front of the band so they could see us, and hear us! It's a little weird to be clapping alone in my home. But anything that allows artists to earn a living while connecting to fans during the pandemic is a very good thing. All this great technology built from necessity isn't going away, either. Live concerts will return, but these sophisticated live streams can serve as a nice compliment.
To sign up for the streaming Daughtry concert LIVE from Nashville at 8 pm CT, CLICK THIS LINK. The concert will feature old and new songs, a Q&A and VIP packages. Tickets start at $20.00.