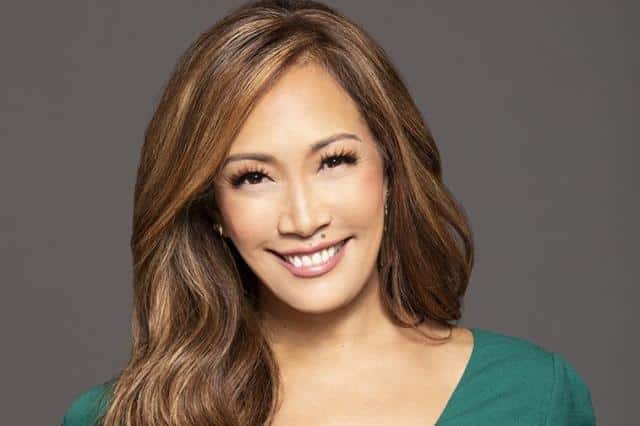 Carrie Ann Inaba announced that she will take a break from co-hosting The Talk.
The Dancing with the Stars judge wrote on Twitter: "I have decided to take a leave of absence from @TheTalkCBS to focus on my health and well-being. I appreciate the support from you and my family at The Talk and hope to be back soon!"
"I know that you guys understand health is the most important thing," she said, "I appreciate your support, I appreciate the love and support from The Talk family, and I hope to be back soon." Carrie promised to keep her fans updated.
— Carrie Ann Inaba (@carrieanninaba) April 26, 2021
According to People magazine, The 53 year old has several autoimmune conditions that have impacted her health over the last few years.
"Going through life with an autoimmune condition, or several, like I do, can be a difficult process," she explained in a post on her online wellness platform, The Carrie Ann Conversations.
Carrie battles several autoimmune conditions
Carrie, according to People, has been diagnosed with Sjogren's syndrome, lupus, fibromyalgia, rheumatoid arthritis, "and I have the markers for antiphospholipid syndrome, which can lead to blood clots."
"Coping with autoimmune conditions can sometimes feel quite lonely," she said. "When I first got diagnosed, some encouraged me to keep my struggles to myself, but I've found that it's always been better to be honest about my needs and realities than to stay silent. I believe strongly in sharing my journey, my solutions, and the things that have helped me with anyone who could use it — this is how communities are formed."
Carrie Ann said that "for years, I tried to fight the fatigue, I tried to push through the pain, and I tried to ignore the discomfort. But eventually it becomes too much to ignore." She realized that she was "a 'sick person,' a person with limitations."
The health break comes amid a storm of controversy surrounding The Talk.
Last month, co-host Sharon Osbourne left The Talk after an on-air tiff with co-host Sheryl Underwood over Piers Morgan's controversial comments about Meghan Markle's interview with Oprah Winfrey. In the March 10 episode of the daytime talk show, Sharon unrelentingly defended Piers, warning Sheryl "not to cry" and asking her to describe racism. Sharon apologized the next day,  saying  that she allowed her "fear and horror of being accused of being racist take over."
However, reports began to surface that behind the scenes, Sharon bullied production and co-hosts. But more damaging, former co-hosts Leah Remini and Holly Robinson Peete went on record to accuse Sharon of engaging in racist and homophobic rhetoric. The show went on a weeks long hiatus to deal with the fall out.