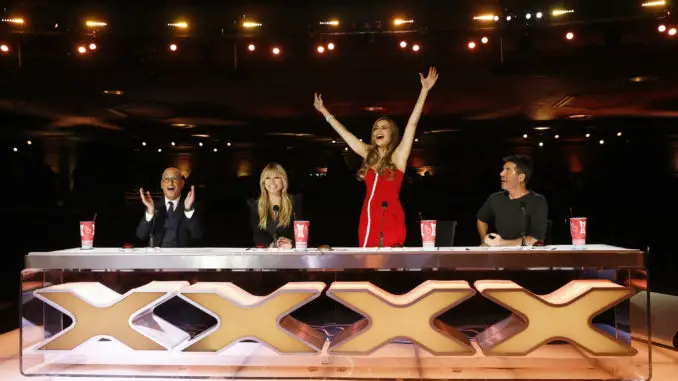 America's Got Talent returns to NBC on Tuesday August 10 after a 2 week break for the 2021 Tokyo Olympics. Who will perform on Tuesday's show? There are "spoilers" and also a promo.
The last time AGT aired, it ended with judges Simon Cowell, Howie Mandel, Heidi Klum and Sofia Vergara "arguing" over which acts to advance to the live shows. The judges and host Terry Crews filmed the segment at Simon's Malibu, Calif. home.
America's Got Talent to Air a Wildcard Show On Peacock – Viewers Vote!
America's Got Talent 2021: Who Made Top 36 Live Shows? Revealed!
The live shows begin on Tuesday August 11. After fans vote for their favorites, seven acts through to the next round will be announced on the first live results show on Wednesday August 11 Also on Wednesday, Season 15 winner spoken word poet Brandon Leake and season 12 winner ventriloquist Darci Lynne will perform.
Twelve acts will perform on Tuesday, according to an NBC press release. There is a legit looking poster revealing the 12 acts performing on Tuesday that was supposedly posted to Twitter and then deleted.  I found it on Reddit.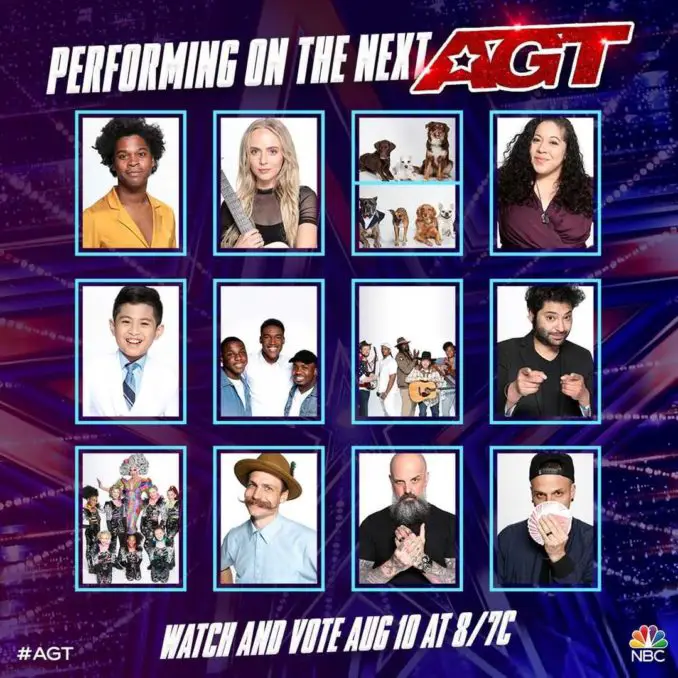 America's Got Talent Live Shows 1 
UPDATE: It's official. The above list is CORRECT. Additionally, NBC released the entire Top 36 list and details about a Wildcard Show airing on Peacock.
But, NBC also released a short promo that features some other acts, including Northwell Health Nurse Choir (Howie's Golden Buzzer), Aiden Bryant – 16 year old hoop artist, Unicycle Flow – Japanese Unicycle group, Kabir Singh – Comedian,Lea Kyle – Quick Change Magic (Heidi Klum's Golden Buzzer), Peter Rosalita, and World Taekwondo Demo Team (Terry Crews Golden Buzzer). 
AGT generally teases their upcoming acts in promos. And to be honest, the above list looks more legit?  There are probably three weeks of Quarterfinals for a total of 36 acts. There are five Golden buzzers (There were six before Nightbird left the competition) and it seems to me the show would feature two on the first show back from the Olympics.
*
 

 

 

View this post on Instagram

 

 

*