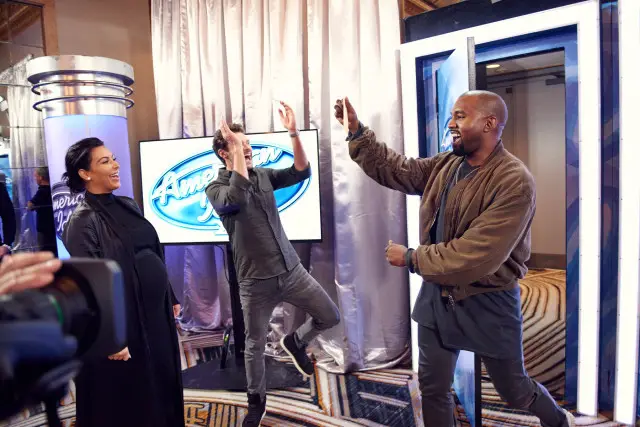 HERE WE GO.  We're live blogging the American Idol 15 premiere. It's the farewell season and the last Idol premiere EVER. I'm already feeling a little emotional. Tonight, it's auditions from Atlanta, Georgia, and Denver, Colorado. Watch out for appearances from Idol alums, Clay Aiken, Ruben Studdard, Taylor Hicks, Kris Allen and Lee DeWyze. There will be plenty of nostalgia woven in with the brand new talent. American Idol crowns a winner for the very last time…
The premier kicks off with the emotional trip through the Idol years, as families and co workers and friends gathered around the TV to watch American Idol. CHILLS. HI BRIAN DUNKLEMAN! The current judges, Keith Urban, Jennifer Lopez and Harry Connick Jr. open on Idol's past and future. Let's pluck one last newbie out of obscurity and crown that last American Idol, shall we?
American Idol 2016 Top 24 Spoilers
Atlanta Auditions
Michelle Marie Lecza – 15 – Daytona Beach FL – Blue by Leann Rimes – Michelle rattles off all 14 Idol winners so far. She stumbles a bit on Season 7, gets David Cook right. And then mispronounces Nick Fradiani's last name. Which, seems fitting, somehow.  Michelle lives in modest circumstances with her big family. They tease her about how she cried when Scott McIntyre was eliminated in season 8. We even see a video of her crying over his demise. SCOTT McIntyre!!! Really?  Michelle has talent. She's green, but she's a natural. A country singer, with a little cry in her voice, she sounds old beyond her years. Jlo notes how natural she is. Harry thought she was terrific and noted her technical ability. Keith liked her too. She giggles and hugs the judges when she receives her golden ticket. She seems SO young. Then, her entire family piles into the room to celebrate. "She did a great job, and we expect good things out of you young lady," says Harry. After, he admits her family's sudden appearance "scared the f*** out of him." Michelle is the perfect opening farewell season audition. She's been watching Idol all her life, dreaming of standing in that circle, just like her favorites. Three yesses –  Click to Watch Michelle's Audition VIDEO
Next, is a funny segment with the American Idol alums, auditioning contestants at the cattle call. "I voted for Danny Gokey" says one hopeful to Kris Allen. They all giggle at the bad auditions. Ruben Studdard auditioned folks at the Atlanta auditions, Taylor Hicks in Denver. But we see all of them at various audition cities in the montage.
Josiah Siska – 18 – Dacula Georgia – Ghost Riders by Johnny Cash – He works at a golf course, and has a REAL DEEP VOICE. And he loves Johnny Cash. The judges are surprised by his baritone. He has an…interesting tone? He lacks control. Annoyingly, Harry joins him in the circle, slapping his thigh and making horse noises. Harry calls him cool and admires his commitment. Then he puts on a funny falsetto for no apparent reason. DIAL IT BACK HARRY. He was impressed when Josiah sang a chromatic scale to demonstrate how low his voice could go.  Three yesses, and he's through to Hollywood. Click to Watch Josiah's Audition VIDEO
Lindita – 26 – Kosovo – It's a Man's Man's World – Lindita lost more than 150 pounds to prepare for her audition. She's a personal trainer now. Her husband, also a trainer, helped get the singer in shape. Lindita has a HUGE HUGE voice. She's a solid singer, effortless in  her ability to project.  She still sings like a "big girl," notes Jlo, whatever the hell that means. But she kinda ruined it by throwing in too many runs at the end. OVERKILL. But she's good. Harry mentions that fans LOVE runs. "Fans eat that stuff up!" he says. Do they? Keith thought there were too many runs, as he's wont to do. He suggests she trim things out. He's right. "Invincible" by Kelly Clarkson plays as she celebrates her golden ticket. Three yesses. Click to Watch Lindita's Audition VIDEO
Travis "Billy Bob" Evett – 25 – Punta Gorda FL – Are You Sure Hank Done it This Way by Waylon Jennings – For a completely inexplicable reason, the judges decide to leave their chairs before Billy Bob's audition. Maybe it's an excuse to stretch Jlo across the desk so Billy can oogle. He's had a crush on her since her "flygirl" days. She appreciates that he liked her when she was chunky. (???).  He's a jolly big fellow. with an exaggerated accent and a cowboy hat , who would probably make for good Hollywood fodder, but his vocal is all over the place. He needs to meet Mr. Pitch. So the judges reject him. Harry liked him a lot, but the pitch issues were just too much. Sadly, Mr. Honkey Tonk dude will have to…try out for The Voice! He's teary. "I had everything riding on this." Sads. Click to Watch Billy Bob's Audition VIDEO
Lee Jean – 15 – Bluffton SC – I See Fire by Ed Sheeran – He comes from a HUGE family. His mom is raising a niece. Tragedy. Lee's older brother was killed in an accident in 2012. He believed Lee would grow up to do big things. "Bring it home for DJ," says mama. The young singer wants to earn a golden ticket for his big brother.  Hm. He's African American, so it's a surprise when he busts out a singer songwriter vibe, with guitar. But he's so so green. He has moments that reveal artistry, but at this point, his vocals are all over the place. I can imagine a flame out if he ever makes it to the lives. He's cute as hell though. Jlo wants to pinch his cheeks. Keith and Harry are willing to give him a shot, even with his issues.  Three yesses. – Click to Watch Lee's Audition VIDEO
We're off to DENVER next!
Jeneve Mitchell – 15 – Crawford CO – Chainsaw by the Band Perry – Jeneve lives "off the grid" up in the mountains. No electricity. They watch American Idol with the help of a generator. She plays a cello. Taylor Hicks, who helped out in Denver, suggests the harmonica if she's looking for a smaller instrument. Heh. Harry teases that her parents didn't pay their electric bill. Whatever Harry. So, she performs "Jigsaw" with crazy funky accents from her cello. It really is different. Harry is going kind of crazy. He loves her musical chops. Keith notes her originality and rhythmic sensibility. "Crazy stupid funk," notes Harry, "A work in progress, but there is so much to work with." Taylor and Jeneve jam on the harmonica and cello, respectively, to celebrate. I think she's one of his favs. – 3 yesses. – Click to Watch Jeneve's Audition VIDEO
After a montage of "off the grid types"…Harry asks a singer if he could be on "Naked and Afraid."  Harry says, 'It sounds like my honeymoon."
Sonika Vaid – 20 – Martha's Vineyard MA – Look at Me by Carrie Underwood – Martha's Vineyard is an island…not a city. Just sayin. Sonika's parents came to the US as children, from India. Sonika's voice is REAL pretty in a pop singer/songwriter type way. She reminds me a little of that other Indian singer/songwriter,  Norah Jones. – "I love it!" declares Jlo. Harry calls it "PERFECT." HE PREDICTS SHE COULD WIN. A little early for that, don't you think Harry? Keith loves that she didn't "stack it with a bunch of clever runs."  Her voice is lovely. A lot of potential there. 3 yesses. – Click to Watch Sonika's Audition VIDEO
Joseph Koulruss – 15 – Scottsdale AZ – Hello by Lionel Richie – He's brought an army of friends and family to "cheer" for him. He claims to be "classically" trained and very versatile. He's looking forward to 4 yesses. OK then. And of course…he's really terrible. In that "old days of Idol totally delusional" way. He bellows out the notes, mostly off key. He ends with an "operatic" big note. "You" is soft and totally off key. Simon would have eviscerated him. Harry asks him to demonstrate his lowest notes. He swoops down to a grunt. "That's the sound you hear at the end of Harry's jokes," quips Keith. They reject him. After, Harry said "The last half of what he did wasn't even a note! It was like a burp." Click to Watch Joseph's Audition VIDEO
Reanna Molinaro – 23 – Hobbs NM – Leavin' on Your Mind by Patsy Cline – She's a cop and has to be super masculine sometimes…even with pink finger nails. Harry wants to be handcuffed. AND THE SEXUAL INNUENDO ENSUES. "Put your hands behind your back!" she demands.  "Hands like I told you sir!" She's a pretty good dom. Heh. Harry tries to play piano in cuffs. "It's the handcuff blues," jokes Keith. Harry decides to leave them on during her audition. "Does it feel natural?" she asks. Zing. She's a decent old-school country singer, but the handcuff stuff is really distracting. "It's so hard to critique when I can't feel my hands!" Harry says. Jlo was looking for more performance quality, but she liked it. So did Keith. 3 yesses, before Reanna takes off the cuffs. Before she leaves the room she offers to tase Harry.  That's one way to subdue him. America approves. Click to Watch Reanna's Audition VIDEO
We're back in Atlanta!
Sylvia Lee Walker – 16 Rayle GA – Yodeller – A montage of sob stories, including Lazaro, the chick who lived in a tent, Kellie Pickler and her jailed dad, the dude with deaf parents, Josiah Leming crying about living in a car, James Durbin and his tourettes, introduces a girl who has NO sob story whatsoever. She just chirps away annoyingly about her family and her pets and her cows.  Finally, she commences to yodel really off key. The judges love her accent, her personality and sunny disposition. But that yodelling, not so much. – Click to Watch Sylvia's Audition VIDEO
A trio of returnees is next.
Shevonne Philidor – 24 – Tampa FL – Disclosure by Latch – She calls herself DJ Shivizzle. She has auditioned SIX TIMES. Randy told her to work harder and come back. 3 yesses
Kory Wheeler – 27 – Jamestown Tennessee – Bennie and the Jets by Elton John – Remember him? Kory was the singing barista from Nashville. He got pretty far in Hollywood. 3 yesses
Laurel Wright – 19 – Maryville TN – Follow Your Arrow by Kacey Musgraves – Hm. I don't remember Laurel from last year at all, but she's pretty good. 3 yesses – Click to Watch Shevonne, Kory and Laurel's Audition VIDEO
DJ Shivizel reminds them of Laverne and Shirley. YES. That's what prompts a "Laverne and Shirley" sing along. In harmony. Jlo and Harry looking at the lyrics on the desk. Heh. Leave it to the Australian to know all the words "You'll end up on a TV show!" Keith quips.
Hello Scott Borchetta and Nick Fradiani! Scott promises an INCREDIBLE first album from Nick and adds that we don't need a cookie cutter Idol. He's looking for the NEXT BIG THING. Gee, that sound familiar (Nearly exactly what he said last season.)
Joshua Wicker – 25 – Jacksonville FL – Stay by Rihanna – His wife is 3 weeks away from having a baby, but it hasn't stopped her from accompanying him to the audition. She swears she might go into labor if she meets Harry. Jlo thinks Joshua looks like Ryan Gosling. He flips a Rihanna song.  Not bad, but not incredibly original, either. There are dozens of dudes doing pretty much the same thing on Youtube.  He's super dramatic. But his voice lacks…something. Jlo notes the "pretty colors" in his voice. Harry calls it "compelling." Keith says he sang it like he wrote it. Harry teases that he's gonna say no. 3 yesses. The wife comes in to meet Harry.  He tries to psych her out…before revealing he's off to Hollywood. We get an update–a little baby girl in Josh's arms. Aw. Shades of Phil Stacey back in season 6. – Click to Watch Joshua's Audition VIDEO
Montage of babies is next! Aw. Kris Allen plays with an adorable one. So cute!
Alex Sasser – 23 – Raleigh NC – Count on Me by Bruno Mars = Jordan Sasser – 26 – Raleigh NC – It's All Coming Back to Me Now by Celine Dion. A husband and wife duo audition together, with baby in tow. They play up a rivalry between them for the cameras. Alex boasts that she's the better singer, Jordan wants her to do well, but not better than him.  Alex plays with the baby, who produces a big smile for the camera, before singing first with her ukulele. And she's kinda boring. Her vocal is pleasant, but not very dynamic. She's a little pitchy too. "There's too much goodness in here!" declares Harry, before rejecting her. "It was not passionate at all." Keith and Jlo wanted a more compelling voice. THEY SAY NO. Jordan takes center stage with barely a glance at his wife. She looks on, heartbroken, working to muster up support for him. He's way better than her. WAY BETTER. He's got all the dynamics, strength, and personality that she does not. She probably knows that too. After Jordan finishes the judges GUSH. Poor Alex. They enthusiastically put Jordan through. Alex tries to be happy for him, but it's obvious she's hurting. Outside later, Alex notes ruefully that Jordan was dancing with the baby off stage, and maybe THAT'S what Harry meant when he called them "distracting." She's passively aggressively blaming her husband for not making it through. WHAT? says Jordan. He seems tone deaf to her feelings, although he does hug her, and tells her he's proud. What a weird vibe between these two. They're worship leaders, too.  3 yesses for Jordan only. – Click to Watch Alex and Jordan's Audition VIDEO
Back in Denver
Kerry Courtney – 24 – St. Petersburg FL – Black Sun by Death Cab for Cutie – More jamming with Taylor Hicks. He's having so much fun with the contestants. Kerry was homeschooled by his mom. They were close. But when he was 19, he learned she had cancer. After she died, he was devastated. It was the "hardest and darkest" thing he ever experienced. He felt emotions he'd never had before. His artistry has been shaped by her death. And, indeed, he's not a great singer, but his delivery is SO intense, it's hard to look away.  A lot of passion is packed into that performance–to the point of being a little deranged and scary. Dude is working something out, right here. "What I heard was an interesting piece of art," observes Harry. Jlo doesn't know how America will respond to that. They might be scared, she thinks. Keith loved his "unusual" voice. Harry makes him guess the votes. Harry and Keith yes. Jlo maybe. But, it's 3 yesses. – Click to Watch Kerry's Audition VIDEO
Next, is a montage of singers who have either met Keith before or know people who know him. One singer claims her voice teacher used to teach him. He has no idea what she's talking about. She also brought in a collage of his headshots and totally creeped him out.
Shelbie "Z" James – 23 – Sumiton AL – Last Name by Carrie Underwood – If you're a The Voice fan, Shelbie should look REALLY REALLY familiar. She was a finalist on Season 5 of the show. She even sang "Last Name" at one point. Of course, idol presents her as a small town hairdresser. ALRIGHT THEN. As if this girl has never been to Hollywood. Or on TV. She's still got a big personality, and even a bigger voice. The judges like her fight and personality.  Harry totally rips off Simon Cowell. Stealing his line…"I don't like you." Shelbie sad face "I LOVE YOU!" She pretends she was really psyched out by that. Heh. 3 yesses. – Click to Watch Shelbie's Audition VIDEO
Kanye West – Gold Digger (San Francisco) –  The bit was spoiled at least 3 times between the fake audition in San Francisco in September, and now. Idol should have kept Kimye's appearance a secret. Now, it's just HO HUM. Keith is so deadpan and funny in this bit. He's the best. When Kanye confesses that he wants to rap, but no one believes in him, Keith consoles, "I hope that works out for you.  Jlo knows what's coming and she CANNOT WAIT TO HEAR HER NAME. And when she does she claps and raps along. Keith awards Kanye his ticket "AHHHHHH I can't believe it" he screams as he rushes out to "celebrate" with a very pregnant Kim, waiting with Ryan. Click to Watch Kanye's Audition VIDEO
Little Rock and San Francisco tomorrow.  Sob stories galore. And Harry gushes about the talented girls.