One Direction's new single is called "Steal My Girl" and it's set to premiere on September 29. Details INSIDE.
Sam Bailey gives birth to a baby girl.
ONE DIRECTION's 4th ALBUM
One Direction announced the release of their 4th studio album "FOUR" this week. You can read more about the announcement HERE. Album's release date is November 17, which is a Monday, a week before Black Friday.
Today, One Direction informed us that their new single is called "Steal My Girl" and it's set to premiere on Monday, September 29th. Read the press release below for details.
ONE DIRECTION TO RELEASE "STEAL MY GIRL" THE LEAD SINGLE FROM THE UPCOMING ALBUM, FOUR,
MONDAY SEPTEMBER 29

BAND SET TO DEBUT SONGS FROM FOUR
LIVE ON NBC's TODAY SHOW MONDAY NOVEMBER 17

(NEW YORK, NY; COLUMBIA RECORDS; SEPTEMBER 14, 2014) –Globe conquering pop band One Direction announce the September 29 release of "Steal My Girl", the lead single from their highly anticipated new album FOUR.

Over cascading stadium piano chords, "Steal My Girl" shows the band continuing to expand their influences and song-writing ability while retaining their widescreen pop sound. "Steal My Girl" is written by Louis Tomlinson and Liam Payne with Ed Drewett, Wayne Hector, Julian Bunetta and John Ryan – the collaborative team behind last year's massive single "Best Song Ever" – and is produced by Bunetta, Ryan and Paro Westerlund.

"Fireproof," the first look into the new album FOUR, was gifted to fans for a period of 24 hours via the bands official website www.onedirectionmusic.com. "Fireproof" became the most downloaded free track ever in the 24 hours it was available, with over 1.1 million downloads. FOUR immediately shot to number one around the world in over 65 countries on the day it was made available for pre-order – comfortably beating third album MIDNIGHT MEMORIES, which was number one in 39 countries and went on to become the top selling album of 2013 worldwide.

One Direction will celebrate the release of FOUR on NBC's TODAY show with a special performance live from Universal Orlando Resort. Kicking off their album release week, the band will join the TODAY show anchor team for the Orlando broadcast on Monday, November 17. One Direction made their first national television appearance on TODAY more than two years ago, and they drew record-breaking crowds with their Rockefeller Plaza concert last summer.

With a staggering 94 number ones and over 46 million records sold, in just four short years, One Direction have gone from energetic pop upstarts to international superstars. As the band's song writing becomes more personal with each record, FOUR is set to be their most stunning yet. The album follows the global success of their huge sell out WHERE WE ARE stadium tour and the 3D film documentary THIS IS US. Fans will have the opportunity to relive this summers' tour with the release of their second film WHERE WE ARE: THE CONCERT FILM, in theaters for one weekend only October 11th and 12th and released to DVD on December 2. Add all this to their 3 billion YouTube views, 109 million combined Twitter followers and 33 million Facebook fans and it's clear that Liam, Harry, Louis, Niall and Zayn genuinely are a worldwide phenomenon.

FOUR will be released globally on November 17, 2014 via Syco/Columbia Records. Fans can receive "Steal My Girl" instantly on September 29 if they preorder the deluxe album on iTunes: smarturl.it/1DFouriTdlx.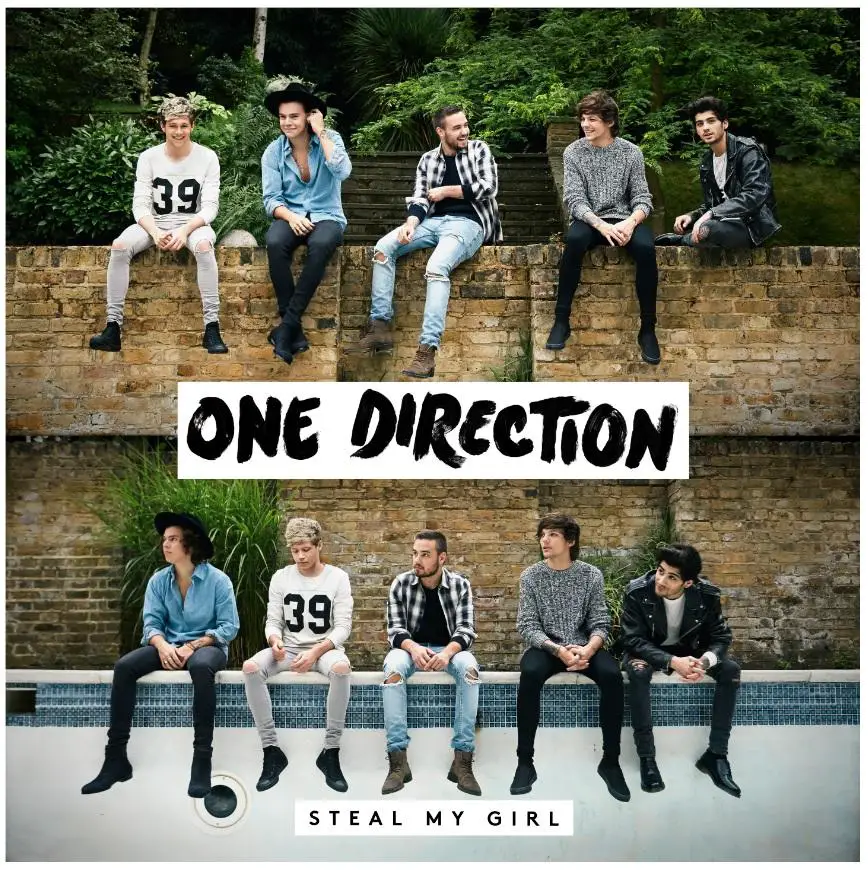 They're back! One Direction announce release of new album FOUR this November and give away free track Fireproof
They're the biggest band on the planet, with over 46 million records sold to date.
And One Direction will no doubt continue making pop history with the release of their fourth album, simply named FOUR, which is due for release on November 17.
The heart-throbs, who were put together by Simon Cowell on The X Factor in 2010, are celebrating the announcement by giving away a brand new track for free.
Read more: Daily Mail
One Direction's Free 'Fireproof' Scores 1.1 Million Downloads
When One Direction announced the title and release date of their fourth album, FOUR (due Nov. 17 on SYCO/Columbia Records), they did so with a twist. To celebrate the occasion on Monday, the pop group gifted their fans with a free download song, "Fireproof," from the upcoming album. The catch? It was only available for 24 hours, and only from OneDirectionMusic.com.
Columbia says that 1.1 million downloads of "Fireproof" — which is not the lead single from FOUR — were generated in the 24-hour span, worldwide. It's unusual for an A-list act to give away a track in this way, so there are few comparables. That said, it's worth noting that industry sources say a typical free single of the week in the U.S. iTunes Store generates around 300,000 downloads, on average.
In addition, Twitter reports that there were 1.7 million tweets about "Fireproof" on Sept. 8 through 6 p.m. At its high point, the topic was generating 5,369 tweets per minute. All that chatter helped drive "Fireproof" to No. 1 on the realtime Billboard + Twitter Trending 140 chart, where it spent about eight hours locked in the top slot.
Columbia also notes that FOUR has been doing brisk business with pre-orders via the iTunes Store. It has topped 67 of the merchant's country-specific album lists, according to the label. A year ago, when One Direction's last album, Midnight Memories, became available to pre-order (on Sept. 9, 2013), it led 39 iTunes territories.
Read more: Billboard
One Direction to debut songs from new album 'Four' live on TODAY
Big news, One Direction fans!
The group will debut songs from their new album "Four" in a special live performance on TODAY.
Niall, Zayn, Liam, Harry and Louis will join the TODAY anchors from Universal Orlando Resort on Monday, Nov. 17, to mark the release of their fourth studio album.
Read more: Today
---
Ella Henderson "Chapter One" | "Rockets" + "Billie Holiday" (Premiere)
"Chapter One" is the upcoming debut studio album by British singer-songwriter and The X Factor finalist Ella Henderson. The album is scheduled to be released on digital retailers on September 19, 2014 via Simco Limited.
It comes preceded by the lead number 1 hit single "Ghost", released on iTunes on June 9th. The second single is the track "Glow".
Read more: Ultimate Music
We've been X-pecting you! Sam Bailey becomes a mum of three after giving birth to a baby girl
Sam Bailey is a proud mum of three after giving birth to a baby girl.
The X Factor champion welcomed a daughter on Wednesday morning, her representative has confirmed.
A tweet alerting the singer's fans to the new arrival reads: 'Sam Bailey gave birth to her third child, a beautiful baby girl, at 10.41am this morning. Both Mother and baby are doing well.'
Read more: Daily Mail
'The downs outweighed the ups': Leona Lewis pens open letter to fans after 'rollercoaster year' left her 'extremely depressed'
Leona Lewis has spoken out about spiralling into depression last year in a penned letter via Twitter.
The 29-year-old singer opened up about the 'downs' she experienced prior to her split from Simon Cowell's record company, Syco.
She wrote on Friday: 'It has been quite the rollercoaster year. The emotions I've felt have been more powerful, in both a positive and negative way, than anytime I've ever felt in my life.
Read more: Daily Mail
How a long list of cosmetic treatments gave Louis, Simon, Cheryl and Mel the X-Factor: Top surgeon claims all four owe their good looks to plenty of 'work' on their faces
With their glossy locks, unlined skin and youthful good looks, the X-Factor panel putting the contestants through their paces on this year's show look better than ever.
But according to one top surgeon, Simon Cowell, Cheryl Fernandez-Versini, Mel B and Louis Walsh may owe their good looks to more than just good genes and expensive skincare.
Although Cowell's penchant for Botox is an open secret as is Walsh's hair transplant, Anne-Marie Gillett, the non-surgical director at Transform Cosmetic Surgery, claims that all four have had more than they admit to.
Read more: Daily Mail
X-cessive behaviour! Passenger complains about X Factor contestants' antics on board flight to UK after 'knocking back drinks like they were going out of fashion'
X Factor wannabes enjoyed the free booze on board a BA flight back to Gatwick after performing at Mel B's house in Mexico that airline staff had to close the bar, according to reports.
The male contestants, who were travelling from Cancun after performing at the Spice Girl's pad, allegedly made so much noise on the night flight, stewards were forced to get involved.
It is claimed that passengers were left disgruntled by the rowdy antics and the men 'knocking back drinks like they were going out of fashion'.
Read more: Daily Mail
---
_ _ _
Irish Charts
Singles
1 Lilly Wood & Robin Schulz – Prayer in C
.
2 G.R.L. – Ugly Heart
10 Ella Henderson – Ghost
40 Cheryl Cole – Crazy Stupid Love (feat. Tinie Tempah)
93 Little Mix – Salute
Albums
1 Robert Plant – Lullaby and … the Ceaseless Roar
.
8 Collabro – Stars
40 One Direction – Midnight Memories
86 One Direction – Take Me Home
95 One Direction – Up All Night
_ _ _
The Official Charts
Singles
1 Calvin Harris – Blame (feat. John Newman)
.
18 Ella Henderson – Ghost
21 G.R.L. – Ugly Heart
32 Cheryl Cole – Crazy Stupid Love (feat. Tinie Tempah)
Albums
1 Sam Smith – In The Lonely Hour
.
10 Collabro – Stars (BGT 2014 Winners)
58 Phillip Phillips – The World From the Side of the Moon