American Idol Season 8 finalist, Jasmine Murray, will compete tonight in the Miss America Pageant as Miss Mississippi. 9/8c pm ABC.
Big Brother continues. It's last week THIS WEEK as the HoH competition is played over again. Will the results be different? PLUS the jury members come back to the house for a fun luxury competition. 8/7c PM CBS
Murray Sings Her Heart Out in Prelims – Preliminary competition for the Miss America Pageant wrapped this week as contestants set their sights on the finals in Atlantic City Sunday night on ABC and WTOK. Miss Mississippi 2014 Jasmine Murray, of Columbus, performed "Something's Got a Hold on Me", a song made popular by Etta James and more recently recorded by Christina Aguilera. – Read morea at WTOK.com
Mykelti Williamson Joins Nashville Season 3 — And Yes, He's Singing – Ladies and gentlemen, prepare to see a softer — and more soulful — side of Mykelti Williamson. Known for playing tough guys on shows like Justified and 24, Williamson will appear on four episodes of ABC's Nashville as a "brilliant" artist named Terry, our sister site Deadline reports. But there's a twist: Terry apparently experienced a personal tragedy some time ago, which has left him to wander the streets of Nashville; now, it's redemption time. – Read more at TV Line
Fifth Harmony on the MTV "Faking It" set with Katie Stevens
American Idol 9 alum, Katie Stevens, stars in the MTV series "Faking It" and is in the midst of shooting the second season. Special guest stars, X Factor alums, Fifth Harmony, pose with Katie on set! The actress instagrammed the photo with the caption, "on set with these beauties @fifthharmony who's excited to watch these episodes!?" In it, the play a version of themselves–a sassy girl group!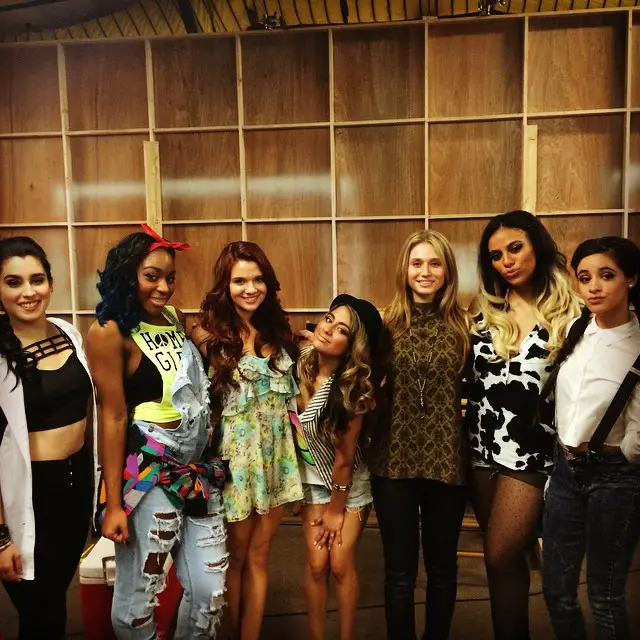 Phillips is at 'Home' on the road – "Sometimes you get a little tired after a three- to four-month run," Phillips said during a telephone interview, but overall, he loves being on the road. "As long as I get to play music, I'm pretty happy," he said, adding that he even likes sleeping on the bus. Phillips said his current tours are nothing like the one he was on with "Idol." He said those who organized that tour liked the musicians to perform with recorded tracks, something he didn't do. "I kept it as much of me as I could. If you mess up, that's what makes it real," he said. He said musicians just like to have fun, and being famous hasn't changed that for him. – Read more at HeraldMailMedia
5 Things You Didn't Know About Christina Grimmie
More at Pop Crush
Keith Urban: I'm In "A Deep State Of Grief" Over Death of Nicole Kidman's Father Antony – Keith Urban is grieving the loss of his father-in-law. The country singer broke his silence following the death of Nicole Kidman's father, Dr. Antony Kidman, via Facebook on Friday, Sept. 12. "I'm so very sorry that I cannot perform this weekend. We are in a deep state of grief at the passing of Nic's Father and are heading to Australia to be with family," the 46-year-old wrote. "We want to thank everyone from the bottom of our hearts for their love, prayers and support through this devastating loss," he added. – Read more at US Magazine
Bruno Tonioli on Why Len Goodman May Take Time Off and How the Show Is 'Like a Love Affair' – When we chatted with judge Bruno Tonioli, he revealed that his British partner-in-judging will take some time off this season. "He's having a couple of weeks off, you know," he explained, "but we're having Julianne [Hough]." During the fall season of DWTS, Tonioli and Goodman split their time between Los Angeles and London for the British show, Strictly Come Dancing. "That means we have to fly back to London to do a live Saturday show here and we fly back to Los Angeles on Sunday for the show Monday," Tonioli said. "So it does take its toll. He loves the show as much as I do, but obviously as you progress in your years, let's put it this way [laughs], it gets a bit harder to do. It's not the flight itself, but it's the eight-hour jet lag between London and Los Angeles, so Len will take a few weeks off during the season to make it a little bit easier on him. But I will persevere, I'll be there every week, don't you worry." – Read more at Parade
Janel Parrish Massages Val Chmerkovskiy's Abs During DWTS Rehearsal – It's a hard job, but someone has to do it! With days to go until Janel Parrish debuts on season 19 of Dancing With the Stars, the Pretty Little Liars actress is spending every last minute in the rehearsal studio with pro partner Val Chmerkovskiy, and as this beind-the-scenes video shows, the couple is forced to rely on one another for R&R during breaks. "Girls across America are very jealous right now — I'm rubbing Val's abs. They feel nice!" Parrish demonstrated, before her partner admitted her antics were making him feel "insecure." – See the Video at US Magazine
Cecily Strong Reacts to Saturday Night Live's Weekend Update Shakeup: "No Point in Being Angry or Sad" – Shortly after NBC announced Daily Show correspondent Michael Che will be replacing the comedian during Saturday Night Live's popular Weekend Update segment, Strong is speaking out about her new role. "I don't see this as me leaving update, just as me being on update in a looser, goofier way that is a lot more fun for me and in a way I think I'm better at," she explained on Instagram. "And now I get to do features with the very funny and wonderful Michael Che!" She added, "No point in being angry or sad for me for something I'm genuinely happy about!" – Read more at EOnline