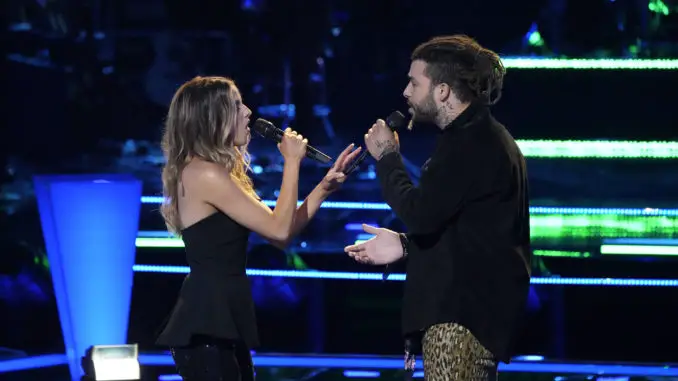 The Voice season 21 Battle Rounds begin tonight with returning coaches Blake Shelton, Kelly Clarkson and John Legend. Pop star Ariana Grande joins the panel.  Carson Daly returns as host.  We'll be live blogging all the performances as the coaches fill their teams.
Each of the coaches has a celebrity advisor helping to prepare the duets. Country star Jason Aldean teamed up with Kelly Clarkson. Ariana Grande chose Broadway star Kristin Chenoweth. X Factor alum and former Fifth Harmony member Camila Cabello joined John Legend. And country singer Dierks Bentley aided Blake Shelton.
The Voice 21 Spoilers: Week 1 Battle Pairings and Song Choices
The Voice 21 Battle Round Spoilers! Results, Pairings, Songs
The Voice 21: Girl Named Tom Battle Kinsey Rose for Team Kelly Spot
REMINDER: NO SPOILERS IN COMMENTS. Keep spoiler talk under spoiler posts above, thank you.
Bella DeNapoli vs Katie Rae – Team Ariana
No More Tears (Enough is Enough) by Barbra Streisand and Donna Summer – Ariana calls the pair's vocals "Diva Big." I'm skeptical of this old fashioned song choice. I don't think it will do either any favors. Katie, a 3 chair turn, is a stay at home mom who suffered postpartum depression. Bella moved back home with her parents after her top college rejected her. She performs with her parents on the weekend. Kristin thinks both singers own who they are and is literally crying over their performance.  Ariana even shows up at the stage rehearsal to do extra coaching. 
Both gals have big amazing voices. I just think that a trip back to the late 70's is a waste of time, especially as Ariana insists they remain 100% faithful to the original, all the way down to asking Bella to add in an ad lib from the original recording. John calls it "powerhouse" and loves Katie's tone. Ariana is crying. Without tears, though. Kelly also prefers Katie, loving her sultry lower notes. Blake, on the other hand, is leading towards Bella. Ariana cries through her choice, describing how she and her mom sang "Enough is Enough" in the car. Ariana picks Katie Rae, and unsurprisingly, she saves Bella. She hinted at that result all through the segment. 
Ariana picks Katie Rae, Saves Bella DeNapoli
KJ Jennings vs Samuel Harness – Team Legend
I Know What You Did Last Summer by Shawn Mendes and Camila Cabello – John surprises the duo with his mentor pick. They have been practicing her song! Samuel grew up in a big adoptive family. His dad played bluegrass. He's a full time dad, while he tours around the country. KJ is a jazz singer, who did musical theater in high school. Living in L.A. with her boyfriend, they produce and write music. Cabello suggests that KJ use her falsetto more, John notes that Samuel was ahead of the beat. Show people you can sing, he advises. Camila suggests the two look at each other more. 
Both are doing a compelling job "acting out" the song. The staging is really good. Samuel is surprising in that way. He has a raspy voice that overwhelms KJ's bell-like tone. Their vocal tones don't really match, but they are both bringing the fire. Samuel and his rasp and unique tone stand out here, however.  Kelly notes how pure KJ sounds. I agree. But she'd pick Samuels rough vocals. Also agree. Blake also loves Samuel's tone. Ariana thought KJ was even better than her Blind. John appreciated their chemistry, teasing them a little. He calls KJ magnetic, and admires Samuel's connection. John picks Samuel, KJ is ELIMINATED. Like Kelly and Blake, John preferred Samuel's unique tone.
John picks Samuel Harness, KJ Jennings is ELIMINATED
Girl Named Tom vs Kinsey Rose – Team Kelly
Seven Bridges Road by The Eagles – Jason admits that the biggest duet he ever did was "Don't You Wanna Stay" with Kelly. Kinsey has been in Nashville for 11 years. Her grandparents are from a small Kentucky town. The trio are young siblings, singing together for two years. They still live together, after being homeschooled. Kelly suggests Kinsey NOT wail through the song. Don't oversing, she advises. The trio loves arranging music, which they do here. Jason is impressed with their skillz.  
The performance opens with exquisite a'cappella harmonies. Apparently this arrangement is similar to the way Dolly Parton covered it. The vocals are terrific across the board. The standouts are definitely the girl named Tom (heh) and Kinsey. Both have powerful voices. The guys wisely get out of their way. Kelly is so psyched, she's up on her feet screaming. Blake thinks Kinsey could win The Voice. But he won't pick a winner. Ariana would lean slightly to Girl Named Tom. John also prefers the trio, but thinks Kinsey is the best soloist. Kelly hems and haws before choosing Girl Named Tom. She loved the family harmony.
And then Kelly saves Kinsey AND THEN JOHN AND BLAKE STEAL her. John going for the country acts again. The real battle is between Blake and Kelly. She insists that she picked a random winner, because she wants both of them. AND THEN ARIANA STEALS HER. But in the end, Kinsey sticks with Kelly. "Kelly saved me twice," she says. 
Kelly picks Girl Named Tom, saves Kinsey Rose, Blake, John, Ariana try to steal Kinsey, but she picks Kelly.
The Joy Reunion vs Peedy Chavis – Team Blake
Joy to the World by Three Dog Night – Hoyt Axton wrote Joy to the World. The vintage part of the song fits Peedy, while the the original group is also a trio, explains Blake. Despite being 19, Peedy has known the song for a long time. He covered Elvis in his Blind. His mom pursued country music in the 90s. All three members of Joy Reunion have been singing for years. They met in church. Blake advises Peedy focus on his stage presence to compete against a trio. 
This song is pretty dumb, actually. Also, Peedy comes across so CORNY. I'm experiencing second hand embarrassment for him as he tries too hard.  The advice from Blake to play it up on stage, maybe not great advice. That, besides singing with a thin and reedy voice. He's very cute, though. NICE HAIR. The trio are serviceable, but unexciting. Ariana loves the word "obsessed." New drinking game! John calls it fun. Kelly loves Peedy's confidence. And Blake picks Peedy. Not surprising. Blake thinks he can win. John hints that he's eyeing Kelly's team for a steal.
Blake picks Peedy Chavis, The Joy Reunion is ELIMINATED
Chavon Rogers vs David Vogel – Team Ariana
Sugar, We're Going Down by Fall Out Boy – Chavon is from Kristin's home state, Oklahoma. He's working as a court clerk right now. Dave sang in a pop punk band with his brothers, when younger.  Ariana chose a pop/rock song to bridge both singer's genres. Kristin reminds David to smile. She advises Chavon to watch his enunciation. Ariana gives advice on phrasing. Kristin liked the performance so much she threw her shoe! "I know you both want my phone number," she jokes.
Chavon has pitch problems. Besides that, David is overpowering him both vocally and charisma wise. I MEAN THAT HAIR. I'm "obsessed" with David's luxurious brown locks, to be honest. It's a solid song choice from Ariana. The arrangement is pretty great too, especially when the two sing an arpeggio during the chorus. John would chose David. Kelly thinks they both bring something to the table. She picks Chavon because John picked David. Blake makes a shampoo joke Heh. He'd pick Chavon. OH. Ariana is kinda fake crying. She picks David. Chavon is eliminated. Ariana feels David's vocal cut through more.
Ariana picks David Vogel,  Chavon Rogers is ELIMINATED
Jeremy Rosado vs Jershika Maple – Team Kelly
Hold On by Justin Bieber – Jeremy was a finalist on American Idol season 11. After Idol, Jeremy adopted his niece. Back in Texas, Jershika is a security guard and worship leader. She also coaches singers. Kelly and Jason advise them both to save the big moments for the end. Kelly thinks they both need to work on dynamics. 
These two have natural vocal chemistry. They each bring something special to the duet. Jershika has a strong lower register, while Jeremy soars in his falsetto. It's hard to pick a winner. Both singers bring a strong game. Good song choice from Kelly. Blake wasn't expecting Jeremy to hold his own against Jershika. He'd pick him for that reason. Ariana would pick Jershika if forced. John felt heart coming from both singers. He would also pick Jershika. Kelly felt they both elevated each other. Kelly goes against the grain and picks Jeremy. He's visibly stunned. Kelly is attracted to his vulnerability. John and Ariana immediately steal Jershika. 
And Jershika picks….CLIFF HANGER! Find out when The Voice returns on Tuesday.