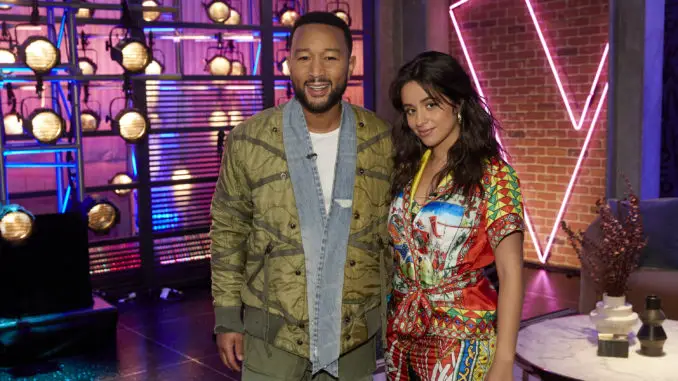 The Voice season 21 Battle Rounds kick off on Monday October 11 and run over 4 episodes  (two weeks).
As they always do, Idol Forums rounded up a full list of SPOILERS including RUMORED RESULTS. The site is usually reliable, so I've posted them at the bottom of the page, under a warning.  
In the meantime, watch the semi-spoilery clips below,   
Also, note that each coach can steal an artist from another team. OR SAVE their own team member. However, unlike the past few seasons, it appears that saved contestants will compete in head to head pairs, rather than in a special 4 way knockout for viewer votes.
Each of the coaches has a celebrity advisor helping to prepare the duets. Country star Jason Aldean teamed up with Kelly Clarkson. Ariana Grande chose Broadway star Kristin Chenoweth. X Factor alum and former Fifth Harmony member Camila Cabello joined John Legend. And country singer Dierks Bentley aided Blake Shelton.
The Voice 21 Battle Round SPOILERS (including results)
Song choices will be added as they are revealed.
Team Blake Shelton
Hailey Green vs. Lana Scott – Girl by Maren Morris – Hailey wins the Battle, Lana is SAVED
Peedy Chavis vs. The Joy Reunion – Joy to the World by Three Dog Night – Peedy wins the Battle, The Joy Reunions is ELIMINATED
LiBianca vs. Tommy Edwards – Save Your Tears by The Weeknd ft. Ariana Grande –  LiBianca  wins the Battle, Tommy is ELIMINATED
Wendy Moten vs. Manny Keith – "If I Ever Lose My Faith in You" by Sting – Wendy wins the Battle, Ariana STEALS Manny
Carson Peters vs. Clint Sherman – Don't Let Our Love Start Slipping Away by Vince Gill – Carson wins the Battle, Clint is ELIMINATED
Berritt Haynes vs. Kaitlyn Velez – Yellow by Coldplay – Berritt wins the Battle, Kaitlyn is ELIMINATED
Team Kelly Clarkson
Holly Forbes vs. Wyatt Michael – Sunny by Bobby Hebb – Holly wins the Battle, Wyatt is ELIMINATED
Girl Named Tom vs. Kinsey Rose – Seven Bridges Road by The Eagles – Girl Named Tom wins the Battle, Kinsey SAVED
Jeremy Rosado vs. Jershika Maple  – Hold On by Justin Bieber – Jeremy wins the Battle, John and Ariana STEAL Jershika. Jershika PICKS Team Legend
Xavier Cornell vs. Carolina Alonso – Telepatía by Kali Uchis – Xavier wins the Battle, Carolina is ELIMINATED
Gymani vs. Aaron Hines – Working by Tate McRae & Khalid –  Gymani wins the Battle, Aaron is ELIMINATED
The Cunningham Sisters vs. Parker McKay – It's My Party by Leslie Gore – The Cunningham Sisters wins the Battle, Parker is ELIMINATED
Team John Legend
Brittany Bree vs. Samara Brown  – Something He Can Feel by Aretha Franklin – Brittany Bree wins the Battle, – Samara SAVED
Samuel Harness vs. KJ Jennings – "I Know What You Did Last Summer" by Camila Cabello & Shawn Mendes – Samuel wins the Battle, KJ is ELIMINATED
Joshua Vacanti vs. Keilah Grace – Good 4 U by Olivia Rodrigo – Joshua wins the Battle, Keilah is ELIMINATED
Sabrina Dias vs. Jack Rogan – Cardigan by Taylor Swift – Sabrina wins the Battle, Jack is ELIMINATED
Paris Winningham vs. Jonathan Mouton  – Here and Now by Luther Vandross – Paris wins the Battle, Blake STEALS Jonathan.
Shadale Johnson vs. Janora Brown – One Last Time by Ariana Grande – Shadale wins the Battle, Janora is ELIMINATED
Team Ariana Grande
Bella DeNapoli vs. Katie Rae – No More Tears (Enough is Enough) by Barbra Streisand and Donna Summer – Bella wins the Battle, Katie SAVED
Raquel Trinidad vs. Hailey Mia – Car Wash by Rose Royce – Raquel wins the Battle, Kelly STEALS Hailey
Jim & Sasha Allen vs. Sophia Bromberg – Signed Sealed Delivered by Stevie Wonder – Jim & Sasha win the Battle, Sophia is ELIMINATED
David Vogel vs. Chavon Rodgers – Sugar, We're Going Down by Fall Out Boy – David wins the Battle, Chavon is ELIMINATED
Ryleigh Plank vs. KCK3 – Come on Over by Christina Aguilera – Ryleigh wins the Battle, KCK3 is ELIMINATED
Katherine Ann Mohler vs. Vaughn Mugol – Dilemma by Nelly & Kelly Rowland – Katherine Ann wins the Battle, Vaughn is ELIMINATED