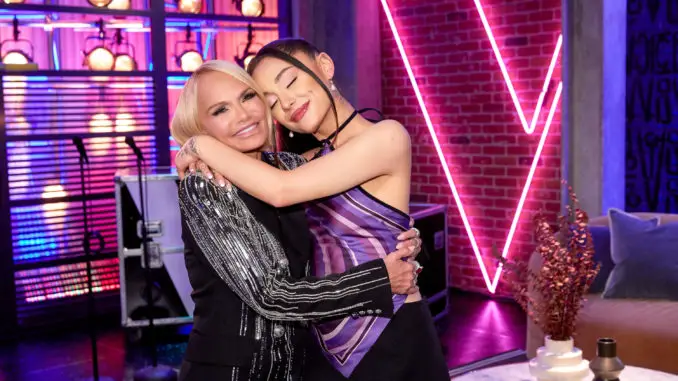 The Voice 21 Battle Rounds kick off on Monday Oct 11. Check out a new clip that reveals nearly half of the 24 Battle pairings and songs (11). I'm assuming the spoilers cover both Monday Oct 11 and Tuesday Oct. 12 episodes. The Battles air Oct 11, Oct 12, Oct 18 & Oct 19. The Knockouts begin Oct. 25.
For FULL SPOILERS including results, check out THIS LINK!
Also, note that each coach can steal an artist from another team. OR SAVE their own team member. However, unlike the past few seasons, it appears that saved contestants will compete in head to head pairs, rather than in a special 4 way knockout for viewer votes.
Ariana has picked some, uhm. interesting song choices. I'm raising my eyebrow at Barbra Streisand. Also, John chose a Camila Cabello song for KJ and Samuel. Boy, were they surprised when they found out who was mentoring! Heh. 
Team Ariana Grande
Bella DeNapoli vs Katie Rae – No More Tears (Enough is Enough) by Barbra Streisand and Donna Summer
Chavon Rogers vs David Vogel – Sugar, We're Going Down by Fall Out Boy
Katherine Ann Mohler vs Vaughn Mugol – Dilemma by Nelly & Kelly Rowland
Team John Legend
KJ Jennings vs Samuel Harness – I Know What You Did Last Summer by Shawn Mendes and Camila Cabello
BrittanyBree vs Samara Brown – Something He Can Feel by Aretha Franklin
Team Kelly Clarkson
Girl Named Tom vs Kinsey Rose – Seven Bridges Road by The Eagles
Jeremy Rosado vs Jershika Maple – Hold On by Justin Bieber
Carolina Alonso vs Xavier Cornell – Telepatía by Kali Uches
Team Blake Shelton 
The Joy Reunion vs Peedy Chavis – Joy to the World by Three Dog Night
Hailey Green vs Lana Scott – Girl by Maren Morris
LiBianca vs Tommy Edwards – Save Your Tears by The Weeknd ft Ariana Grande
Meet the The Voice 21 Advisors
A nearly 5 minute clip serves as an introduction to The Voice advisors. Blake brought in his "old friend" Dierks Bentley and immediately begins mocking his hair. Blake introduces Dierks to Chavis Peedy and The Joy Reunion. 
Ariana Grande's advisor is Broadway star, Kristin Chenoweth. The coach tells an amazing story: Ariana's nana brought her to the musical Wicked. Backstage, TEN YEAR OLD Ariana impressed Kristin with her precocious vocals. Ariana introduces Kristin to Bella DeNapoli and Katie Rae.
John Legend enlisted pop star Camila Cabello as his battle advisor. John mentions that she got her start on a singing show (X Factor USA. where Fifth Harmony was put together). "I would not be where I am today if I hadn't auditioned for a show like this. It genuinely gives people an opportunity," Camila shares.  John surprises  Samuel Harness and KJ Jennings who are singing Camila and her boyfriend Shawn Mendes' song  "I Know What You Did Last Summer."
And Kelly Clarkson chose Jason Aldean as her advisor. Girl Named Tom and Kinsey Rose meet Kelly's advisor. NBC recently previewed this battle on Youtube. Watch it HERE. In 2012, Jason and Kelly had a massive country hit with their duet, "Don't You Wanna Stay." Kelly picked him because his sound includes a little bit of everything–just like her team. 
More The Voice 21 Superstar Battle Advisors
In this 60 second clip, Wendy Moton and Manny Keith from Team Blake sing  Sting's "If I Ever Lose My Faith in You." Dave Vogel and Chavon Rogers from Team Ariana fist bump on stage. Camila gives Joshua Vacanti and Keilah Grace  expert advice on how to perform their song choice, "Good 4 U" by Olivia Rodrigo.