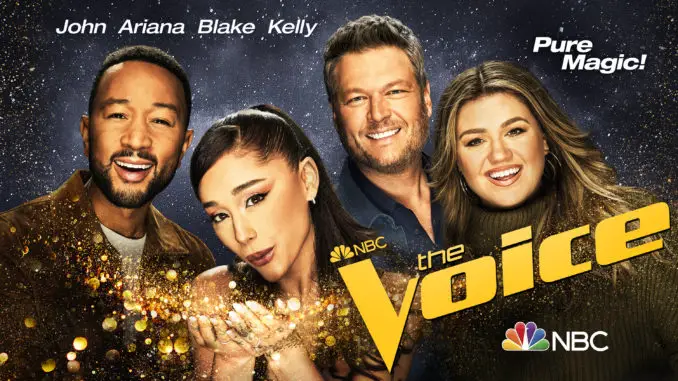 Over the weekend, The Voice dropped a video teasing who The Voice season 21 Battle Advisors might be. The advisor's faces and voices were distorted as they dropped clues. But nevertheless, fans did a very good job guessing the identities! Also, check out the key art, above. The color scheme is black and yellow in addition to the tagline "Pure Magic!"
John Legend's advisor is pop star and former Fifth Harmony member, Camila Cabello. Fans knew right away after "mystery" Camila revealed that she sang in Mexico City with her Mexican father, calling it one of her biggest accomplishments. That tidbit turned out to be a huge giveaway.
Ariana Grande's advisor is Broadway star, Kristin Chenoweth. "Mystery" Kristin named Dolly Parton as a huge influence. AND she also name checked classic actresses like Carol Burnett and Julie Andrews as her influences. Ariana got her start on Broadway, and is already pals with the Wicked singer. 
Kelly Clarkson's advisor is Jason Aldean. "Mystery" Jason revealed that he won the  ACM Entertainer of the year, and his nickname is "Peach." Jason is from the peach state, Georgia, won the ACM EOTY 3 years in a row and he and Kelly duetted on the huge 2010 hit, "Don't You Wanna Stay."
Blake Shelton's advisor is country star Dierks Bentley. His identity was the hardest to guess. Maybe because he told Blake that he performed on The Voice in 2019, when actually he performed in 2018. Oops. 
The Voice did the usual–handing out "scoops" to various entertainment sites ahead of the announcement.
Check out the interviews below.
John Legend & Team Advisor Camila Cabello Open Up About Working Together on 'The Voice'
More at Extra.
'The Voice' Season 21: Jason Aldean Is Team Kelly Clarkson's Battle Advisor! – "I don't even like that guy," Jason joked, which of course, thrilled Kelly. "Yeah, we don't even like Blake," she agreed with a laugh. "I can't even say that without smiling." "We've worked together and mind you, we did it well," Kelly raved, noting that she hopes the pair's instant musical chemistry will translate to good advice for her team in the Battle Rounds and beyond. – Watch the Video at Entertainment Tonight
Kristin Chenoweth Gush Over Joining The Voice With Coach Ariana Grande – Chenoweth applauded Grande for adapting so quickly to being a coach "With all due respect to all of the coaches, and I'm a huge fan of all of them, Ariana has been wise in her selection and she has every single category out there," Chenoweth added. "There's not one that don't fit in." However, don't count on Chenoweth throwing her hat in the ring to have a big red chair of her own. "When I was actually asked by someone I admire and look up to and have watched grow, of course I wanted to be here for team Ari, that's obvious," Chenoweth explained. "But my goal isn't to be a coach. If I were asked, of course I would consider it." – More at EOnline
Blake Shelton And 'The Voice' Advisor Dierks Bentley Joke About Gwen Stefani Wedding Invite
The Voice season 21 premieres in September with new coach Ariana Grande
The Voice season 21 premieres on Monday September 20 with veteran coaches, Blake Shelton, Kelly Clarkson, and John Legend. Ariana Grande will sit in the big red chair for the first time, replacing two-time coach Nick Jonas. The show will only air in the fall this season. But NBC supersized the show to make up for it! Teams are back to 12 artists, and Tuesday episodes return.