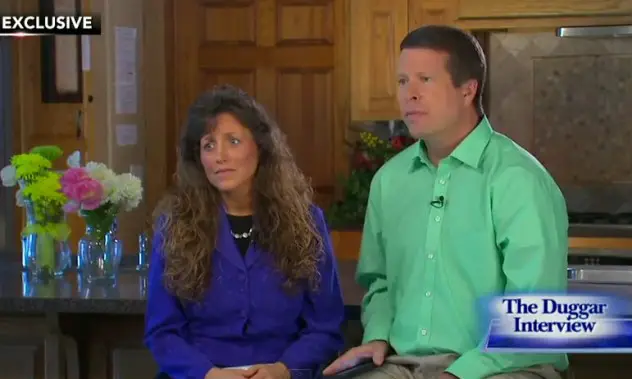 We covered the Josh Duggar scandal when it broke a few months ago. He's the child of Michelle and Jim Bob Duggar, head of freaky 19 Kids and Counting family. TLC eventually cancelled the program after news broke that Josh molested 5 young girls, including two of his sisters, when he was a teenager.
He apologized, swore he was a changed man. But fresh allegations reveal that he's still a hornets nest of yuck.
Gawker.com has been pouring through the leaked AshleyMadison.com data–a dating website that faciliates affairs and had their database hacked–to find info that indicated Josh had two separate accounts on the site. He may have also been registered to the less controversial service, OK Cupid.
Now, Josh seems to be confirming the profiles are legit, releasing a statement confessing that he's cheated on his wife Anna. Via People.com
"I have been the biggest hypocrite ever. While espousing faith and family values, I have secretly over the last several years been viewing pornography on the internet and this became a secret addiction and I became unfaithful to my wife.

I am so ashamed of the double life that I have been living and am grieved for the hurt, pain and disgrace my sin has caused my wife and family, and most of all Jesus and all those who profess faith in Him.

I brought hurt and a reproach to my family, close friends and the fans of our show with my actions that happened when I was 14-15 years old, and now I have re-broken their trust.

The last few years, while publicly stating I was fighting against immorality in our country, I was hiding my own personal failings.

As I am learning the hard way, we have the freedom to choose our actions, but we do not get to choose our consequences. I deeply regret all hurt I have caused so many by being such a bad example.

I humbly ask for your forgiveness. Please pray for my precious wife Anna and our family during this time."
Duggar the Douchenozzle crusaded against marriage equality and lectured fornicators on behalf of an ultra-right wing organization, the Family Research Council, all while hooking up behind his family's back and, according to RadarOnline, friending strippers on a secret Facebook account. Assclown.
His apologies after it was discovered he sexually abused 5 young girls, including two of his sisters, while he was a teenager, ring pretty hollow. At this point, he should stop apologizing and get the help that he needs. The revelation that his parents sent him to a friend's house for 6 months to work construction, rather than making sure he had proper counseling after it was discovered he was molesting girls seemed dubious. And now, it's painfully obvious how his family and his church failed him.
The 'rents released a statement too:
"When we learned of this late last night our hearts were broken. As we continue to place our trust in God we ask for your prayers for Josh, Anna, our grandchildren and our entire family."
Please keep these people off of my TV forever.