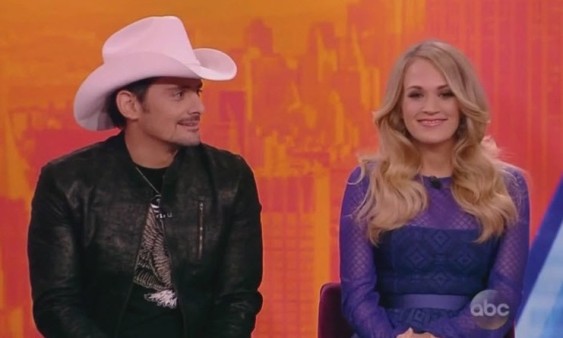 Carrie Underwood and Brad Paisley dropped by The View this morning to promote the upcoming CMA awards on ABC. It's the 7th go around for the duo, who will be co-hosting the broadcast for the 7th year!
Carrie talked a little about her pregnancy (she's due in the spring!). Needless to say, she's a little nervous about having her first child with husband, Mike Fisher. "Just being responsible…[for a child]" is how the singer described her fear regarding impending motherhood.
As far as their hosting style, Brad explains that they're all family in Nashville. While they may rib their fellow country artists on stage, the duo isn't out to hurt anybody's feelings. "If they can walk up to us when the show is over and say 'I laughed too' we've done our job."
Carrie spoke about the huge challenge of starring in The Sound of Music Live for NBC last year. "I've never done anything like that and will probably never do anything like that again," the singer shared, "It was so hard, and so rewarding." She lamented the lack of programming for families and was proud to be a part of a production that had families sitting together to watch.
As far as her upcoming Greatest Hits album (set for December) is concerned, Carrie views it as a way to celebrate the decade she has spent in the business since she won American Idol. Can you believe it's been that long? "We just thought it was a perfect time since it's been 10 years," Carrie explained, "I just really wanted to do something…we have some really fun extras on there too, which I think my fans are really going to enjoy."
Read More:
FIRST LISTEN: Carrie Underwood's New Single, "Something In The Water"!
VIDEO: Carrie Underwood & Brad Paisley Preview 2014 CMA Awards By "Looking Back" (CUTE!)
It's just the beginning of the media tour for Brad and Carrie! Watch them tonight on Late Night with Seth Meyers on NBC tonight, and then the two will stop by Good Morning America on Wednesday (10/29).
The CMA Awards air live on ABC on November 5th at 8 PM Eastern/7 PM Central,