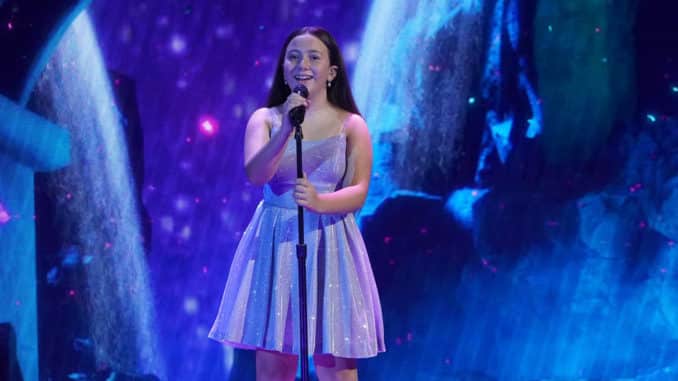 America's Got Talent Live Semifinals kick off tonight! Due to the COVID-12 pandemic, acts will perform on the Universal studios lot. Unfortunately, Simon Cowell broke his back and is recovering at home. In the house, however, are Howie Mandel, Sofia Vergara and Heidi Klum. Hosted by Terry Crews.
America's Got Talent 2020: How to Vote for Your Favorite Acts
AGT 2020 Contestant List: TWO Wildcards for Tuesday, Including SURPRISE Return
America's Got Talent 2020 Semifinal 1: Contestants Ranked!
Performing tonight:  Singer Shaquira McGrath; Drummer Malik Dope; Singer Archie Williams, Aerialist Alan Silva, Singing duo Broken Roots, Diablo artists Spyros Bros; Singing Duo Double Dragon; Kid Singer and Heidi Klum Golden Buzzer Roberta Battaglia, Spoken word artist and Howie Mandel Golden Buzzer Brandon Leake., Latin ballroom dance group, Dance Town Family, Teen singer (and former AGT drop out) Thomas Day.
Double Dragon – Singing Duo – Double Dragon relive their childhood in Peru. They have always dreamed of being on AGT! The sisters' inspiration is their father. "We're finally here daddy!" they both cry. Their quarterfinal performance was pretty crazy. Let's see if they top it. They kick off their performance in a bright pink and yellow Spanish bodega, before moving out onto the lot. It's a party, as they segue to Spanish language. The girls deliver some big vocals, but it's not the outrageous surprise they delivered last time. Sofia calls them a good time, "I'm obsessed with you…you guys are unbelievable." Heidi calls them divas. She loves their confidence. She compares them to Jlo and Shakira at the Superbowl. Howie loves who they are BUT "You're not the best singers…" He's correct. "I'm just being honest!" he shouts at the booing virtual audience. Heidi would go see them in Las Vegas.  
Dance Town Family – Ballroom dance group – Heidi says they chose the group as a wildcard because they "danced their way into our hearts." Or something. Feng-E was robbed, y'all. The group are back on the Ft. Lauderdale roof top  they danced upon last time. The ocean as backdrop is striking. This time, they dance The Jive. Eh. Honestly, they're OK, but not wildcard worthy. Sorry. It's a waste, because, the group is gonna be eliminated straight out again. Heidi loves their commitment. "I love you guys…I hope I'm going to see you in the finals." Sofia says they bring joy and energy. "Perfection," she declares. Howie agrees. He felt this time was a step up. "It has something for everyone." 
Broken Roots – Singing Duo – This act took Thomas Day's spot in the Quarterfinals. Now Thomas Day is back… Uh. Why are they singing on the set of the Bates Motel. With pyro? It's kinda creepy. They sing Blake Shelton's "God's Country" and it's too low for the lead singer. Last week was better. This performance illustrates the importance of song choice. The song is dramatic, but the duo does not have the vocal chops to pull it off.  Howie thinks the group is "doing it right….you're checking every box." He believes the two will make the finals. Sofia hopes so "You deserve to be here." She calls it their best performance so far. Her favorite performance of the night. Heidi thinks they're getting better every time. She calls them a "huge inspiration."
Spyros Bros – Diabolo artists – We meet the bros dad in their video package. He shares how the oldest bro had learning disabilities growing up, and suffered bullying. The diabolo changed his life. Mark joined in afterward. The bros are somewhere out on the Universal lot (ETA: Harry Potter's Wizarding World), along with the judges. It's kind of boring, until the bros bring out the fire ring towards the end. And sparklers! The act ends with fireworks. Whoa. However, I'm not sure they're stepping it up each time. The bros audition is still my favorite performance, because it was such a surprise. Sofia thinks this time it was too risky. She notes that the act was less fluid. She has a point. Heidi noted they dropped the diabolos twice. "Things can happen," she says. Howie appreciates that they went much bigger than last time, despite the mistakes. The bros promise MORE FIRE if America votes for them.
Thomas Day – Teen singer –  Thomas dropped out of the quarterfinals, and now he's back. Confusing. Thomas comes clean with the REAL reason he dropped out of the competition. Initially, he told fans that his high school football schedule interfered with AGT. "Not dramatic!" he declared. But AKSHUALLY, his mother TESTED POSITIVE FOR COVID AND THEN HE DID. That's what I SUSPECTED was going on, to be honest. He's negative now. The judges thought he deserved a second chance.
The Covid thing sucks. But that's life. Especially since his singing is just OK. AND HE SKIPPED TWO ROUNDS. He has pitch problems throughout his performance. He wouldn't last on The Voice or American Idol. But he's got a huge Tik Tok following, where he comes off as a frat boy who can sing, sort of. Heidi is so happy for him. "I think you did really well." She notes the competition. Howie believes he "Shone" tonight. "You paved a path to the finals," he says. "The girls are gonna go crazy for you," says Sofia, stating the probable reason he was brought back. 
Alan Silva – Aerialist – In his video package, Alan talks about being bullied. He was afraid to have kids. Because if they were little like him, they'd suffer like he did. Aw. His kids seem to adore him. This time, he works with chains. That's different! He uses the chains like a trapeze. Last week was scary and more dramatic, but the chains bring a unique element to the stage. UH OH FIRE. He swings around by his neck as the chains shoot flames. Pretty dramatic. Still like last time better, but impressive. Sofia calls it amazing. "It was my favorite time." Howie doesn't agree. He liked last time better. So did I. Heidi agrees with Sofia. She loved the chains. Yes, the chains were cool and different. But last time was full of drama and danger. This time, not as much. 
Shaquira McGrath – Singer – So her mom was only 16 and in foster care when she got pregnant. She sings Fleetwood Mac's "The Chain," She's surrounded by that weird VR staging that feels odd and otherworldly. Acts that perform live on stage don't need all that. But I suppose, the singers who perform out on the lots have an advantage? Sofia calls the song perfect for her. Heidi says, "You're so amazing. you are an all around talent." Heidi is impressed how she crossed genres. "You just sang the roof off." Howie agrees. "You owned it…you owned it." I'm not sure I loved that song choice? But I find myself rooting for her. She's not a ringer. She's a truly inexperienced performer.  
Brandon Leake – Spoken word poet – He's Howie Mandel's Golden Buzzer. Tonight's poem is dedicated to his father. Oh. The dad who abandoned him. Ehhhhh. Having a spoken word artist on AGT is very strange. This would work in a club. He belongs on an off-Broadway stage. But this is…very weird. So, dad is watching tonight. The judges go crazy for him, assuring Brandon that he'll make it into the final, for sure. 
Malik Dope – Drummer – Malik relives winning the judges save. It was scary, so this week he "plans to bring the house down." He's out on the NYC lot.  He starts on a fire escape, and then drops down a pole to the street to play even more drums. He's very good. But I agree with Eric. It's not an act that connects with AGT audiences. He adds fire to the act, which is cool. But drumming as the main event…hm. He needs a band surrounding him. Howie believes he can be a Vegas show. Sofia liked this time much more than last time. She calls him a "showman." Heidi agrees with Sofia. "You make it extra special…you are very unique." 
Archie Williams – Singer – He was freed last year by the Innocence Project after being wrongly imprisoned for 36 years. After he got out of prison, Archie found out he had a daughter. They had a reunion. Archie kept his phone in his pocket dialed into his daughter during his first live performance. He's dedicating tonight's performance to her. Ohh. His rendition of "Flying Without Wings" is off pitch to start. VERY VERY VERY PITCHY. But I don't think it will matter. Archie is 100% backstory at this point.  Hm… His vocal limitations are very much on display tonight. To say he's no Ruben Studdard is an understatement. Howie says "Your imperfection is your perfection." Well, that's one way to couch poor singing in a compliment. Sofia and Heidi simply gushed over his performance. 
Roberta Battaglia – Kid singer – This 11 year old is Sofia's Golden Buzzer. Roberta covers Pink's "What About Us." She seems very mature and poised during her video package. But her singing still feels underdeveloped. She's got a big voice, but she needs a few more years to grow into it. She's singing last tonight, though. She'll have no problem advancing to the final. "You sound already like you've recorded many records already," says Sofia. Heidi says her voice doesn't fit "the 11 year old you." Howie is very proud of her. He hopes his fellow Toronto native does well.