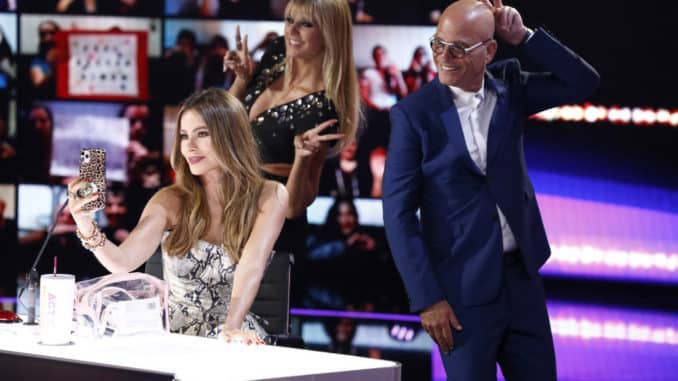 We have three weeks to go until we find out which America's Got Talent act has won a million dollars and (maybe) a headline show in Las Vegas, assuming there is a theater left in Las Vegas post-COVID. And I'm now here to make my predictions of what's going to happen. It's Power List time!
But before we get to the acts performing in this first semi-final, a few thoughts on the season so far. I found the auditions extremely disappointing this year on AGT. I was really hoping that live shows would be better. Sadly, for the most part they haven't been. That's not because of the production – the biggest positive thing I can say is that AGT nailed how to do a live show in the COVID era. Sadly, my issues are with the talent. I don't know why, but I've been underwhelmed by the crop of talent this year. There haven't been many acts that I haven't seen done before. The one or two new types of acts, I personally have found totally underwhelming.
America's Got Talent Quarterfinals 4 Contestant List – MAJOR SHAKE UP!
On my podcast, Reality Hour (subtle plug), Adam and I have come to the conclusion that AGT is the type of show you should watch one season of and then never watch another. Each subsequent season is a repeat of the previous one, but less good since you've seen it before.
For those new to my power lists, I rank acts in order of who I think will make it, not who I want to make it. For the record, this week there are only two acts that I think genuinely have earned a spot in the final based on talent: Malik Dope and Roberta Battaglia.
Here we go! In reverse order:
11) Dance Town Family – When I saw the news that this act got the wildcard, I first asked who they were. After a Google search, I wondered why AGT even bothers having wildcards. I mean, this was a fodder act that wasn't even up for the save vote. They have no chance of advancing, no matter what they pull off. Granted, with only 5 acts going through out of 11, if you weren't in the top 3 last round, your chances are slim. Their spot should have totally gone to Feng E, who was totally robbed.
10) Thomas Day – I thought he dropped out to play football? Jeez, this wildcard choice makes The Voice Australia seem fair. On Reddit, someone said it was like he got a Super Golden Buzzer because he got to skip two rounds – judge cuts AND the quarterfinals. Honestly, I found his audition to be ok, but nothing exciting. And I don't think people will think it's ok that he got to skip two rounds.
9) Double Dragon – These singing sisters have amazing voices. They are among the best singers in the entire competition. But their past two performances have shown that they have no idea how to market themselves. Their song choices have been super cheesy and dated, and they are too over the top as an act to win this show. The fact that they needed the judges save doesn't help their chances either. I think they're toast.
8) Malik Dope – I said up top that I think Malik has earned a spot in the final based on talent. He drums and dances and performs in a way I haven't seen done before, and I think he could put on a hell of a show. So why do I have him in eighth place? Simple – he needed the judges to save him. The fact that he was in fourth/fifth/sixth despite being – in my opinion – the best act of his quarterfinal, is a sign that America isn't connecting for some reason. I really hope I'm wrong on this one.
7) Spyros Bros – They do tricks with diabolos, which let me make a pun on my podcast that this show "diablows." I'll show myself out. Seriously, the first time I saw this act, I enjoyed it. The second time, it was okay. The third time, I think I'm going to be quite bored by them sadly. This isn't the type of act that can fill an hour long show in Vegas. They needed the Dunkin save to make it through as well. All of this combined means that I don't think they have much of a chance of advancing.
6) Shaquira McGrath – Shaquira is the one singer in this competition who isn't a plant, doesn't have much prior experience, and I love her for it. But her last performance was far from perfect. Despite guest judge Kelly Clarkson's attempt at a subtle bussing, Shaquira made it through based on the public vote in the top 3. I think the bus is going to be a lot less subtle this round. I'd be shocked if Shaquira made the final. Happy, but shocked.
5) Alan Silva – Alan Silva is a little person who does acrobatics. Last time, he added some danger to his act as well. It paid off – he made it through in the top 3. I don't think Alan has a chance of winning this show, not because of anything he's done wrong, but because other acts are just getting more support. I still think he will probably make the final.
4) Broken Roots – America loves its country music. I don't, but America does. These guys are fine, I guess. They made it through after Thomas Day dropped out, only for him to be reinstated, but I digress. They were in the top 3 last week, and unless they have a massive bus coming for them, I think they'll probably make the final.
3) Roberta Battaglia – Sofia Vergara's golden buzzer was a 10 year old girl who has a big voice. For me, Roberta has had two performances that were so close to being amazing but never quite reached that level. I still think she has the potential to deliver a knockout performance, and for her sake and the sake of the show, I hope she pulls it off this time.
2) Brandon Leake – I haven't been shy about my feelings on Brandon's act. For me, this is not really a talent that I'd ever pay to see in a show. His audition was basically telling a sad story about a dead relative. Most other acts follow the sob story with a performance. For Brandon, the story was the performance. And he got Howie Mandel's golden buzzer for it. In the quarterfinal, Brandon recited an impassioned poem about racism in America and how Black Lives Matter. I agreed with every word he said and was thrilled he was saying it on national TV for a big audience. I still don't think it was something I'd ever pay to see. Brandon has his fans though, and he's getting a lot of views on YouTube. He's a lock for the final.
1) Archie Williams – Archie has a hell of a story. He was locked up for decades for a crime he did not commit. Brandon Leake talked about the issues that Black people face in this country, and Archie exemplifies these issues. He's not the greatest singer in the world, but I don't think it will matter. He's picked the right songs. Archie is a lock for the top 3 this year, and is a serious contender to win the show. If him being on this show gets exposure for The Innocence Project – a nonprofit that does great work exonerating people like Archie – I'm good with that.