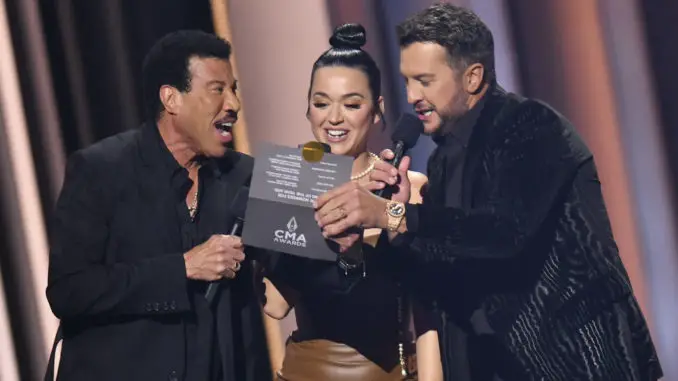 Nashville is the last stop on the three city American Idol judges round tour. And it makes sense for ABC to schedule the filming around the 2021 CMA Awards.
Luke Bryan confirms judges stayed in Nashville to film audition
During a red carpet interview with the Tennessean before the awards broadcast on Wednesday (Nov 10), Luke Bryan, who hosted the televised event, confirmed that fellow judges Lionel Richie and Katy Perry were in town to present at the CMAs, adding that the group would be sticking around for the next four days to film Idol auditions.
"We have four days of Idol auditions starting tomorrow," Luke revealed, "So they came in, and it really worked out."
He added, "So Lionel and Katy got to come in and they're going to be helping tonight and then I'll be seeing them bright and early in the morning and we'll be trying to hopefully find the next Gabby Barrett or Scotty McCreery.
The CMAs were Wednesday night, which means that American Idol will be filming the Nashville auditions on Thursday (Nov 11), Friday (Nov 12), Saturday (Nov 13) and Sunday (Nov 14). Auditions have previously taken place in Austin TX and Los Angeles CA.
UPDATE: Blake Busch reports that Idol is filming the auditions at Kimpton Aertson Hotel. And because Luke has a concert in Florida on Sunday, filming will stretch into Monday, November 15.
American Idol features Gabby Barrett in first Promo
Speaking of Gabby Barrett. With three No 1 Country hits under her belt, ABC finally has an American Idol alum of their own to tout in television promos. The singer has appeared in promos before, but this season, she's front and center. In the past, promos starred FOX era alums such as Carrie Underwood and Jennifer Hudson. (Both Carrie and Jennifer performed, along with Gabby at the CMAs. Watch their performances HERE).
Carrie Underwood NOT Amused by Luke Bryan CMAs Vax Joke (Video)
2021 CMA Awards Winners Revealed: Jimmie Allen Nabs New Artist
But although Gabby was shut out of the four categories she was nominated in, American Idol featured here in their first season 20 (or 5 if you're only counting ABC seasons. And only Disney is doing that!) promo.  "But what if she was never discovered?" host Ryan Seacrest narrates, "It's a Wonderful Life" fashion. Welp. She'd be out there still grinding, and maybe would have made it on her own anyway. But I digress!
Usually by now, Idol is teasing hopefuls in promos. But the below spot is disappointingly hopeful-free. Maybe once Nashville auditions are done this weekend, the glimpses will commence.
American Idol teased on Instagram, "Season 20 starts in early 2022!" But not THAT early, because Disney has already announced premiere dates for shows starting in January, and American Idol wasn't on the early schedule.