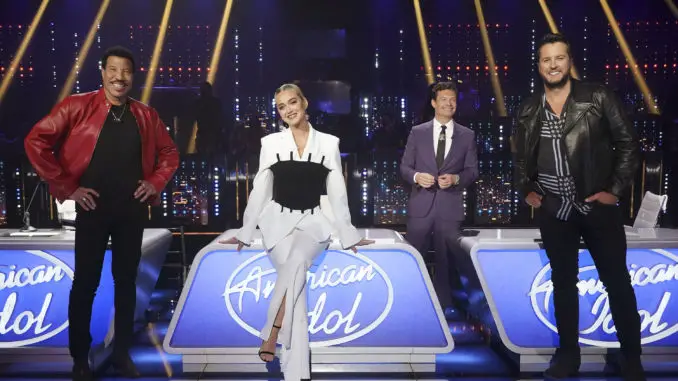 Ryan Seacrest confirmed in an Instagram post that American Idol season 20 judges round auditions will take place in Austin, Texas this weekend!
After confining judges auditions to California locations, including Ojai, Los Angeles and San Diego last season due to the COVID-19 pandemic, judges Lionel Richie, Katy Perry and Luke Bryan will resume visiting major American cities to evaluate hopeful singers on camera for the Hollywood Rounds.
American Idol judges auditions set for Austin, Nashville, Los Angeles
So far, online chatter has confirmed Austin, Nashville, and Los Angeles as judges round audition cities. Nashville auditions are reportedly set for sometime in November. Singers who get at least two "yeses" from the judges move on to the famed Hollywood Rounds, which typically take place in Los Angeles in December. 
Ryan Seacrest relaxes in Napa before heading to American Idol season 20 Austin auditions
Wow. I sure hope Ryan is enjoying his…olive oil selection? Tasty!
 

 

 

View this post on Instagram

 

 
Meanwhile, check out this young singer, Douglas, who reportedly advanced to the Austin auditions. After he sings  "She Used to Be Mine" (with a gender change) from the Broadway musical Waitress, for his high school classroom, he's given a pass to the producers' audition round. Watch on Facebook HERE. 
Hopefuls have been dropping October 4 as the actual audition date. But the judges auditions  always involve several days worth of activity. Keep your eyes peeled on socials from cast and crew. I WONDER WHAT KATY WILL BE WEARING! We will be posting updates. 
What's up with Bobby Bones? Is he still American Idol's official mentor?
When American Idol announced the return of Ryan, Lionel, Katy and Luke, they made no mention of official mentor Bobby Bones. Last season, he kept a spotty appearance schedule due to conflicts with other projects. It looks like the coming season will be the same. He told PopCulture:
"I have a show called Breaking Bobby Bones and we just finished, all 16 episodes are up on Disney+, American Idol is also a Disney+ show because it's ABC, [and] we're trying to figure out where to put me because I can't do them both at the same time, and if I go back to Breaking Bobby Bones — which I hope — I probably won't be able to spend as much time over at Idol, which I love…with COVID and the Delta variant coming back, the schedules are up in the air; my answer is I don't know. Hopefully I'm on something, but right now we're just trying to figure it out."
Hopeful singers can still audition for American Idol!
American Idol is STILL advertising cattle call type auditions for the show! Check out this link for all the details on how to audition for American Idol season 20 HERE.  
This season marks American Idol's 20th landmark season, the 5th on ABC network. The series will premiere sometime in Winter 2022.
UPDATE: The gang back together