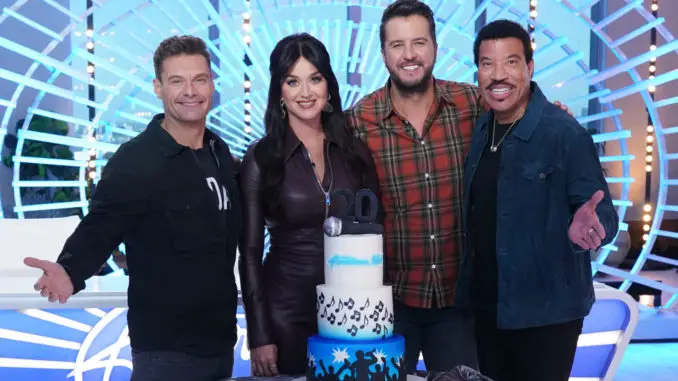 This week, American Idol is filming judges round auditions in Los Angeles, on the second stop of the iconic competitive reality show's three city tour.
Earlier this month, Lionel Richie, Katy Perry, Luke Bryan auditioned hopefuls, with the help of host Ryan Seacrest in Austin Texas. In November, the crew will head to music city, Nashville, Tennessee, to audition even more singers seeking to win a "Golden Ticket" to the Hollywood Round.
During filming, cast, crew and producers took time to celebrate American Idol's 20th anniversary overall, and five years on ABC. The network produces and broadcasts American Idol from the City of Angels. So, it makes sense to get the gang together for a big party in the city.
American Idol Judge Luke Bryan To Host 'The 55th Annual CMA Awards'
"We're filming on the Sunset Strip this week!," American Idol posted on social media. "Season 20's gonna rock, no matter how you slice it."
Specifically, the show is filming judges auditions at the 1 Hotel on Sunset Boulevard in beautiful West Hollywood.
*
 

 

 

View this post on Instagram

 

 

*
 

 

 

View this post on Instagram

 

 

*
The 20th anniversary party, which included cake and champaign, took place on Sunday October 17. The folks who assembled for a group photo are:
Lisa Longo (Manager, Alternative Series), Host Ryan Seacrest, Judge Lionel Richie, Eli Holzman (CEO Industrial Media), Scott Igoe (Vice President, Alternative Series and Specials), Aaron Saidman (President Industrial Media), Judge Katy Perry, Jennifer Mullin (CEO of Fremantle Media), Trish Kinane, (President Entertainment Programming at Fremantle Media), Judge Luke Bryan, Rob Mills (Executive Vice President, Unscripted and Alternative Entertainment, Walt Disney Television), Megan Wolflick (Showrunner), Craig Erwich (President, Hulu Originals and ABC Entertainment).
American Idol will continue the celebration throughout the season, with old talent and and the new 
While the judges auditions continue, singers can STILL upload their auditions to AmericanIdol.com/Auditions. Artists who have been putting it off–now is the time! American Idol returns to television Winter/Spring 2022. Nationwide open calls take place on Oct. 26 & 28.
Showrunner Megan Wolflick recently shared her thoughts on the upcoming landmark season of American Idol with Deadline: "Other shows don't encourage original songs," she said. "This year, we're seeing people who had never tried out for a show before. I feel very excited about the talent we have."
Also, Wolflick teased that the show will celebrate 20 years with former contestants.  "With 20 years, we're going to celebrate what's come before, while we also celebrate the new talent," she said.