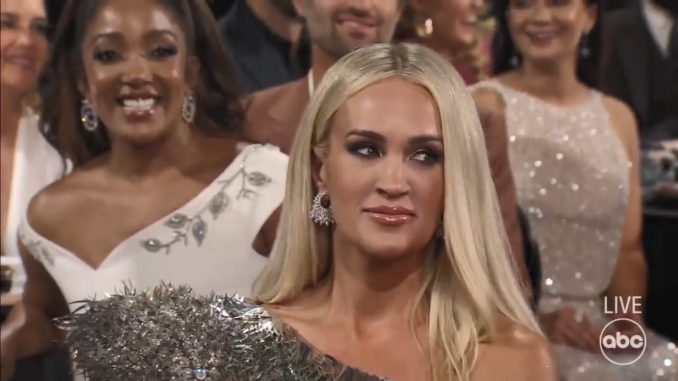 Carrie Underwood is NOT amused. During his CMA Awards opening monologue last night, host Luke Bryan cracked a joke about the audience in Nashville's Bridgestone Arena being vaccinated for COVID. He took a beat and asked "or immunized?" He looked around the audience, as if her were looking for the guilty suspects. Maybe feeling the temperature in the room, he quickly ended the bit with "just playing!"
The remark was a jab directed at NFL player Aaron Rodgers, who recently contracted COVID-19. On a podcast he admitted to not being vaccinated. However, he had told the public he was "immunized," which turned out to be a slippery way to describe not being vaccinated at all! By hiding his true status, Rodgers avoided NFL protocols for players who aren't vaxxed. 
2021 CMA Awards: Jennifer Hudson, Gabby Barrett, Carrie Underwood Perform
2021 CMA Awards Winners Revealed: Jimmie Allen Nabs New Artist
But Carrie probably took the joke personally, because her husband, former NFL hockey player, Mike Fisher, recently came out in support of Rodgers, insisting that people have the FREEDOM to do what they want with their bodies. Nevermind, that he missed the point that Rodgers lied to the NFL and to his fans. Carrie allegedly liked his lengthy post. Plus earlier, she liked a video from a right wing provocateur railing at a Tennessee school board meeting about mask mandates for children.
Carrie Underwood & Brad Paisley told a joke at the CMAs that left Taylor Swift side-eying THEM
Ironically, Carrie found herself in the same position, in 2012, when she and CMA co-host Brad Paisley poked fun at Taylor Swift's ever changing boyfriend status (Remember when she was considered a country star?). The camera DIDN'T pan to an unamused Taylor, who reacted later.  "They don't pan to you if you're not laughing," she said.
Well, now they do pan to you, whether laughing or not. The joke starts at about the 5:42 mark. 
American Idol, represent
Later, Luke panned to Carrie's table which was basically American Idol central. Carrie and Mike were seated with American Idol season 3's Jennifer Hudson and former Idol judge Keith Urban and his wife Nicole Kidman. 
Luke's monologue wrapped up with a visit from his fellow American Idol judges, who handed out the first award of the night. Katy Perry and Lionel Richie joked that the joined him to help out show host newbie. "We're here because we heard you needed a little help," says Lionel.