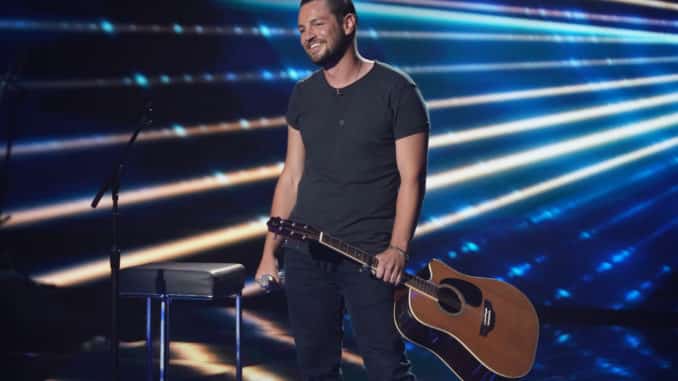 During the American idol finale, when judge Luke Bryan teased eventual winner Chayce Beckham about going fishing, he wasn't kidding.
In an interview with the Los Angeles Daily News, Chayce talked how Luke suggested the two fish the morning after the finale. But Chayce had interviews with Good Morning America, Live with Kelly & Ryan and more. How about Tuesday? Chayce's Idol handlers said "No, you've got to do a thing for Jimmy Kimmel."
"It's gonna happen," Chayce promises. "He's already talking smack about he's gonna catch the bigger fish. So I'm just gonna let that go, and then we'll get out there and maybe do a little vlog or something about what happens."
Chayce is already in Nashville taking meetings about his post-Idol record
But when a singer wins American Idol, they are suddenly too busy to fish, among many other things. And the fast pace won't stop. In fact, Chayce had a flight Tuesday night to Nashville, a scouting trip to meet folks in the music business. He also needs to find a place to live before he returns to make his debut album in Music City.
He wants to take the momentum and "not let it die out…I think that's something that happens a lot."
"I want to take this momentum and kind of go with it and not let it die out," he told the Daily News. "I think that's something that happens a lot, so I don't want that to be the case with me. I'm extremely hungry to go out and do these things.
"I'm really not hitting the brakes at all," he said.
The gritty singer-songwriter from Apple Valley, California will meet with producers, musicians and possible collaborators while in Nashville. It's all in preparation for making good on the recording contract with 19 Recordings and BMG that came with being the winner of American Idol.
The singer is already off to a good start. His self-penned winners single, "23" hit No 1 on the digital country sales chart and is still No 55 on iTunes nearly two weeks after the song's release.
Chayce is lining up concert dates
Meanwhile, Chayce already has lined up dates to open for the 90s band, 3 Doors Down in September. They play The Rust Belt in East Moline, IL on Sept. 10, Allegan County Fair in Allegan, Mi on Sept. 11, and St. Louise Music Park in St. Louis, MO on Sept. 12. 
"I was reading some articles and it made me cry"
It took awhile for Chayce to process his win. "I don't think I really processed it until yesterday morning, or two days ago," Chayce told the Daily News earlier this week. "I was reading some articles and it made me cry. I was like, 'Wow, what happened?'"
Chayce realizes how  fortunate he's been. His redemption story–surviving a drunken DUI car crash before auditioning for American Idol and turning his life around–is one he hopes will inspire kids going through some of the same troubles. 
"I took some shots in the dark and it ended up working out for me," he said. "I think I just grew as a person. Hopefully, I'm a good example for other kids who might be going through similar situations."