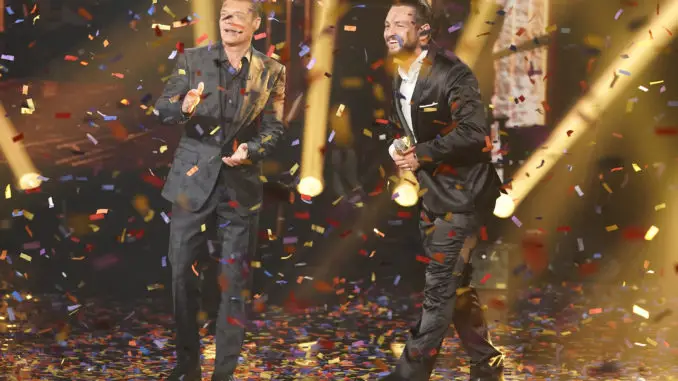 Usually the American Idol Top 2 fly to New York city on a private plane right after the confetti falls. But it appears that this year's winner and runner-up, Chayce Beckham and Willie Spence respectively, are conducting interviews remotely from the west coast. The decision to stay put in California is likely about COVID precautions.
Chayce plans to move to Nashville
Both Willie and Chayce sat down for an interview with Good Morning America hosts Robin Roberts, George Stephanopoulos and Michael Strahan. Chayce insists he would have been fine no matter who won the competition. He said it was a big deal to sing his original songs on live television. 
As far as the type of album he'd like to record, Chayce plans to move to Nashville and make a country record. 
Later, on Live with Kelly Ryan, Chayce made it clear that he would have been at peace with any outcome–either Top 3 contestant–Grace Kinstler or Willie Spence–taking the win. The singer said the competition helped him become a better and more confident performer. But he adds, "I'm still learning!" He's excited to do the thing he loves–music–for the rest of his life. He plans on "helping people" and "giving back to the people who supported me."
Chayce sings his hit winners single "23"
Later, Chayce performed his No. 1 Winners Single "23," which sounded awful because Idol didn't put the effort into setting up clear, clean audio. Would it have been THAT hard to upgrade the setup?
Chayce is candid about putting his family 'through hell and back' He says 'I should be dead'
And lastly, after his win, Chayce talked to Access. The singer, who has been open about his past struggles with alcohol, admitted that he owed his "Idol" win to his family, sharing, "I did it for my mom, I did it for my dad, my stepdad, my sisters and everybody … because I put them through hell. I will tell you what, I put them through hell and back and they picked up all the pieces whenever stuff got bad." Plus, Chayce admitted that it broke his heart just a bit beating out his good pal and fellow contestant Willie Spence. He predicts great careers for many of his fellow finalists.