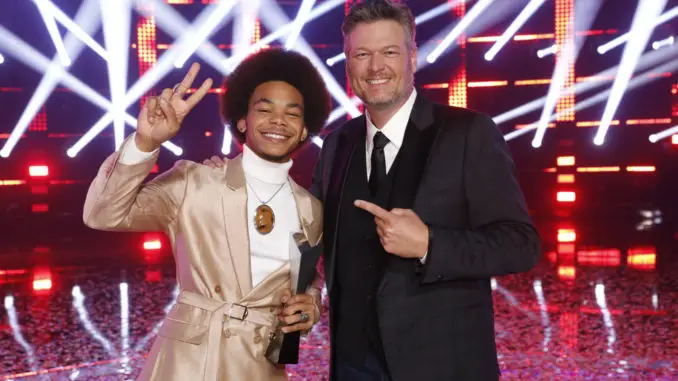 SiriusXM The Highway host, Storme Warren refers to Cam Anthony's "moron coach" Blake Shelton during a recent interview. But make no mistake, he loves him to death! The Voice winner chatted with Sirius host about why being mentored by Blake was so awesome.
Reason No 1: Blake gives his team members incredible gifts. No, I'm not talking about those silly bobble-head dolls he handed out to artists who chose him to be their coaches.
Cam calls Blake's guitar gift "really really dope"
When he and fellow Team Blake member, Joseph Matthew Young entered the Top 5, Blake handed out major swag. Jordan finished the competition in 3rd place.
"The night that we entered the Top 5, he actually got Jordan and I a guitar," Cam gushed as he reached over to grab it to display on Zoom. "He just brought them up on the stage and said 'Here you guys. These are for you.'" Cam added, "Just to have something like that coming from him was really, really dope."
Additionally, Cam was able to get a pick that he had from his band rehearsal. "All of that kind of stuff is really cool," said Cam, "But aside from that, he really is a down to earth guy, and he's really easy to talk to."
See the shiny guitar Blake gifted his Top 5 team members!
In another interview, with People magazine's Reality Check, Cam gushed over Blake non-stop. But it's worth noting that the interviewer declared Cam the first non-country winner from Team Blake. FACT CHECK! Cam isn't even the first R&B singer to win on Team Blake! Blake's very first triumph came on season 2 with R&B singer Jake Paul. Then in season 13, he won with pop singer Chloe Kohanski. One could even argue that season 3 winner Cassadee Pope wasn't technically country. She came into the competition as an alt/pop singer, performed several country songs, and decided AFTER SHE WON to pursue a career in country music.
Could Cam have fallen through the cracks on another team?
In fact, one of Blake's big selling points as he woos potential artists to his team is how he's won The Voice with non-country singers. He promised Cam he'd be the only R&B singer on his team, and Blake kept his word. During one of the finale video packages, host Carson Daly suggested that if Nick Jonas hadn't blocked John Legend and Cam ended up on his team, he may have fallen through the cracks. That's not an unreasonable observation.
"One thing that Blake made possible," Cam said regarding why he is such a great coach, "He gave me the room to explore my creativity and see how far I wanted to push…boundaries." Cam chose Blake over Nick in the Blinds because of Blake's authenticity. "He created this environment to allow me to be myself," he said.
Cam calls The Voice a "life changing experience" that helped him narrow down who he is as an artist. Watch the People interview below.