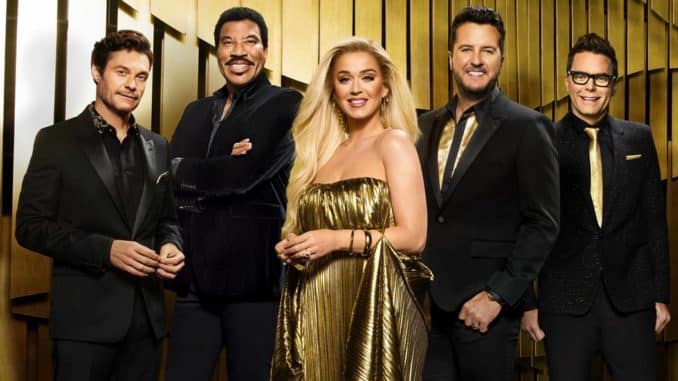 Unfortunately, there are no American Idol Hollywood Round spoilers for season 19, but in a recent interview, in-house mentor Bobby Bones spilled a few details on format changes.
Bobby reveals Hollywood Week format changes
In an interview with Parade magazine, Bobby revealed that producers have "changed the categories a bit where people get to choose their format." I'm not sure what that means, exactly, because in the past Hollywood contestants were separated into categories like singer-songwriter, country and R&B. Maybe the contestants are choosing their own categories instead of the judges/producers?
Also, Bobby hints that the judges will be more hands on during the round. "…the judges went around into the rooms a bit more than ever before and worked with the contestants as well."
Additionally, duets will make a return to Hollywood week. However, the judges will pair people up instead of contestants picking their own partners.
The Parade interviewer wondered if the change had to do with COVID-19 protocols. If the judges pick, that cuts down on contestant interaction. i.e. singers running around the theater looking for a partner. Bobby thinks Covid might have played a part in the change, but he thinks that "the judges really wanted to put people sometimes with extremely different kinds of singers, so it was a strategy thing too."
Bobby offers updates on a few alums
Although many Idol fans consider Bobby's mentoring kind of useless. Contestants often rave about his counsel. Bobby keeps in touch with the singers he has mentored, and offered an update on a few. For instance, Caleb Lee Hutchinson from season 18 has a management deal and "is working."
Bobby has taken Emma Kleinberg and Walker Burroughs (Season 19) on tour with him. She just signed a big publishing deal, Bobby said. Alejandro Aranda was ready to embark on a huge tour before "Covid knocked him down."
According to Bobby, Laci Kaye Booth, who signed a label deal with Big Machine Records, "is about to have a massive couple of years… Laci is going to have a big season in country music. They've been developing her for the last year."
And of course, he can't stop gushing over Gabby Barrett. The season 18 singer's single "I Hope" is the biggest country crossover hit of 2020, It broke chart records everywhere. He believes that American Idol is the singing show that is all about the artist. He also namechecked season 19 winner Laine Hardy as another singer he stays in touch with.
American Idol leans into social media to find future stars
"Idol acknowledges the real world," Bobby shared, "meaning it's aware that people are getting [known from] TikTok and Instagram." He added, "We're like, 'Great, come be exactly who you are, we're not going to change you—let's see how far your talent and your voice will take you.'"
Indeed, there are quite a few Tik Tok stars who auditioned for American Idol this season. See a preview of 25 contestants who auditioned in front of the judges HERE.