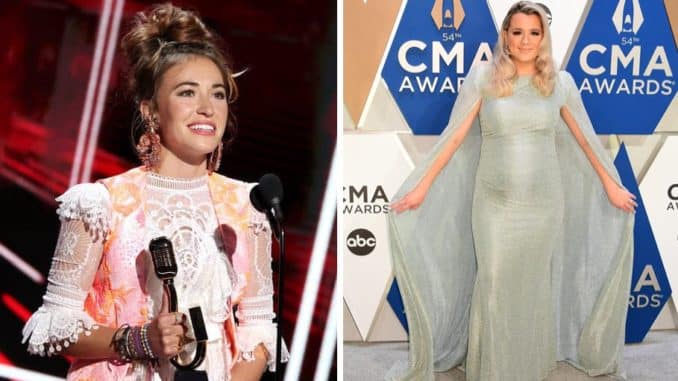 Two American Idol alums topped the Billboard Year End charts for 2020. A The Voice alum dominates country airplay.
Gabby Barrett's "I Hope" Tops Country Chart
Gabby Barrett's smash hit song "I Hope" has nabbed the top spot on Billboard's Top Country Songs of 2020. The American Idol 2018 finalist is Billboard's top new artist of 2020 and No. 2 in the Top Country Female category, behind Maren Morris. She ranks at No. 8 overall. (Billboard Year in Country Charts 2020)
"I Hope" led the Country Airplay survey for a week in April and, supported by its remix with Charlie Puth, released that month, crossed to adult and pop radio.
Plus, with "The Bones" and "I Hope" in the top two positions as the top two Hot Country Songs titles of 2020, it marks the first time that women have taken the top two slots since Hot Country Songs transitioned to a hybrid airplay/streaming/sales chart in October 2012.
The Voice's Morgan Wallen Tops Country Airplay
Country Airplay's No. 1 song of 2020 is Morgan Wallen's "Chasin' You," which led the list dated May 23, 2020, for a week. Concurrently, it spent a full year on the survey after it debuted at No. 60 in August 2019. The song, which Wallen co-authored with Jamie Moore and Craig Wiseman, enjoyed 17 weeks inside the top 10 after arriving in the tier on April 11, when it hopped from 11-7.
The Voice season 6 alum, who records for Big Loud Records, places as the No. 2 artist in both the top overall country category and male country artist tally. Morgan is set to appear on the December 5 Saturday Night Live episode on NBC.
Christian Artist Lauren Daigle has Staying Power
In other American Idol alum news, as she did in 2018 and 2019, singer-songwriter and season 11 & 12 alum Lauren Daigle continues to dominate contemporary Christian music as she repeats as Billboard's Top Christian Artist of 2020. She is also the top female artist of the year in the genre.
"You Say," which was written by Lauren with collaborators Paul Mabury and Jason Ingram, is the No. 1 title on the Hot Christian Songs year-end tally for the second straight year.
This, as the singer has not delivered new music during 2020, yet her mega-crossover Christian and pop hit "You Say" continued to reign on the Christian charts in 2020. "You Say," is now the longest-running No. 1 title on the weekly Hot Christian Songs chart. (Billboard's Year in Christian Charts 2020)