I have been following closely the latest season of American Idol. Do I have spoilers? Not exactly. Due to Covid-19, The Idol Pad has been unable to gain access to spoilers as far as I know. What I have done is compiled a list of 26 notable names to watch.
The list includes past Idol competitors, people from other talent shows, and viral or even past "famous" stars. Some have yet to even confirm they are the show but due to stories, posts, mutual followers, etc., we have been able to place them at Hollywood week or an audition site.
Please do not contact any of the competitors, they have contracts which prevent them telling us how far they have made it. What you can do is comment below, your favorites, or you could follow the singers on social media. I hope you enjoy this list as I think we have a FANTASTIC season of Idol in store.
*Starred contestants means they will appear on the Sunday February 14 premiere (8 pm ET/PT) on ABC.
Notable Past Idol Competitors
Ren Patrick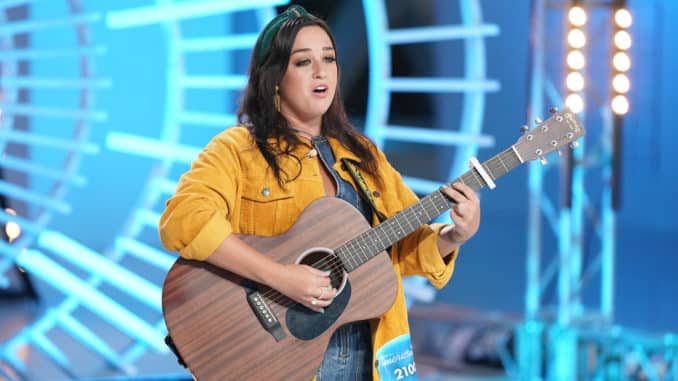 Ren is back. She was an audition fan favorite last season after sharing her story of overcoming domestic violence. The pop singer is 27 and near her last chance at stardom. Ren was featured last year and auditioned with "Dancing On My Own" before being eliminated in the Hollywood duets round due to a lack of feeling and identity. Will she fare better this time around?
Social Media: Instagram, YouTube
Audition from last year:
https://www.youtube.com/watch?v=Sqh9h43Tg6M
 
Ethan Kuntz (aka "Lil Skinny")*
 Throwback! Idol fans, you may not remember Ethan, but his audition might bring back memories. The southern rock, country singer last auditioned at the age of 15 in front of Harry Connick Jr., Jennifer Lopez, and Keith Urban in Season 15. This time around he auditioned with his brother Joshua "Kuntz" Hunter*. Will this lead to sibling drama that the judges tend to put on?
Social Media: Instagram, Youtube, Joshua's Instagram
Zach Donofrio
 

 

 

View this post on Instagram

 

 
The crooner auditioned back in Season 16. Will Zach be known as more than Catie Turner's crush this time around? He actually is still dating Catie, and he has improved quite a bit. His improved vocals are on display here in a song he wrote for Catie for their one year anniversary.
Social Media: Youtube, Instagram
Zach's season 16 audition
 
Drake McCain
Drake is all but confirmed and out of the returners, he made it the furthest his first time around, making it all the way to Hawaii but choosing the wrong song choice "Girls Like You". I remember his hair being the most noticeable thing from spoilers and ads in Season 17. He has loads of mutual followers and has been dropping comments on nearly every Idol announcement. The show may be preventing him from announcing his return. The pop singer can for sure sing, and he has grown as a vocalist. I couldn't really find anything without effects, but this cover of "Heather" is a standout, showing that he may have a shot at top 20 this time around.
Social Media: Instagram, Tik Tok
Season 17 Audition
Julia Minichiello
 

 

 

View this post on Instagram

 

 
(Top 70 from Season 18) Julia may have never been shown on the show but she's my favorite of the returnees. She has a beautiful tone with range and control to take on anything from a big ballad showstopper to r & b numbers. I'm hoping this time around she makes the top 20. My guess is the first time around nerves got the best of her, but another year should do her wonders because she has raw talent. The only worry is once again on her story, she said she is unlikely to be aired.
Social Media: Instagram, Tik Tok
Standout Cover of Sam Smith's "Nirvana":
 

 

 

View this post on Instagram

 

 
Featured Heavily in Promos
Jason Warrior*
It's no secret that Jason will be on this season of Idol and most likely A LOT. He has been in nearly every promo. The R&B singer who was loved on The Voice (Season 11) but not so much on The Four (Season 1) due to drama, is making his way to Idol. What Jason will we get?
Social Media: Instagram 
The Voice Audition
The Four Drama
Cover of Marvin Gaye's "What's Going On"
Grace Kinstler
 

 

 

View this post on Instagram

 

 
Next most hyped is the Berklee standout who has been in all but one promo singing Aretha Franklin's "Natural Woman". And it seems like we get the over the top judging praise in her audition with Lionel saying "We've never had an audition that spot on" in one promo. The big voiced singer seems to be one to look out for, even though from the clips I've seen, I think the hype might be a bit much as her voice is not the most unique one we've heard through the years.
Social Media: Instagram, Youtube
Standout Cover of Demi Lovato's "Anyone"
Cassandra Coleman
 

 

 

View this post on Instagram

 

 
Cassandra has been in a lot of promos. If I had to describe her, I would say she's a mix of Birdy and Fleetwood Mac, meshing together modern indie pop with 70s folk rock. She's one of my favorites this season. I hope she goes far.
Social Media: Instagram, Youtube
Cover of Bon Iver's "Holocene"
 

 

 

View this post on Instagram

 

 
Anilee List*
Another one of my favorites and another Berklee student. She reminds me of Sophia James (Wackerman) from last year. A very smooth tone with the ability to do some crazy smooth Yebba like runs. She shares a similarity with Sophia as well being in an acapella group. In one promo, her emotional story is previewed as she states, "I hope to prove that I'm much more than my Tourettes".
Social Media: Instagram, Youtube
Cover of Midnight with Pitch Slapped
Vahhley (aka Valerie Hernandez)
 

 

 

View this post on Instagram

 

 
With a name that stands out, this NYC mom who is a model also has a voice that should stand out. She has been featured on a few promos with her son. The R & B/ Pop singer has a very smooth voice with the ability to nail ballads. She is giving me shades of Pia Toscano, and based on her experience, she should go far. She has been nailing songs since she was just a teen.
Social Media: Instagram, You Tube
Cover of "My Heart Will Go On"
 

 

 

View this post on Instagram

 

 
Alex "Kentucky Kowboy" Miller*
Thought this season was going to be country-free? You thought wrong. What's an idol season without a little country? This singer has been featured in promos singing a duet alongside Luke Bryan. I'm sure his audition will be one worthy of watching. He has that country charm. He's more of a classic country singer like Caleb Hutchinson was.
Social Media: Youtube, Instagram
Original Song
Deborah "DJ" Johnson*
DJ also has an emotional story according to promos where she and the judges are both teary-eyed. She seems to be one of those raw talents that Idol hunts for as prior to her idol journey, she rarely had any social media posts. She's a diamond in the rough who emotes beautifully when she sings. She plays the piano and sings a lot of worship songs.
Social Media: Tik Tok, Instagram
Original Song
Alyssa Wray
 

 

 

View this post on Instagram

 

 
Alyssa is one of the more recognizable faces of those in promos as she displays her purplish-pink curls. We also know her audition song "I Am Changing" is from a familiar Idol face and The Voice coach, JHud. She has a massive range and has been in many theater productions which makes sense here with her booming theatrical voice. Big voices have made it far before, but will the judges try to get her to tone down the theatrics with her voice as they have critiqued singers in the past for sounding too "Broadway"?
Social Media: Tik Tok, Instagram
Tik Tok Cover of "I Am Changing"
Serrin Joy
 

 

 

View this post on Instagram

 

 
Last but not least is gospel/ r & b singer Serrin who has been spotted in a number of promos at the very end, so I'm assuming she's a standout. I love her refreshing jazzy style. I've been wanting a vocalist like this to go far for a while now. Typically, Urban artists like Serrin have struggled to go far on Idol and The Voice. She has one of the best stage presence I have seen of the competitors of this season.
Social Media: Instagram, Youtube
Talent Show clip
Viral Tik Tokers/ Heartthrobs
There are multiple Tik Tok stars this season. Probably 5 with over 500 K but I decided to write about the two most notable with the largest followings. Fun Fact: both seem to be friends with Lauren Spencer-Smith from last season who also has a huge Tik tok following.
Benson Boone*
He's been on a promo or two. The pop singer has a nice rasp to his voice and seems like he shares some similarities to Louis Knight as like a James Arthur/ Lewis Capaldi type even though he is not British. He has 1.1 million followers on Tik Tok and seems to have a likable personality.
Social Media: Tik Tok, Instagram
His cover of "In The Name of Love" attracted attention from Bebe Rexha
Jake Clark
 

 

 

View this post on Instagram

 

 
With over 740K followers on Tik Tok, he seems to be the typical heartthrob who goes far on Idol. His voice is very easy on the ears and has a nice nasally quality to it. His single "LA Guys" seems like a song that could already be on the radio. He reminds me of the likes of Jeremy Zucker and Lauv who have very distinct tones. Of the guys this season, I think he might be the most marketable.
Social Media: Tik Tok, Instagram, Youtube
LA Guys
Grammy Nominated
 Jamie Grace
 

 

 

View this post on Instagram

 

 
She is currently 29, so she must've just made the cutoff! Her song "Hold Me" received a Grammy nomination in 2011. It's not often that Grammy nominated singers audition for Idol. She has an interesting style with a very distinct sound which combines worship, hip hop, island vibes, and folk. She is now a podcaster with a large following. She has actively spoken about managing life with Tourettes, OCD, ADHD, and her faith.
Social Media: Instagram, Youtube, Tik Tok
Hold Me
Already a star
Cheryl K
 

 

 

View this post on Instagram

 

 
Cheryl is featured in promo clips with a puppy. She is a Malaysian singer-songwriter who appeared on the Crazy Rich Asians soundtrack. She sang the opening/closing track "Money (That's What I Want)" in both English and Mandarin Chinese. Cheryl is also a bit theatrical in her singing approach. In a competition sense, I see her maybe being on the show more for entertainment like Michelle Sussett was, despite possibly having a bigger voice. She does seem to sing ballads more.
Social Media: Instagram, You Tube
Cheryl performing "Can't Help Falling in Love" and "Money"
Competition Ready!
Alanis Sophia
 

 

 

View this post on Instagram

 

 
Alanis got 2nd place on Season 1 of La Voz Kids back in 2013. She has been in a few promos as well. I could see her being one of our standout pop teen vocalists this year, as we had a ton last year (Lauren, Olivia, Kimmy, Mikayla, etc.). She has stage presence and a fantastic voice with an interesting bit of twang. She reportedly signed to a record deal at some point a few years back with Scott Borchetta and Big Machine. She wrote over 100 songs and they parted ways, as the fusion of Latin Country just wasn't coming across authentic, even though she still gets along with them. Listen to her story here.
Social Media: Instagram, You Tube
Alanis's La Voz audition
Andrea Valles
 

 

 

View this post on Instagram

 

 

Andrea was apparently on La Banda and Reina de la Canción and she is one of my favorites this season. She is spunky and fun with a great pop voice. She can flat out sing. Her covers display amazing control and are just flawless. She also does ukulele tutorials on YouTube.
Social Media: Instagram, You Tube
La Banda clip
Landslide Cover
 

 

 

View this post on Instagram

 

 
The Voice Alums
Caroline Sky
 

 

 

View this post on Instagram

 

 
She hasn't confirmed herself but it's safe to say she's on this season as she was in Hollywood during HW and has commented on loads of Idol stuff lately. She made it all the way to the knockouts on The Voice Season 12 with her laid back, jazzy vocals. She is still a great vocalist and has a shot to go far this season.
Social Media: Instagram, Youtube
The Voice Knockout
Original song
AGT Alums
Amanda Mena
 

 

 

View this post on Instagram

 

 
It hasn't been long since we saw her and that was when she shared the stage with Mikayla Phillips in AGT Season 13. She was eliminated as a semi-finalist, but before that, she won La Voz Kids Season 2 in 2014. The Latin infused r & b/ pop singer has only grown since. I'd be shocked if she isn't in at least the top 40.
Social Media: Instagram, You Tube
AGT Golden buzzer audition
Patriots National Anthem
Others notable names that have buzz because of who they are:
Claudia Conway & Max Dubrow
They've already been talked about on this blog. I highlight them here to illustrate that Idol is looking to make some buzz this season on Social Media. Claudia Conway in particular, has been controversial on social media. I doubt either is here for the long run, but maybe their auditions will be featured.
Read More:
American Idol: Kellyanne Conway's Daughter Auditions (Video) (Update)
Claudia Conway Accused Mom Kellyanne of Posting Topless Photo
American Idol 2021: RHOC Alum Reveals Daughter Max Dubrow is Auditioning (Photo)
Other favorites of mine (especially since there's more girls than guys on this list):
If you know me, I am a "tone" searcher. Francisco Martin and Julia Gargano were my two favorites last season due to their tones and Zach and Hunter have magical tones. Zach is a pop vocalist who has performed worship music in the past and has drawn comparisons to Justin Bieber on Tik Tok, but for me his voice is a bit Colton Dixon like. Hunter has also done worship music and his tone is just amazing. Hunter also did appear on one promo. They might not have the widest range but to me they are STARS in the making.
Zach Sines
 

 

 

View this post on Instagram

 

 
Social Media: Tik Tok, Instagram
Worship song
Hunter Metts
 

 

 

View this post on Instagram

 

 
Social Media: Instagram,
Original Song
This clip I've had on loop:
 

 

 

View this post on Instagram