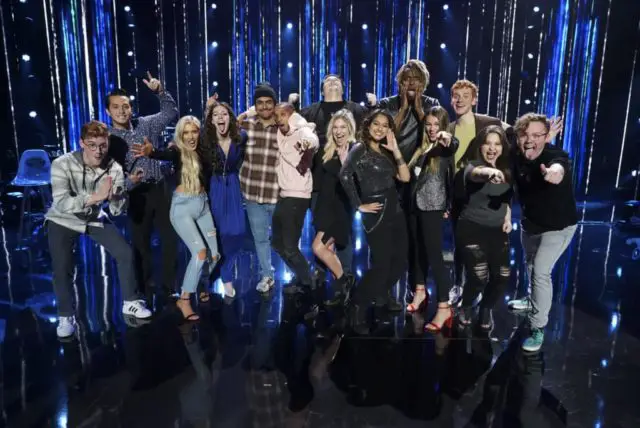 Pictured: Walker Burroughs, Laine Hardy, Laci Kaye Booth, Evelyn Cormier, Alejandro Aranda, Dimitrius Graham, Wade Cota, Ashley Hess, Alyssa Raghu, Uche, Riley Thompson, Jeremiah Lloyd Harmon, Madison Vandenburg, Eddie Island (ABC/Eric McCandless)
American Idol fans will vote for the first time on Sunday (April 14). On Monday (April 15), after the votes are tabulated, the Top 10 will be revealed in the season's first LIVE show. Viewers will choose seven singers while the judges–Lionel Richie, Katy Perry and Luke Bryan choose the remaining three.
American Idol 2019 Top 14 Song Spoilers: What Will the Contestants Sing?
Ahead of the first viewer-driven elimination, here is how I currently rank the Top 14. I'll be ranking the singers every week. Keep in mind that dark horse contestants often overtake early front runners This is when the competition gets GOOD.
I've also included the results of last week's Top 14 poll. Do not hesitate to post YOUR rankings in the comments below. 
14 – Eddie Island – Eddie isn't a popular contestant, despite having a good voice. He's a unique talent who unfortunately, hides behind a goofball persona. It's an observation that even the judges and his duet partner Lukas Graham pointed out. To earn viewer votes Eddie needs to sing a song earnestly. A heartfelt ballad might do the trick. But unfortunately, he's chosen "Benny and the Jets" as his Top 14 song, which could translate to more shenanigans. If Eddie must sing for his life, he needs to show some vulnerability.  
13 – Wade Cota – Wade got a horrible edit in Hollywood, where he forgot his words. His super-gravelly vocals are also not for everyone. I don't think viewers will vote him into the Top 10. His Top 14 song "
12 – Riley Thompson – Riley is a talented singer, but she's young. Case in point–she smiled her way through Jolene. The song is way too mature for a 16-year-old. Riley needs a few years to mature. I still don't understand why Idol cut the young but ready for prime-time country singer, Chloe Channell, at the group rounds.
11 – Evelyn Cormier – Evelyn came into the competition with a target already on her back. She and her husband starred in the TLC reality show 90 Day Fiancé. By many accounts, Evelyn was the season's villain. Lucky for her, Idol wants her to succeed. If Evelyn had bad experiences during the Hollywood round, viewers are none the wiser! Having said that, talent wise, I would compare Evelyn to a Greek olive. Her deep, super-stylized tone is an acquired taste. Between preconceived notions and her unusual talent, Evelyn has an uphill battle earning viewer votes. 
10 – Alyssa Raghu – When the judges cut Alyssa at the Top 24 last season, many fans were surprised. But unfortunately, to please the judges, Alyssa has been overcompensating. She spent Hollywood week and the Showcase trying to prove she could be a pop star, On the way, she lost a bit of what fans liked in the first place. To advance, Alyssa needs to get back to her singer/songwriter self by performing songs that show off her gorgeous, mature tone.
9 – Dimitrius Graham – American Idol didn't feature Dimitrius' audition. The judges hinted about why later in the competition, revealing that he tended to oversing. However, they have also complimented his ability to take notes. He's delivered some wonderful performances–his duet with Lukas Graham was stunning. If he keeps it up, Dimitrius could be a dark horse, creeping up on a few favorites!
8 – Walker Burroughs – Walker's musicality is impressive. (He's a student at the storied Belmont University in Nashville!) He is also a lovable geek. It's a killer combination. In a season that had a shallower bench, Walker would be right up near the top. Not to say he couldn't leapfrog to the top with a few killer performances. 
7 – Uche – This energetic singer is hands down the most entertaining performer in the bunch. But he hasn't learned how to channel his boundless energy. When Uche goes crazy on stage, it's fun to watch, but his vocals often suffer. If the talented entertainer can focus on his vocals, he could go deep in the competition. 
6 – Madison Vandenburg – Comparisons to Kelly Clarkson aside, big voiced Madison hasn't captured viewers' attention. Again, there is so much talent this year! In another season, she'd be a front runner. But there is still more singing to come. Madison is a possible dark horse. 
5 – Ashley Hess – Ashley is a versatile talent. Her vocals are effortless, featuring a beautiful tone and exquisite phrasing. She arranges her own covers and is, I hear, an EXCEPTIONALLY talented songwriter. Usually, viewers vote out female artists at the upper end of the age range early. Ashley is in her late 20s. It took her a minute to figure out what she wanted. Her impressive talent IS a culmination of her musical and life experiences. I think she deserves to make the Top 10 and beyond. Again–with so many talented singers vying for a spot, anything can happen.  
4 – Alejandro Aranda – Alejandro is both an early front runner and a polarizing contestant. The show pimped his audition HARD. Calling his audition Idol's best EVER resulted in automatic resentment among some fans. Also, Alejandro is a stronger musician than he is a singer. His performances are inventive and cool, but for some fans it isn't enough. For these reasons,  I believe Alejandro won't win. But other than listening to what the vocal coaches tell him; I wouldn't suggest he change a thing.
3 – Laci Kaye Booth – Laci is a country singer with a unique, raspy tone. Additionally, she has a talent for interpreting songs. For last week's Top 20 solo performance she flipped Cheap Trick's "I Want You to Want Me' into a country tune. This week, she made an intriguing choice—"I Miss You" by pop/punkers Blink 182. Arresting vocals coupled with a knack for creating/choosing interesting arrangements is a potent combination. She's a lock for at least the Top 5.
2 – Laine Hardy – Roots/rocker Laine is American Idol's comeback kid. Last season the judges sent him home after floundering in Hollywood. This season he arrived at auditions with a friend. He had no intentions to sing for the judges—or so the narrative said. But once the panel convinced him to take a golden ticket, he was ALL IN. Week after week Laine delivers smart, confident and appealing performances. He could win.
1 – Jeremiah Lloyd Harmon – From his impressive audition singing an original song, through stunning covers of classics by Bob Dylan, Fleetwood Mac and more, Jeremiah uses power and subtly to deliver emotion-packed performances. His Top 20 duet with Cynthia Erivo—an exquisite cover of Cyndi Lauper's "Time After Time–was a game changer. If the finale were tomorrow, Jeremiah would take it all.
And here are the results of the Favorite Top 14 Contestant poll from last Monday. For more poll results, click this link. 
Jeremiah Lloyd Harmon 22.72%
Laine Hardy 16.95%
Alejandro Aranda 5.83%
Laci Kaye Booth 11.92%
Ashley Hess 11.36%
Dimitrius Graham 5.59%
Madison Vandenburg 4.47%
Walker Burroughs 2.98%
Uche 2.23% 2.23%
Evelyn Cormier 1.86%
Wade Cota 1.3%
Alyssa Raghu 1.3%
Eddie Island 0.74%
Riley Thompson 0.74%