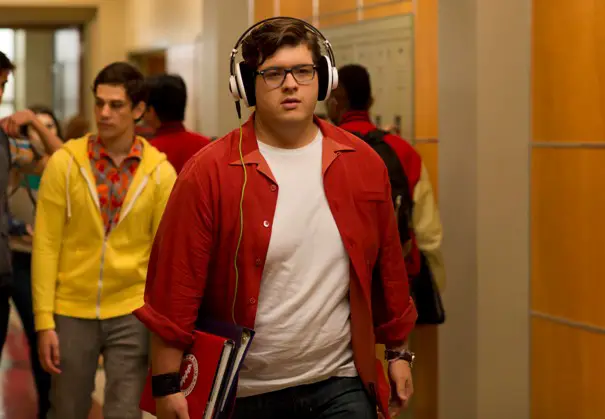 GLEE: Guest star Noah Gurthrie as Roderick, a shy boy in the second part of the special two-hour "Loser Like Me/Homecoming" Season Premiere episode of GLEE on Friday, Jan. 9 (8:00-10:00 PM ET/PT) on FOX. ©2014 Fox Broadcasting Co. CR: Jennifer Clasen/FOX
Remember when it was announced that Glee would be casting five actors to play newbie members of New Directions? Although the series has been in production since September, there have been no official announcements regarding exactly WHO has been cast. But there has been plenty of chatter on the internets.
We name checked all five actors in our recent Glee Season 6 four episode photo gallery. And we reported way back in September, that Canadian actor, Marshall Williams would play the out and proud football player, Spencer.
But today, we're going to focus on one newbie you may have already know–especially if you frequent popular You Tube channels.
Noah Guthrie, who burst on the scene in 2012 when the 16 year old's You Tube rendition of "Sexy and I Know It" went viral, has been cast as Roderick, the "chubby and shy" teen with a "voice like Otis Redding."
Roderick is a senior–a transfer from Chicago and is McKinley High School's new underdog.  After some persuasion from Rachel and the gang, the bashful singer auditions for Glee with a soulful rock rendition of "Mustang Sally" by Wilson Pickett.
If you didn't discover Noah on You Tube, you may have seen him on the Today show after "Sexy and I Know It" went viral. The video currently has over 22 million views! Noah continues to upload covers to his channel, the latest being Joni Mitchell's "River" and Ed Sheeran's "Thinking Out Loud."
Ryan Seacrest.com featured Noah.  The young singer dropped by the Ellen Degeneres show.  He was also appeared in OK Magazine and dropped an independent album, Among the Wildest Things on iTunes.
Here, Noah joins forces with another You Tube star–The Voice season 6 2nd runner up, Christina Grimmie–to sing Goytye's "Someone That I Used to Know."
This past fall, Noah performed an acoustic version of Ariana Grande's "Problem" for acoustic night on Dancing with the Stars. He accompanied Sadie Robertson and  Mark Ballas as they danced the Argentine Tango.
Noah announced his Glee casting last month, via Facebook. "I'm still trying to figure out exactly how this happened," Noah wrote, "but I'm so excited to announce that I will joining the cast of the Fox TV show, Glee, for it's final season!"
"I'll be playing a character named Roderick.," Noah continued, "I'm in LA now at work shooting the upcoming season. This is my first time acting so I doubt I'll be winning any awards any time soon." Aw. The experience has got to be a little scary for him!
Along with the Glee casting announcement, Noah has been posting BTS photos on his Instagram account.
With Glee star Chris Colfer!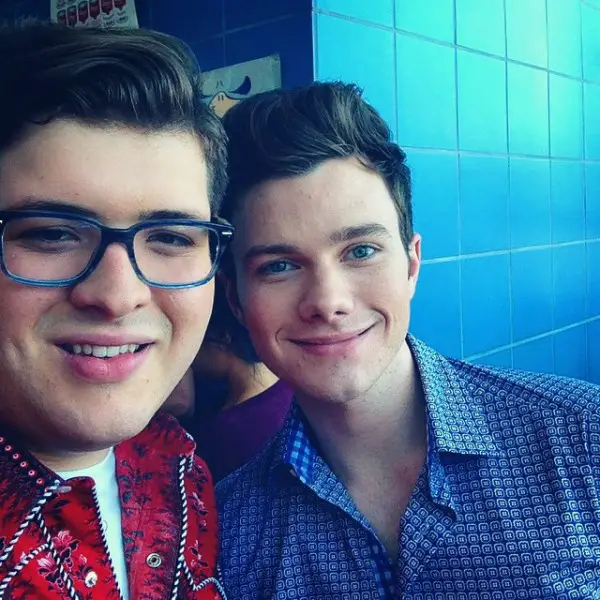 "@hrhchriscolfer and I back on my first day of shooting." captioned Noah, "Such a great guy. I'm so happy to be working with such an amazing cast! #gleeseason6 #January9th"
Noah with fellow Glee newbies, Billy Lewis Jr. (l) and Marshall Williams (r).

"Back at work with @billythefnkid and @itsmarshallw #causingtrouble #gleeseason6 #January9th."
Noah posted this photo back in October with fellow newbies Billy Lewis Jr., Laura Dreyfus (chirpy twin Cheerios, Mason and Madison) and Samantha Ware (Warbler defector, Jane).

(l to r – Billy Lewis, Jr, Samantha Ware, Laura Dreyfuss, Noah Guthrie). "What fall looks like in LA." captioned Noah, "A square of hay and a pumpkin. Still a good chance to say happy fall from my new friends and I! @billythefnkid @showtimesam and @hotdamnitslaura."
I'll be introducing the newbies with a post a day! So watch out for that.
In the meantime, check out a glimpse of Noah and Samantha in this new Glee promo. The duo pop up near the end. You can't miss them! Glee premiers on FOX Friday, January 9.
http://youtu.be/fpkwdaVPs3g