Glee production stills for the FIRST FOUR EPISODES of Season 6 have been released! An early Christmas present for Glee fans? If you surf through the gallery below, you'll pretty much get the gist of the storylines for the 6th and final season of the FOX musical comedy.
For even MORE Glee Season 6 Spoilers:
Loser Like Me – Episode 1
Homecoming – Episode 2
Jagged Little Tapestry – Episode 3
The Hurt Locker Pt 1 – Episode 4
Check out the angst between Kurt (Chris Colfer) and Blaine (Darren Criss) in this photo. That tension between the couple?
…is all about THIS! When the story picks up 6 months after the season 5 finale, Kurt and Blaine have broken up (AGAIN!). Blaine is back in Lima. After an epiphany, Kurt goes home to get him back, and is faced with the specter of his former lover dating his former tormentor, Karofsky (Max Adler)
Rachel (Lea Michele) is back in Lima too, after her TV show flops. She takes over the New Directions, in order to bring them back to their former glory. She enlists the help of her bestie Kurt. Meanwhile, Blaine is the head of his old club, the Dalton Warblers and Mr. Schue (Matthew Morrison) is leading New Directions' arch rivals, Vocal Adrenaline! Sam (Chord Overstreet) is back at McKinley High too–as an assistant football coach.
Rachel, faced with an empty choir room, enlists the help of her fellow Glee grads in order to recruit warm bodies to New Directions. Naturally, it involves an 80's dance party.
And cheerleaders!
The new newbies finally arrive. Remember the news that 5 new students would be cast to repopulate the New Directions?…YouTube star, Noah Guthrie, who recently performed on Dancing with the Stars has been cast as the shy, but talented, Roderick.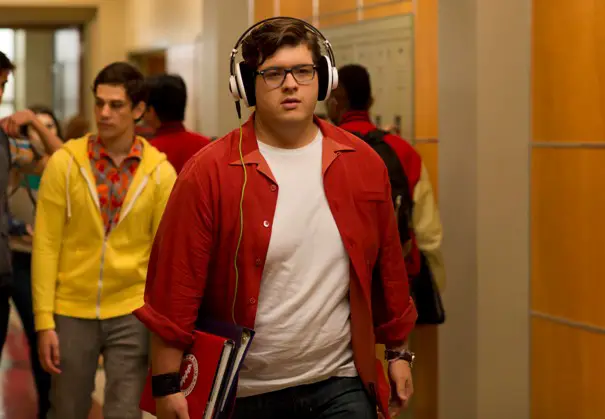 The rest of the newbies: Samantha Ware plays Jane, the "righteous but ambitious" student who initially auditions for the Warblers, but then defects to New Directions. We already posted about Marshall Williams who plays the out and proud football player, Spencer. Mason and Madison, the chirpy twin Cheerios are played by Laura Dreyfus and Billy Lewis Jr. The Wanted's Max George is cast as the lead vocalist for Vocal Adrenaline.
Check out the NEW Glee promo for a glimpse of the newbies and more. Songs are sung. Slushies are thrown!
The Glee-Bye Begins!
http://youtu.be/fpkwdaVPs3g
There is also TOTALLY THIS in episode 3. If you guessed that something VERY special is about to happen between Santana (Naya Rivera) and Brittany (Heather Morris) YOU WOULD BE CORRECT! (Yes, they get engaged. Not a spoiler at this point!)
For ALL THIRTY photo stills, organized by episode and scene number, click through the gallery! The two-hour Glee premiere airs on FOX Friday January 9.
Photo Gallery