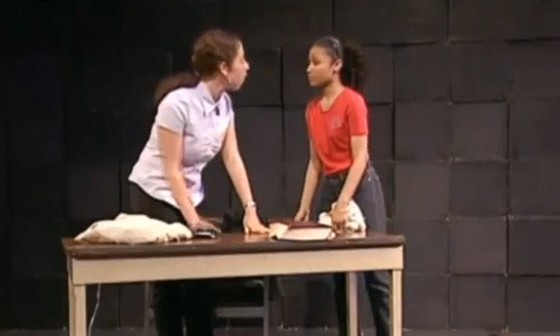 Check out a young Nicki Minaj–sans ASSETS if you know what I mean–acting out an intense scene during her days as a student at the Fiorello H. LaGuardia High School of Music & Art and Performing Arts.
That's right! Nicki attended the Fame school when she was a teenager!
The clip, from a British TV show, You Saw Them Here First, reveals that the rapper and former American Idol judge was quite the thespian back in the day! Or as Jon Lovitz would declare on SNL…it's called…ACTING!
"Call that judge right now and tell him I can have my baby back!" screams Nicki (Real Name: Onika Maraj) at her co-star, who gets a phone thrown at her when she disagrees.
The director, a little alarmed by Nicki's phone ferocity, makes sure the co-star is OK. Nicki freaks a little as she thinks she might have hurt her fellow student. No worries! The co-star assures them both the phone never touched her.
Man, a phone throwing bit is just what we could have used on American Idol when Nicki and Mariah were uncomfortable panel mates… Or not.
http://youtu.be/-vyWXAosqeM