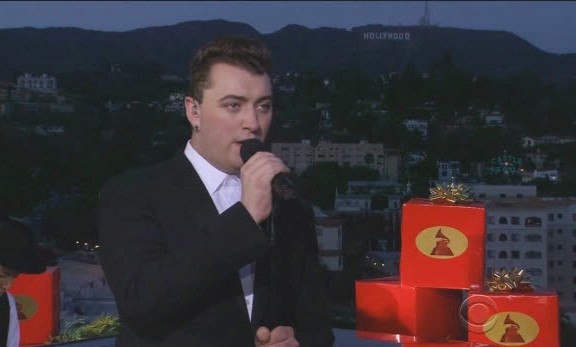 Singer/songwriter and Grammy contender, Sam Smith, has performed on singing competitions, including the X Factor UK a couple of weeks ago.
However, the 22 year old British performer tells the Mirror that he made a "very conscious decision" NOT to audition for singing shows.
"I feel that X Factor is perfect for singers who sing, and that's all they want to do. They don't care what they sing, they just love singing.

"You could sing on a cruise ship or release a cover album, that's what it's for. Because when you think about it, every week, that's what you do.

"You're singing other people's songs. People are judging you on other people's music.

"The minute I started writing music, I knew that none of that stuff was going to be for me. I want people judging me on my voice and my songs – that's what's important to me.

"I always say to people: 'If you're a singer, go for it.' It's an amazing platform. But if you're not, and you're a songwriter, I think it's actually quite damaging for you to go on there.

"You're singing other people's music, so then when you release your own stuff, people might not like it."
Lots of songwriters have performed covers on singing shows, and lived to tell the tale. Chris Daughtry, for instance, did well on the charts post Idol in 2006-2007, with self-penned songs like "It's Not Over" and "Home." However, most alums–winners in particular–who land deals after their run on the show, release singles they did not write. American Idol season 11 winner, Phillip Phillips, as an example, had no hand in the writing of his first post-Idol single, "Home," nor his second, "Gone Gone Gone."
If a singer wants a hand in every song they record, singing show success could be a frustrating experience. The trade off, however, needs to be considered. Sure, Phillip didn't write his first couple of singles. But he HAS written most of the two albums he's released so far. There's no doubt, that in the end, American Idol has been an amazing platform for him.
Sam was fortunate to hit it big at a young age.  If he had continued to struggle into his late 20s and beyond, maybe he would have given singing competitions another look. Still, I think he makes a salient point. There are certainly risks involved for songwriters who audition for Idol, The Voice, and X Factor. That your authentic voice may never be heard during competition–or even after–is certainly one of them.
As an aside–Simon Cowell is too much of a control freak to allow an X Factor contestant to sing a self-penned original song. But it has certainly happened on American Idol. Just on American Idol 13 alone–Jena Irene, Sam Woolf, Jess Meuse and Alex Preston performed their own original songs.
Read more:
Sam Smith, Pharrell, Maroon 5 – A Very Grammy Christmas – VIDEOS
Kelly Clarkson Covers Sam Smith's "Stay With Me" (VIDEO)
Glee's Dianna Agron Stars in New Sam Smith Music Video
Sam Smith Covers Whitney Houston's "How Will I Know" VIDEO
Sam Smith – Stay With Me – Lay Me Down – Saturday Night Live – VIDEO