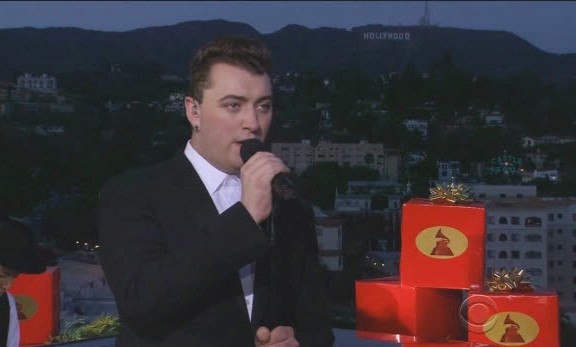 CBS aired A Very Grammy Christmas Friday (12/5/14), which featured a slew of artists, including Sam Smith, Pharrell, Maroon 5, Mary J. Blige and Ariana Grande performing their hits along with holiday favorites.
At the end of the broadcast, host LL Cool J announced the Album of the Year Grammy Awards 2015 nomination.
Check out holiday performances here from Sam Smith, Pharrell and Adam Levine and his band, Maroon 5.
Sam Smith – Have Yourself a Merry Little Christmas – Sam closed out the show with a beautiful, moving, and soulful rendition of the classic "Have Yourself a Merry Little Christmas." If you watch only ONE video, this HAS to be it.
Pharrell – "Please Come Home for Christmas" – Pharrell's performance of this 1960 Charles Brown blues classic was cool and retro.  The swaybots singing backgrounds were a little creepy, however. The tune has also been covered by The Eagles and Bon Jovi.
Adam Levine and Maroon 5 – Happy XMas (War is Over) – This song obviously means a lot to Adam. His vocal wasn't perfect, but is was straight from the heart. After the song, he thanked John Lennon for writing the song. In a clip prior to his performance, Adam talked about how many Jews, like himself, loved celebrating Christmas.