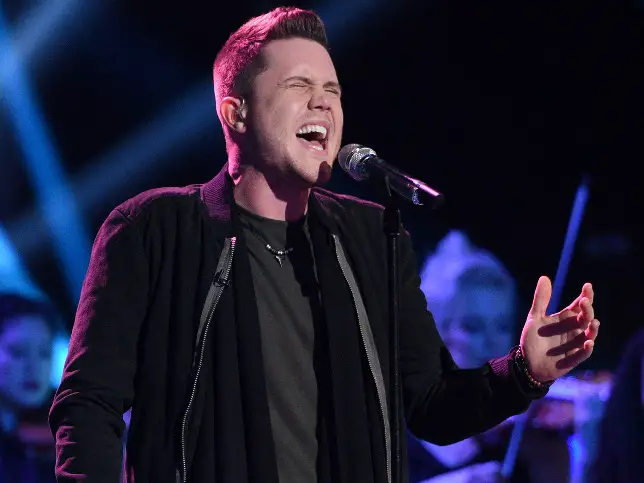 Over the weekend, when asked in a reporter's conference call about the HB 1523 bill just passed in Mississippi, American Idol runner-up La'Porsha Renae got into some hot water.  After explaining how folks with differences should all learn to get along, she added that, while she counted LGBT people among her friends, she didn't "agree" with the LGBT "lifestyle." She apologized the next day.
Many of you were wondering how winner Trent Harmon, who also hails from Mississippi, would respond if asked the same type of questions.
Now we know. From an interview with TV Guide on Monday:
La'Porsha the other day said, "I don't agree with that lifestyle," referring to LGBT people and the HB 1523 bill in Mississippi. Do you have anything to say to weigh in on that?

You know, I was brought up in church. I still go to church. Found a church just around the corner from here and went, and I'm glad I got to go. But I was brought up to treat everyone equally. I come from a restaurant background, and anybody that walks into our restaurant, they can eat there. And I think that you should treat all people equally and respectfully, and that's what I do, and that's what I'm going to continue to do no matter what law is passed. That's where I stand on it. Love all people. Period.
Trent gets an A+ in Public Relations 101 and is the valedictorian of his class. He DOES pass go and collect that $200. It's a total masterclass of an answer.
To be fair, La'Porsha had no time to prepare, while after her interview with viral (Perez Hilton, Gossip Cop, Jezebel, HuffPo, The Guardian, BET, Advocate and many more picked the story up) he probably did two things. 1. Made sure he knew EXACTLY what was inside that bill and what it meant. 2. Crafted the perfect response to any and all questions that might get thrown his way. Oh, there's probably a third thing as well, since Trent has said on several occasions that he's into this particular thing: 3. PRACTICE PRACTICE PRACTICE.
The bill impacts Trent and his family directly. HB 1523 is scheduled to become law in July. When it does, it will be perfectly legal for the Harmons to deny service in situations they felt violated their religious beliefs. It's why Trent made it clear his family would serve anybody who walked into their restaurant, no matter the laws.
He kept his answer short and sweet, answered the reporter's question without offering more information than needed, and kept any thoughts he might have about La'Porsha out of his answer. He might get asked the question a few more times, but as long as he stays consistent, the life cycle on that particularly line of inquiry will be short. That's how to get it done.
A couple of interesting tidbits from the interview:
He was really sad when his best friend, Manny Torres, didn't make the finals.
He could see himself duetting with La'Porsha but would love to sing with Top 24 contestant, Jenn Blosil
His grandma helped keep things real.
Watch: Trent Harmon performs Falling on Live with Kelly and Michael (VIDEO)
Watch: Trent Harmon performs the National Anthem at Pacquiao vs Bradley Fight (VIDEO)